A team of Burnaby firefighters and search dogs who are in the Bahamas to help search for human survivors and bodies in the wake of Hurricane Dorian are finding a lot of abandoned dogs as well – and they've made it their business to make sure they're taken care of.
Burnaby fire Captain Ian Heatherington spoke to the NOW from Marsh Harbour on Great Abaco Island in the northern Bahamas Wednesday afternoon.
The northern Bahamas were the worst hit by the Category 5 storm and accompanying storm surge last weekend.
The Burnaby team has been working in a shantytown called The Mudd, where the population did not evacuate, despite being warned, according to Heatherington.
'They have a little hope'
The Burnaby fire captain was part of a search and rescue mission in Nepal after a catastrophic earthquake in that country in 2015, but the destruction in the Bahamas is more complicated, he said.
"It's hard to describe," he said. "What you had was buildings flattened and then a storm surge pushing them around, washing part of them out to sea, with thousands of people living in the area."
In Katmandu, it was possible to tell where one home ended and another began, even if they had been reduced to rubble, Heatherington said.  
"Here, you'll have a debris field that's 10 to 15 acres with maybe 50 houses or 100 houses with hundreds and hundreds of people living in them," he said.
As of Wednesday, the team, working closely with the local police, had found and marked the location of five bodies in the debris.
"We'll grid an area off and ask locals information about where people are – or were," Heatherington said. "Obviously at this stage we'll target a scent and then send a dog in to confirm. If the dog hits on it, we'll send another dog to confirm, and then we'll send people in to locate the deceased, and then we'll mark the area."
Heatherington said locals are grateful for the team's work.
"They have a little hope, just a little hope seeing just the very beginning stages of recovery," he said.
Team members also successfully located one of three Canadians reported missing in the area.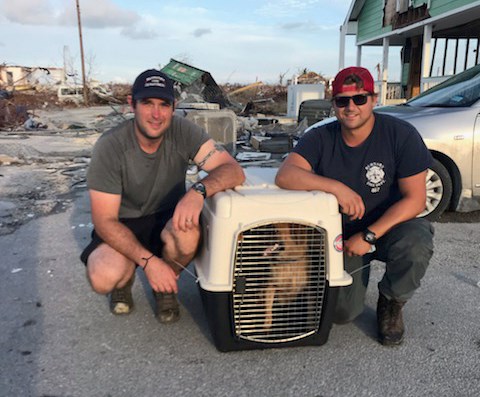 And the team has added another, unanticipated component to the mission as well – rescuing abandoned and stray dogs.
"A lot of people left and they left their animals, and there's what we call street dogs or strays, and they're hungry and scared at this point," Heatherington said. "During the day we find they'll come up to us, and we can put a leash on them. We found some kennels and we have a location and a contact where we've been dropping them off, and they're going to take care of them."
The team will continue its work Thursday, the last full day of its operations in the Bahamas.