It's official, the pre-summer summer the South Coast has enjoyed for the past couple of weeks has officially come to an end, and we're back in the throes of typical spring showers. 🌧 Temperatures have dipped back down, too: Saturday's forecast is calling for a high of 11°C, while Sunday should warm up to a high of 14°C.

Couple that forecast with B.C.'s new travel restrictions to help curb the spread of COVID-19, and it sounds like the perfect recipe for a weekend spent close to home. For now, toss on your favourite rain jacket, head outside to explore your neighbourhood, and consider grabbing take-out from one of your favourite local spots.

Here are a few more ways to have fun this weekend, while adhering to all of B.C.'s public health orders and staying a solid six feet away from others.
1. In the Fraser Valley? Visit Western Canada's largest tulip festival.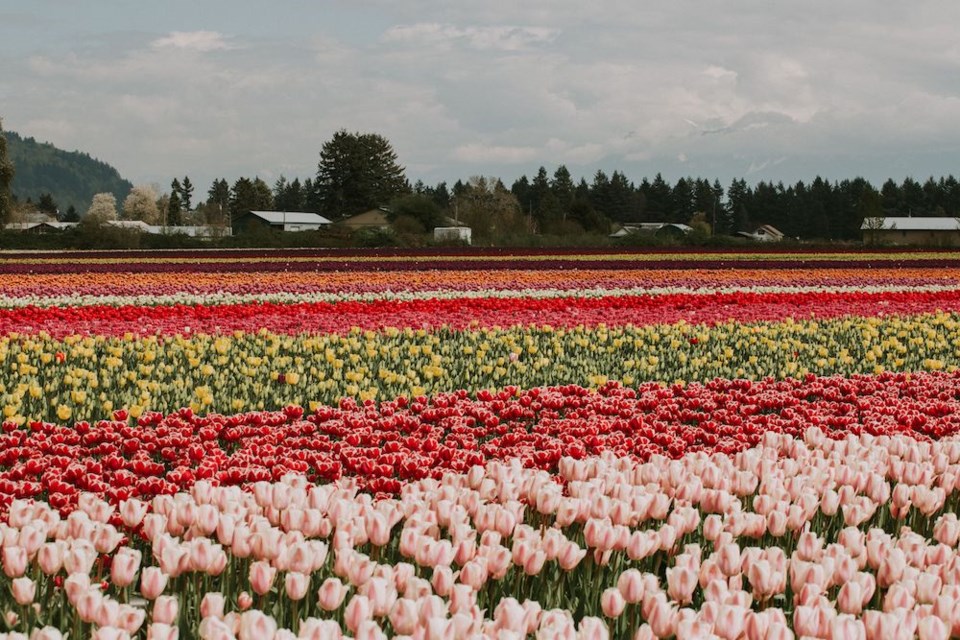 Formerly known as Tulips of the Valley, Chilliwack Tulip welcomes thousands of visitors to marvel at millions of beautiful bulbs. Photo via Tulips of the Valley

Formerly known as Tulips of the Valley, Chilliwack Tulip is ready to welcome thousands of visitors to once again marvel at millions of beautiful bulbs—6.5 million, to be exact!
The colourful attraction was forced to take a hiatus in 2020 due to the pandemic, but it returns this year with a host of health and safety protocols in place for its 15th annual edition, which kicked off last Sunday, April 11.

Considering the B.C. government's recommendation against non-essential travel outside of your reason, festival organizers encourage only residents of the Fraser Valley to visit the fields for the foreseeable future. Don't forget your umbrella this weekend!
2. Go birdwatching at Arizona's Saguaro National Park—from your couch!
A local nature-lover is working to introduce a new generation to birdwatching while encouraging conservation education. Grade 10 student Adam Dhalla is the co-creator of a new mobile game app called Find the Birds. It's available for free from Google Play and Apple's App Store.
Produced with help from the nonprofit group Thought Generation, the educational game allows players to fly away and virtually explore Arizona's Saguaro National Park.
3. Celebrate lens-based art throughout the city, courtesy of Capture Photography Festival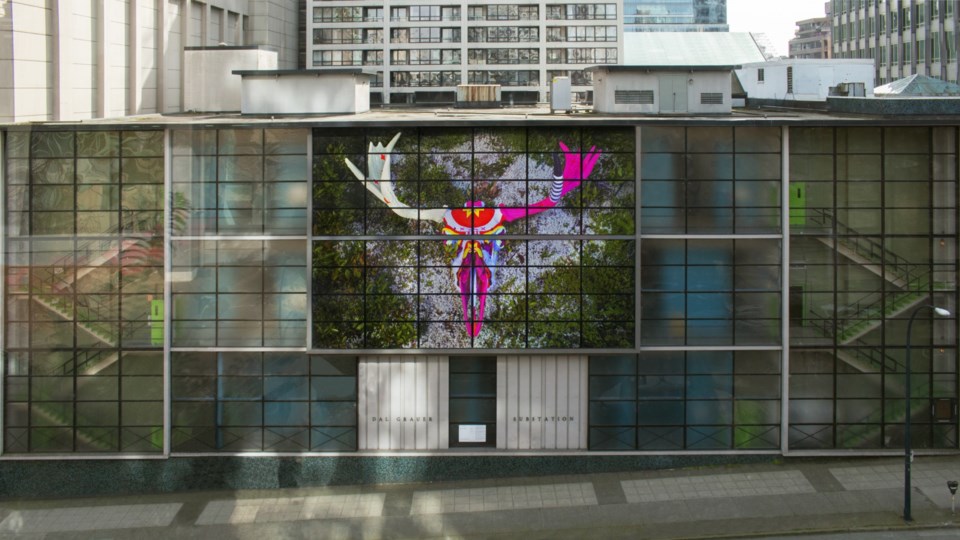 Mi'kmaq artist Jordan Bennett's al'taqiaq: it spirals, 2020, can be seen adorning the side of BC Hydro's Dal Grauer Substation on Burrard Street this April, as part of Vancouver's 2021 Capture Photography Festival. The artist's inspiration for the piece reportedly came from a photograph of a Mi'kmaq porcupine quill basket created by ancestor Mi'kmaw artists, an artifact currently held in the collection of the Museum of Vancouver.Photo by Jocelyne Junker, courtesy of Capture Photography Festival
In addition to the numerous virtual events packing the 2021 Capture Photography Festival's month-long calendar, the festival—first launched in 2013—is also celebrating its return to the streets and galleries of Vancouver until the end of April.

This year's festival consists of two featured exhibitions, 23 selected exhibitions and 17 public art projects. That roster is rounded out by 46 events, including four speaker series talks, and a series of digital tours.

Here are a few of the highlights.
4. Keep your eyes to the sky to see this dazzling 'pink supermoon'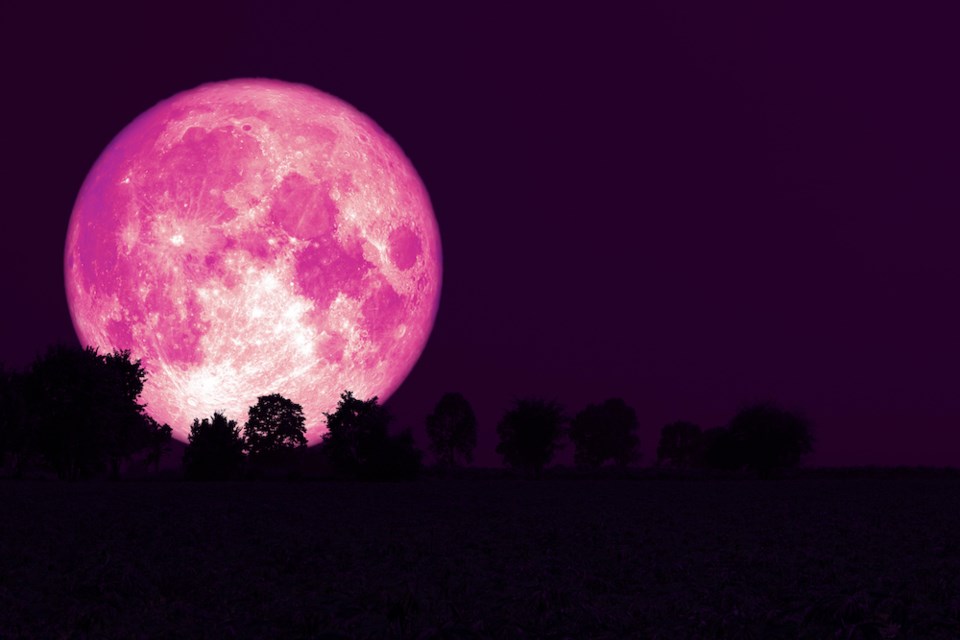 April's full pink moon will also be a supermoon this year in Vancouver, which means it will look bigger than usual.Photo via Chayanan / Getty Images
This year, April's full moon, known as the "pink moon," is also considered a "supermoon."
No, the lunar behemoth won't possess supernatural powers or super-celestial abilities, it will simply look bigger—and, ideally, be able to peek through the clouds this weekend. Still cool, though!

April's "pink" full moon is set to rise over B.C. skies on Monday, April 26. In Vancouver, the moon will appear at its fullest at 4:13 a.m., so unless you're a super-late night owl or a super-early riser, you will still catch the heavenly body in all its super glory on Sunday night (April 25).

Curious as to what a "pink moon" means exactly? We've got the details for you HERE.
5. Boost your spirits with some traditional tunes, courtesy of Festival du Bois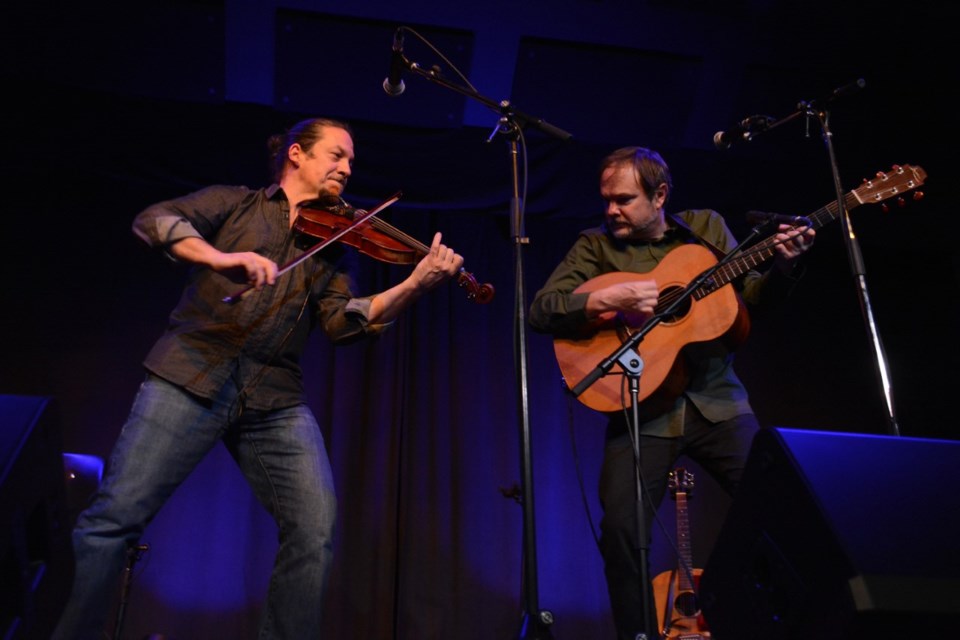 Pierre Schryer and Andy Hillhouse (on guitar) make their debut as a duo at Coquitlam's Festival du Bois. Photo submitted
Festival du Bois, the annual Coquitlam fete celebrating French and French-Canadian music, has returned virtually. After playing at Coquitlam's Evergreen Cultural Centre two weeks ago for his taped Festival du Bois concert, musician Andy Hillhouse said he was "very impressed" to see how much care Festival du Bois' organizers put into the taped shows at the Evergreen: Acts came into the Coquitlam venue one at a time, musicians were placed apart on the stage, and everyone was masked. As well, a COVID compliance officer was onsite to adhere to the health protocols, he said.

Now, Hillhouse and fiddler Pierre Schryer's concert can be viewed online, where they're offering up traditional music touching on tunes and melodies from Quebec, Ireland and North Africa. The event runs until April 30.
6. Treat yourself to Poutine for a Purpose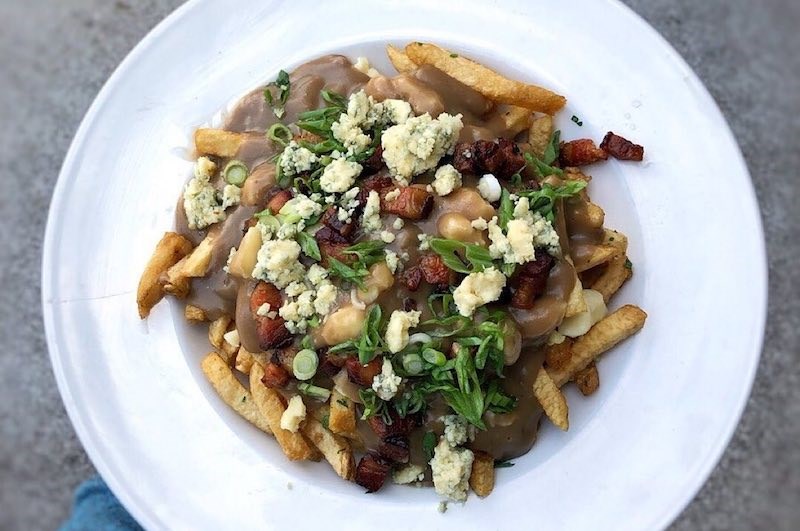 Poutine With Purpose, the nine-day fundraiser, returns to Vancouver this spring. Poutine With Purpose/Facebook
There's never a bad time for poutine, but the Canadian delicacy tastes even better when it's for a good cause. Poutine With Purpose is a popular week-long fundraising event that began in Calgary several years ago, and since expanded to Victoria, Hamilton, and Vancouver.
Taking place from April 23 to May 1, 2021, Poutine With Purpose is when participating restaurants highlight their poutine offerings, and for every poutine sold, a healthy meal is provided to a youth in need through charity partner Mealshare.

Check out the list of participating restaurants HERE.
7. Celebrate Sikh Heritage Month with a virtual walking tour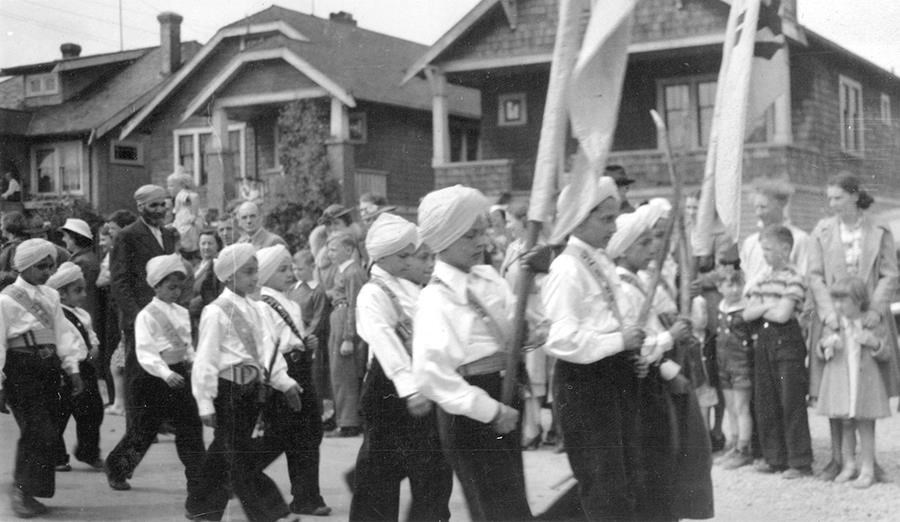 Sikh children leading a Nagar Kirtan procession in Vancouver in the 1930s. City of Vancouver Archives CVA 300-24
The Nameless Collective is a group of local historians and storytellers who are working to rekindle narratives of decades past by discovering and sharing archival documents, photographs, and records to paint a fuller picture of what Vancouver and BC has looked like over the past 100+ years.
For Sikh Heritage Month BC, The Nameless Collective will be hosting virtual walking tours on the streets of Metro Vancouver, including Kitsilano, New Westminster, and downtown Vancouver, as well as some intimate discussions going through archival pictures and sharing stories of Sikhs and South Asians in BC.
This April, "take the opportunity to learn about this oft-forgotten part of BC's rich history. The better we understand each other, the better we can help each other prosper and grow," writes Danish Singh, Sikh Heritage Month BC's director.
8. Hide out from the rain and check out this new photography exhibit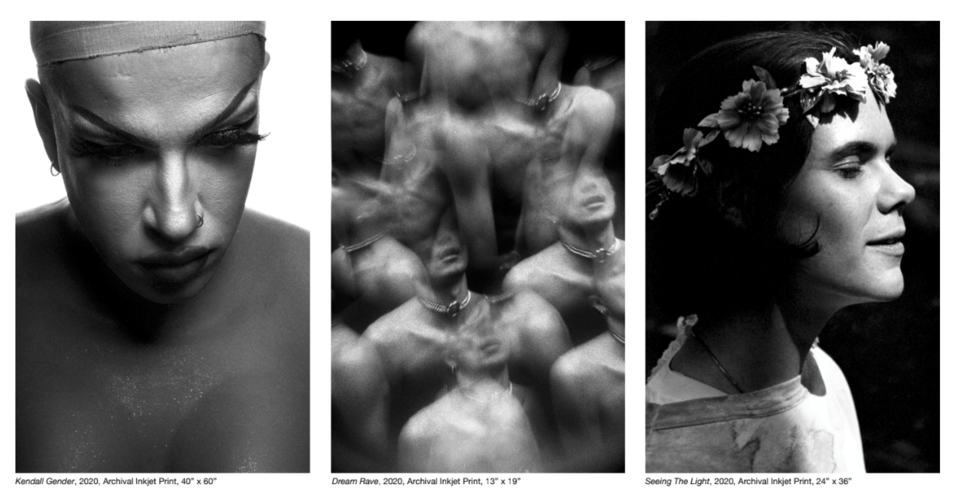 Three of the images from Vancouver photographer Steven Audia's upcoming exhibit at The James Black Gallery in Mount Pleasant. Photos by Steven Audia
Titled 20/2020, Vancouver photographer Steven Audia's exhibit is set to debut at The James Black Gallery—a queer-led arts and culture hub in Mount Pleasant—next weekend. It's scheduled to run from Friday, April 23 to Sunday, April 25, with viewings available by appointment.

Comprised of 20 black and white portraits, taken during a single particularly challenging year, the images explore how the challenges of 2020 shifted Audia's perspective and approach to photography over the last year, and primarily follow a theme of "closeness."
- With files from Lindsay William-Ross, Elana Shepert, Janis Cleugh, Thor Diakow, and Danish Singh