B.C.'s provincial health officer is warning of a "concerning" upward trend of COVID-19 cases in children under 11 years old.
At a press conference Tuesday afternoon, Dr. Bonnie Henry said the last week has seen a spike in coronavirus cases among three young cohorts: those aged 0-4, 5-11 and 12-17.
Between Sept. 17 and 23, the BC Centre for Disease Control recorded 1,086 new cases in people 17 and under, with more than half in children between 5-11.
"The rates that we're seeing right now of COVID-19 per 100,000 population is going up quite dramatically, particularly in those younger school-age children who are not yet eligible for vaccination," she said.
Four people under 17 were hospitalized last week. Two of those were four years old or younger, and one remained in critical care.
Spikes in COVID-19 cases among children have shot up the most in regions of the province with the lowest vaccination rates, including in the Interior, the north and a region of Fraser Health that covers the communities of Mission, Abbotsford and Chilliwack. In those regions, the rise in cases preceded the school year, said Henry.
"It tells us that the rates that we are seeing in school-aged children is a reflection of community vaccination rates," she said. "Immunization protects those that are not able to be vaccinated."
"It's important for us to watch this."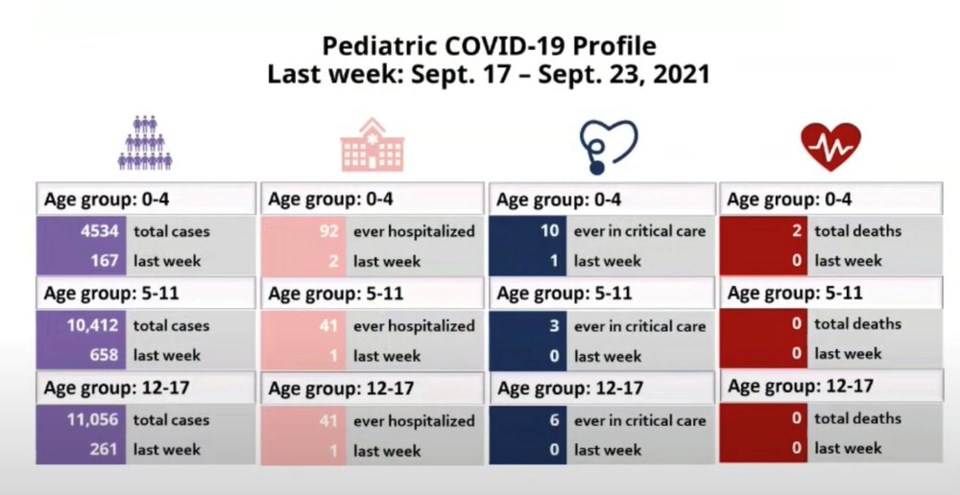 NEW REGIONAL RESTRICTIONS
The rise in cases in the eastern Fraser Valley prompted Henry to declare new restrictions across the region, similar to those in place in the Interior over the summer.
The restrictions include the communities of Hope, Chilliwack, Abbotsford, Agassiz-Harrison and Mission, as well as the surrounding area.
Private indoor gatherings will be limited to five additional people or one additional household. Outdoors, 10 people may gather, unless everyone is vaccinated.
Henry said the restrictions were announced as hospitals face rising pressure to deal with COVID-19 patients. That has cascaded into surgeries, where wait times are growing.
"We need to take action now to increase vaccination rates," said the provincial health officer.