Workers in B.C. are flexing their mobilization muscles and indicating they are more willing to go on strike than they have been in recent years.
From Metro Vancouver port workers, to bus drivers in the Fraser Valley, to hotel workers in Richmond, union members have appeared to be more willing to walk off their worksites and fight for what they consider to be fair pay in an uncertain and inflationary economic environment.
Though unions have held more strikes in B.C. this year compared with recent years, the province is far from experiencing the level of labour unrest it saw in the 1970s and 1980s, according to labour historians and economists.
That may be because only 28.6 per cent of B.C.'s workers are unionized, down from 43.3 per cent in 1981, according to Statistics Canada.
Workers have, however, been emboldened enough to reject recent settlements that their unions have negotiated, and to stay on picket lines longer, Jim Stanford, an economist and director at Vancouver's Centre For Future Work, told BIV.
Employers appear to be more wary of locking out employees, given that the number of days lost to lockouts has plummeted, he said.
"Lockouts had been quite common a few years ago, because employers were feeling confident and aggressive," Stanford said. "This year, almost all of the work stoppages are strikes."
The eagerness workers have to go on strike was clear in mid-June, when International Longshore and Warehouse Union Canada (ILWU) workers in B.C. voted 99.24 per cent in favour of going on strike.
Achieving that kind of near-unanimous support for a strike is extraordinary. Strike votes by union workers usually pass, but historically by margins that have tended to be in the 70-per-cent-to-90-per-cent range.
About 7,400 of those ILWU workers then in late July rejected a mediated contract offer that would have ended their labour dispute – a work stoppage that kept goods from entering and leaving the Port of Vancouver, and prompted calls for the federal government to step in and pass back-to-work legislation.
Negotiators had to tweak wording in the proposed agreement to get workers to support the pact in a follow-up vote that received support from nearly three in four voting members.
"It's harder now to satisfy workers with agreements – even if they are the best agreements that they've received in years," said Rod Mickleburgh, who is a former labour reporter and the author of the 2018 book On The Line: A History of the British Columbia Labour Movement.
"They're still prepared to say 'No' to them."
Another recent example of emboldened workers was in summer 2022, when British Columbia General Employees' Union workers went on strike and received what Mickleburgh called the best contract terms that they had been given in decades. Those workers ratified the contract by a slim 53.4-per-cent majority.
"That shows that workers are worried about inflation in the future and keeping up with the rising cost of living," he said.
Canada-wide data shows more days lost to work stoppages
Statistics Canada data backs up that there is more labour unrest across Canada today than in recent years.
The nation's number cruncher provides national data going back to 2014 that shows that more days were lost to work stoppages in 2022 than any other year: 2,147,902.
In the first six months of 2023, there were 1,664,400 days lost to work stoppages, meaning that this year is on pace to exceed the number of days lost to work stoppages last year.
Statistics Canada data for 2023 does not include the port strike in Vancouver, or the strike at the Metro grocery-store chain in Ontario.
"In recent years more of the strikes have been in the private sector, but this year bucks that trend – mostly because of the big PSAC (Public Service Alliance of Canada) strike," Stanford said.
"The data confirm a rising trend in work stoppages, for sure – but we have to keep it in historical perspective. Measured as a proportion of total days worked, the days lost to work stoppages, even in 2022, was down over 90 per cent from peaks established in the 1970s."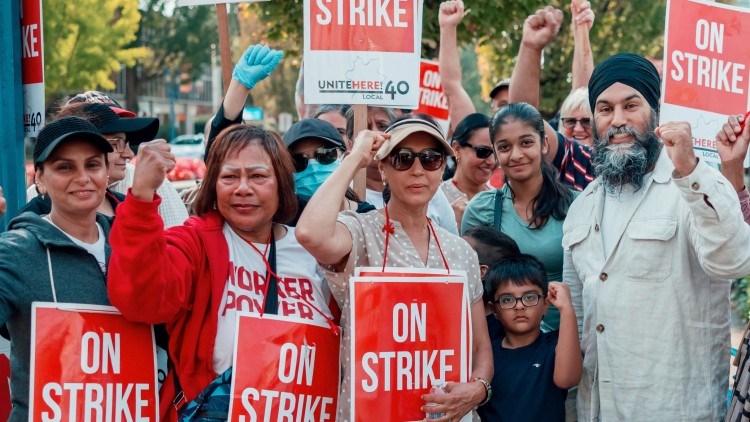 Statistics Canada data for B.C. pins 2014 as a particularly acrimonious year, because teachers went on strike.
There were 1,224,130 days not worked in B.C. in 2014. That is more days lost to work stoppages in B.C. than the combined total of all years since, including the first half of 2023.
Stanford and Mickleburgh, however, say strikes this summer indicate that there is an uptick in labour unrest in the province because of emboldened workers. They both said they doubt that workers' drive to have wages keep up with inflation will weaken any time soon.
Automation has long been an issue in labour disputes
B.C.'s economy is also feeling the effect of strikes held elsewhere.
Hollywood actors in mid-July joined writers who had been on strike since May 2. The resulting industrywide shutdown is the first in 63 years.
In addition to workers wanting wage hikes that match inflation, a major negotiation sticking point concerns streaming-service revenue and ongoing royalties for the script writer of a TV show that achieves phenomenal success, for example.
Another barrier to resolving the Hollywood workers' dispute centres on artificial intelligence (AI).
Actors say they fear that production companies will use their likeness to generate content without their input. Writers, similarly, fear that scripts could be written with generative AI platforms similar to ChatGPT.
While automation has been a bargaining point in labour disputes for decades, workers' fear of AI is acute because many think it will completely transform the way work is done and that it will rapidly diminish how many humans are needed to do that work.
"There was always the sense that machines would automate the more heavy-labour jobs, and construction," said Ken Peacock, chief economist and senior vice-president at the Business Council of British Columbia.
"I think things are unfolding in precisely the opposite way, with the version of AI that we currently have. It is professional jobs – desk jobs, computer jobs – those are now the jobs at risk."
While many of those jobs at risk are not unionized, others are, he said, pointing specifically to the public sector.
Angst over potential job losses may ebb with time, Peacock said.
"History shows that tools, capital investment, machinery, equipment, spreadsheets, the internet – all these innovations have actually been good for workers," Peacock said. "There's been displacement, and job changes, but there's been a huge number of jobs created around the internet space and websites. It's massive."
Strikes may fuel more interest in unionization
B.C.'s workforce is less unionized than it used to be, but Mickleburgh and Stanford say the recent rise in strike activity may encourage more workers to embark on unionization drives.
The province's NDP government has also made it easier to unionize – something that may also increase union activity, they said.
B.C.'s Labour Relations Code Amendment Act 2022 went into effect in June 2022, changing the union certification process by reintroducing a card-check system.
The new system enables union certification if 55 per cent or more employees in a workplace sign union membership cards. No further vote is required.
Much ado has been made about unionization drives at companies such as Starbucks Corp. (Nasdaq:SBUX), although, as Stanford pointed out, there were far more unionized Starbucks stores in B.C. in the 1990s than there are now.
A consideration in future unionization drives at the coffee giant may stem from perceptions about of whether the company treats unionized and non-unionized staff equitably.
In some cases, unionized Starbucks workers in B.C. negotiated wage gains and then the company provided those same gains to non-union workers.
Conversely, the company in May announced wage increases to non-union workers, except for those at three stores that had applied for but had not yet received union certification.
The United Steelworkers union then in late August settled a deal through the B.C. Labour Relations Board for Starbucks to pay wage increases to the workers that had previously been denied the raises.
Overall, the labour climate in the province is peaceful compared to times in the 1970s and 1980s, Mickleburgh stressed.
He wrote in his book that during former premier W.A.C. Bennett's final term in the early 1970s, "the province became a forest of picket signs."
In 1970, a record 2.9 million workdays were lost through labour disputes, Mickleburgh wrote.
That compares with B.C. losing 43,840 days to work stoppages in the first six months of 2023.
After the NDP's then-premier Dave Barrett took office in 1972, the situation did not change much. A strike among pulp workers lingered.
"Other strikes added to the malaise," Mickleburgh wrote. "Bakers, meat cutters and members of the Retail Clerks' Union at 125 Lower Mainland supermarkets walked out at the beginning of September 1975, demanding annual wage increases of up to 50 per cent. BC Rail was beset by rotating strikes, and a comparatively minor strike by 180 propane truck drivers was starting to disrupt the supply of heat to seniors' homes on Vancouver Island."
The Solidarity Movement gained momentum in the summer of 1983, prompted by then-premier Bill Bennett's restraint program and public sector job cuts.
About 40,000 activists packed Empire Stadium for an event in August 1983. A couple months later, an estimated 60,000 people marched in downtown Vancouver, according to Mickleburgh.
"Solidarity was a one-off, in a way, because there was only one legal strike in that whole movement, and that was the BC Government Employees' Union," Mickleburgh told BIV. "The other walkouts were .... illegal, and they were not for individual contracts, but they were to push back legislation."