UPDATE: 10:22 p.m.

NDP Leader Jagmeet Singh promises his party will play a "constructive and positive role" in Canada's new Parliament.
Against the backdrop of a minority Liberal government - as Justin Trudeau led his team to 156 seats, fewer than the 170 required for a majority - Singh spoke to an enthusiastic crowd of supporters at his victory celebration.
"We are going to make sure that the energy that we built over this campaign, the excitement that we built ... continues so we play a constructive and positive role in the new Parliament that Canadians have chosen."
Singh said he had spoken to the Prime Minister ealier and let him know that the NDP continues to work hard on making sure they deliver on the priorities Canadians have.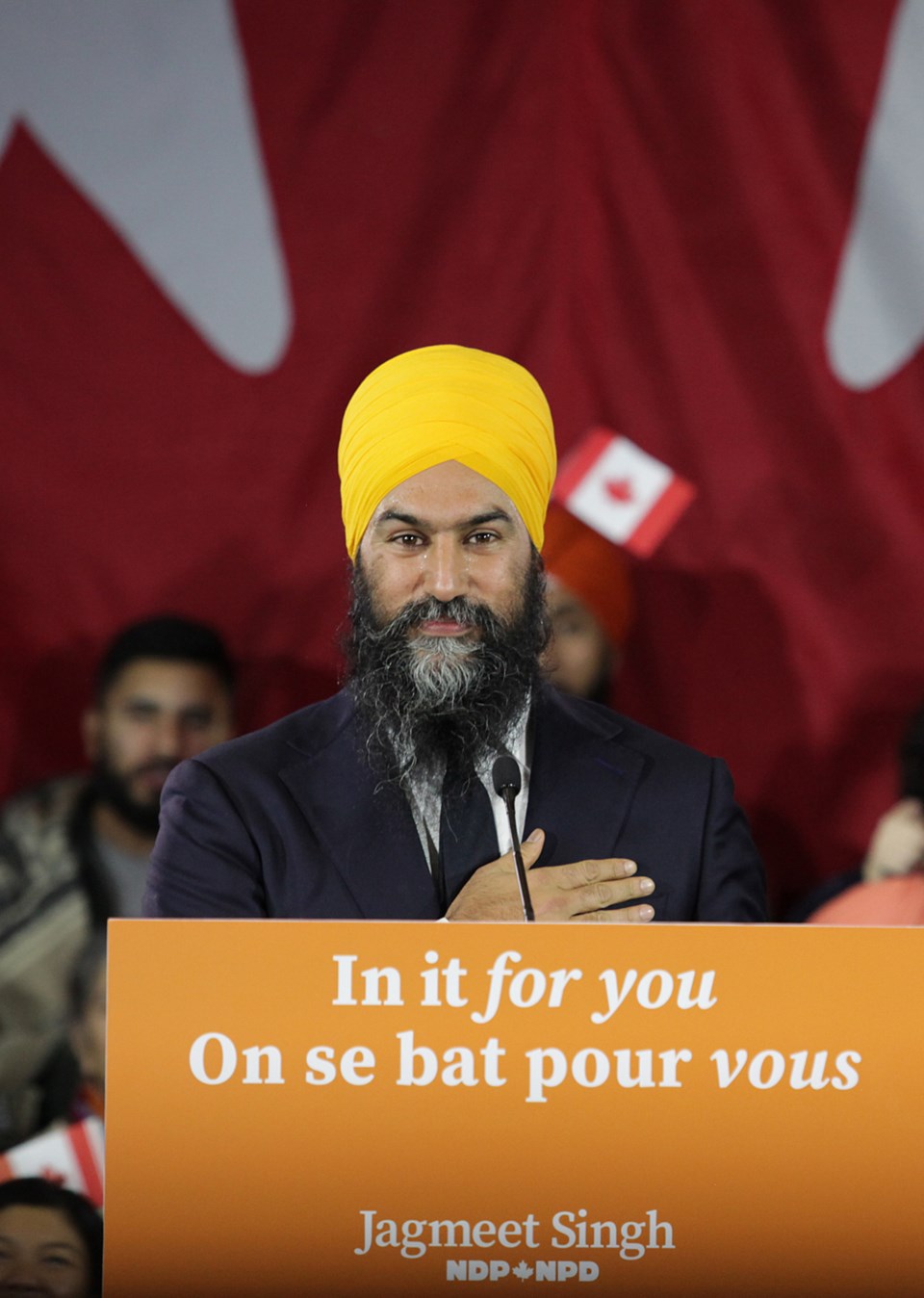 Singh reiterated several of his party's priorities: Indigenous reconciliation, pharmacare, housing affordability, waiving interest on student loans, capping cellphone bills and taking "real and urgent action" to fight the climate crisis.

Most popular with the crowd was his reiteration of a favourite party talking point: "We're going to make sure that the super-wealthy start paying their fair share," he said, as the crowd launched into a chant of "tax the rich, tax the rich."

He also promised to push for electoral reform.
Those, Singh promised, would be the priorities that New Democrats "will put at the heart of conversations" that they are now going to have with other parties in Ottawa.

Singh himself earned 37.4% of the popular vote, holding the lead all night over Conservative Jay Shin (at 31.2%), with 189 of 192 polls reporting.

 
UPDATE: 9:22 p.m.
 
Re-elected Vancouver East NDP MP Jenny Kwan says her party's leader, Jagmeet Singh, has "surpassed expectations" despite his party being poised to have its caucus nearly cut in half in Monday's general election.

(At time of writing, New Democrats had won or were leading in 25 ridings. In 2015, the party won 44 seats.) 
"I think that people wrote him off," Kwan said.
She said he proved doubters wrong many times over the last year, including by winning the Feb. 25 byelection in Burnaby South and in maintaining official party status for the NDP by winning more than 12 seats. 
"We will continue to build on the momentum that Jagmeet brought to our campaign. The fact of the matter is that the more Canadians see him, the more they learn about him, the more they like him," she said. 
Despite the smaller caucus, the NDP could hold the balance of power in Parliament, with the Liberals expected to form a minority government. 
Kwan said New Democrats will use that leverage to advance the same policy priorities it campaigned on during the election, including housing, pharmacare, cellphone bills and electoral reform.  
"There are many things that we want to pursue in the House of Commons and New Democrats will be there to do just that."
UPDATE: 9:07 p.m.
With 115 of 192 polls reporting back, NDP Leader Jagmeet Singh is holding a comfortable - albeit not a gigantic - lead over his nearest rival in the battle for Burnaby South.
Singh sits at 36.7% of the vote, with Conservative Jay Shin at 31%. Singh has maintained a lead throughout the evening and seems poised to hold onto the seat.

Spirits seem to be high at the NDP party at the Hilton Vancouver Metrotown, though the party's national showing hasn't been banner this evening - it's currently leading or elected in only 25 seats. Singh has yet to appear.
UPDATE: 8:31 p.m.
NDP Leader Jagmeet Singh seems to be sitting more comfortably now with 45 of 192 polls reporting. He's at 36.3%, with Conservative Jay Shin (who nipped at his heels early in the night) sitting at 30.9%.
UPDATE, 8:10 p.m.

Singh is widening his lead. With 4,533 votes, he has 36.8% of the vote to Conservative Jay Shin's 32%.
UPDATE, 7:58 p.m.
With NDP Leader Jagmeet Singh poised to successfully defend his seat in Burnaby South and return to a minority Parliament in Ottawa, one local official is optimistic about what the new arrangement means for the city. 
Burnaby councillor and chair of the Metro Vancouver board Sav Dhaliwal said he hopes the NDP's newfound power will help give the region a better voice in the nation's capital. 
"He will know what the local governments need, whether it's transit, whether it's housing, whether climate change ... we will have a direct pipeline to Ottawa," he said. 
With 2,470 votes back, Singh is sitting at 36% of the vote, with Conservative Jay Shin at 33.9%. Liberal Neelam Brar is farther back, at 23.1%.
***
And NDP Leader Jagmeet Singh is out to an early lead.
With just 159 votes counted, he's sitting at 35.2% of the vote, with Liberal challenger Neelam Brar at 27%.

That's sitting against the backdrop of a Liberal minority government, as Justin Trudeau's Liberals are leading in a reported 145 seats nationwide (170 is required for a majority).
**
Have you got the snacks and beverages lined up? Ready to tune in to follow the live results?
The Burnaby NOW team will be on the job for you tonight, on the road with the candidates and here in the office, bringing you live updates from our Burnaby ridings.
A quick recap of Burnaby South for those not familiar with the riding: NDP Leader Jagmeet Singh is the incumbent in the riding he has represented since February of this year when he won a byelection to replace former NDP MP Kennedy Stewart, now the mayor of Vancouver. 
Singh won that race with relative ease. He got roughly 39 per cent of the vote, with Liberal Richard Lee coming in second with 26 per cent, followed by Conservative Jay Shin with 22 per cent. 
Singh and Shin are the only two returning candidates from the byelection. They are joined by Neelam Brar (Liberal), Brennan Wauters (Green), Brian Sproule (Marxist-Leninist), Al Rawdah (People's) and Rex Brocki (Libertarian).
Roughly speaking the riding comprises most of Burnaby south of the Lougheed Highway. 
The 2016 census found 111,973 people living in Burnaby South – an increase of  6,936 from 2011.
The average age in Burnaby South is 41.2, slightly higher than the national average of 41.06.
The median income was $61,660 in 2015, while the national average was $73,050. That puts Burnaby South 237 among 338 electoral districts in Canada.
Bookmark this story, which will be updated throughout the night with live news from our team on the road and in the office. You can keep an eye on the Burnaby NOW on Twitter (@BurnabyNOW_news) and also follow reporter Kelvin Gawley (@byGawley), who will be reporting live from the NDP's event in the riding.