The federal election is still weeks away and a lot can happen between now and then.
So, take the following numbers with a piece of salt the size of a volleyball. According to the website 338Canada, this is the "projected popular vote" for the candidates in each of the three Burnaby ridings.
Liberal MP Terry Beech (31.2%), Conservative Heather Leung (27.5%), NDP Svend Robinson (22.2%), Green Amita Kuttner (15.7%), PPC Rocky Dong (3%).
NDP MP Jagmeet Singh (32.2%), Liberal Neelam Brar (29.4%), Conservative Jay Shin (27.5%), Green Brennan Wauters (5.3%), PPC Al Rawdah (4.9%).
NDP MP Peter Julian (32.4%), Liberal Will Davis (26.1%), Conservative Megan Veck (23.5%), Green Suzanne de Montigny (14.9%), PPC Hansen Ginn (2.3%).
According to 338Canada, Burnaby North-Seymour is listed as "leaning Liberal," Burnaby South is listed as a "toss up" and New Westminster-Burnaby is "leaning" NDP.
According to its website, "the 338Canada project is a statistical model of electoral projections based on opinion polls, electoral history of Canadian provinces and demographic data. This web site is the creation of P.J. Fournier, astronomy and physics professor at Cégep de Saint-Laurent in Montréal."
Fournier is a big advocate of polling aggregates instead of putting a lot of stock into one particular poll. He's also a big believer in using demographic data to help determine outcomes.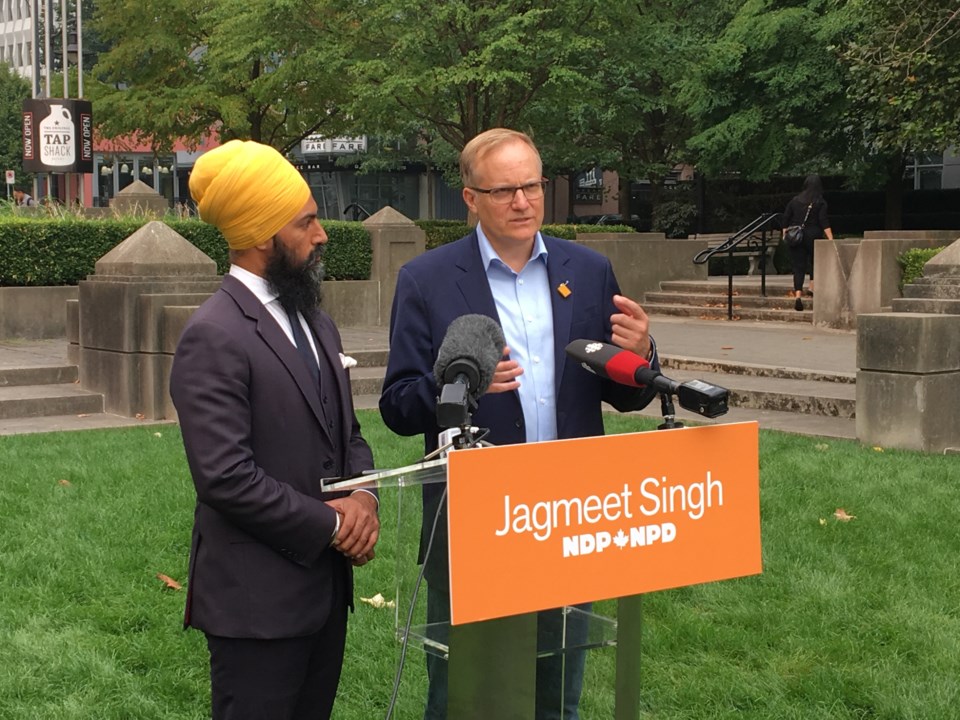 Fournier's site describes its methodology like this: "The 338Canada model uses a mostly proportional swing with regional adjustments. For instance, if a party goes from 30% to 33% in the poll aggregate, an increase of 10%, then its score goes up by 10% in every district - if said party is at 15% in district X, then its score goes up to 16.5% (an increase of 1.5 point).But mostly proportional does not mean exclusively proportional. The 338Canada model also uses demographic data: careful considerations is given to demographics of each district, such as median and average household income, age distribution, language most spoken at home, etc. This data is used to make statistical correlations of voting intention swings between regions and districts."
The Julian lead isn't really surprising because most people see him as likely to win. The Beech lead might surprise people who assume a Liberal in the riding where the Trans Mountain project terminates would be in tough, but there are more pipeline supporters in this riding – especially on the North Shore – than people realize.
As for the Singh "toss up" – I have my doubts that it's really that close. But we shall see.
As a side note, it's horrifying to think that Leung – who is refusing to even commit to an all-candidates' meeting – is that far ahead of Robinson, but here we are.
Follow Chris Campbell on Twitter @shinebox44.