Less than a year after a heat dome killed nearly 600 people in British Columbia, experts across the country have come together to offer concrete steps to protect against extreme temperatures.
Canada is warming at least twice as fast on average than the rest of the world. But not all areas will suffer in the same way. Future heat waves are expected to hit urban hot spots hardest, according to a report published Wednesday from the Intact Centre on Climate Adaptation.
Whereas flooding and wildfire — expected to increase in frequency and intensity this century — will cost Canada vast sums of money, heat waves will ramp up as a kind of silent killer.
"The impacts of heat are death," said lead author Joanna Eyquem, managing director of Climate Resilient Infrastructure at the centre.
"It doesn't kind of appear on our spreadsheets of cost because the cost is actually felt in the lives and people's health."
The report also warns of "red zones" in low-lying areas in B.C., southern Prairies, the St. Lawrence River valley in Quebec, and regions north of Lake Erie in Ontario.
In these areas, heat waves are expected to last over eight days under a worst-case emissions scenario. The number of days with 30 degrees Celsius-plus weather, meanwhile, is expected to climb to over 50 per year in many cities over the second half of the century.
Across the country, those very hot days put cities like Toronto, Montreal and Ottawa in the top 10 hottest metropolitan areas in the country. By 2051, Kelowna, B.C., meanwhile, is expected to have the longest-lasting heat waves and warmest maximum temperature of any city in Canada — though smaller Interior communities like Kamloops, Penticton and Vernon are also expected to reach similar temperatures.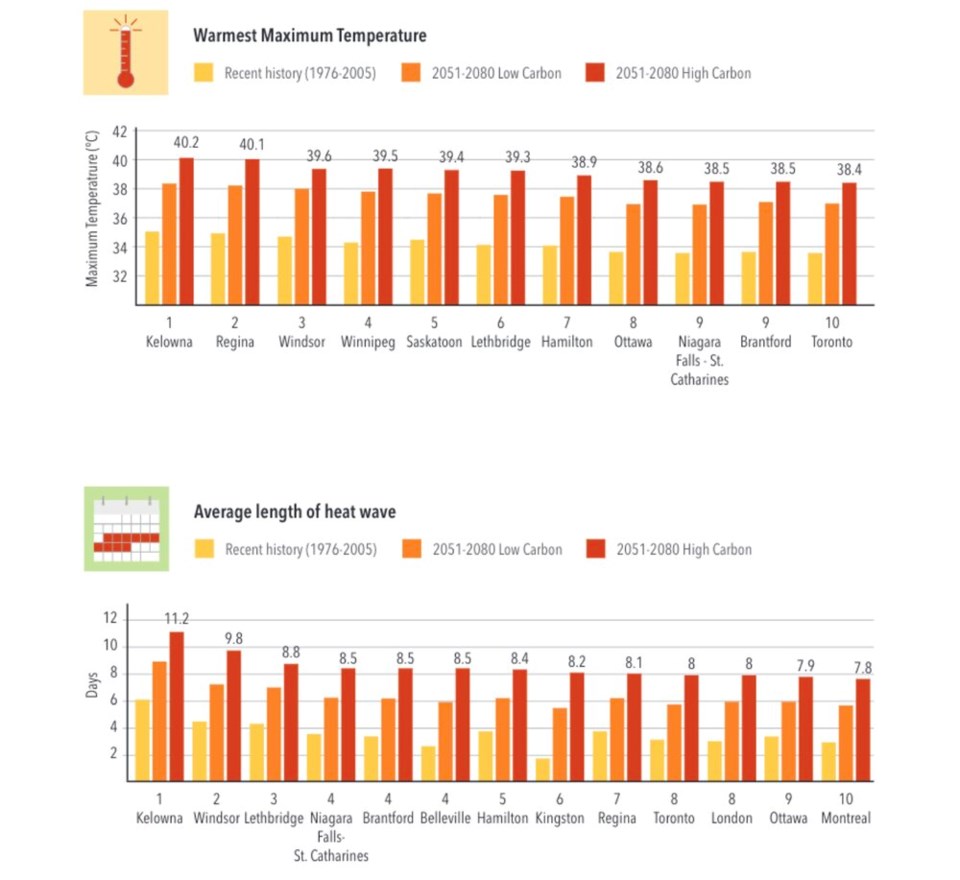 Altogether, more than 17 million Canadians are expected to be exposed to extreme heat.
"It basically marries up very closely with where we live," said Eyquem. "Our capital cities are basically in the firing line."
But the parts of the country expected to be hit with the hottest heat for the longest aren't always the most vulnerable. Heat waves that occur outside of the summer or in communities unaccustomed to extreme heat can face massive human casualties, as was seen in Metro Vancouver last summer when hundreds died alone in hot, poorly ventilated rooms.
Beyond direct physical threats to people's health, rates of violence, aggression and even suicide are known to go up with temperature rise. Worrying signs climate change is already taking a heavy toll on Canadians' mental health have recently sparked a national surveillance program tracking climate distress at a population level.
How heat threatens to damage cities, animals and human lives
The report warns of a deadly scenario where extreme heat disrupts electrical power to people's homes, cutting air conditioning and creating a cascade of severe heat illness and death.
A vulnerability assessment conducted by Toronto Hydro and cited in the report notes extreme heat makes it hard to cool electricity infrastructure like power transformers, potentially leading to failure. If power were cut, multi-unit residential buildings were found most at risk.
"If the power's out, water pumps don't work, elevators don't work. That can really cause more extreme disaster," said Eyquem.
While extreme heat threatens lives most, the report also warns it could impact cooling equipment used in data centres, telecommunication exchanges and base stations.
In southern Ontario, the Crown agency Metrolinx found 32 C temperatures can warp rail tracks. And when heat lasts three or more days, the risk of derailment shoots up. Roads, buildings and bridges are also expected to face temperatures outside of their operational range in the coming decades, leading to cracks, ruts, deglazed windows and melting asphalt.
Meanwhile, demand on water during extremely hot periods can lead to water quality problems due to overuse and algal blooms, states the report.
Health care and emergency services face enormous pressure, as was seen in Vancouver last summer when firefighters waited up to 11 hours for ambulances to arrive and emergency room visits spiked, with patients suffering heat illness piled up in hallways.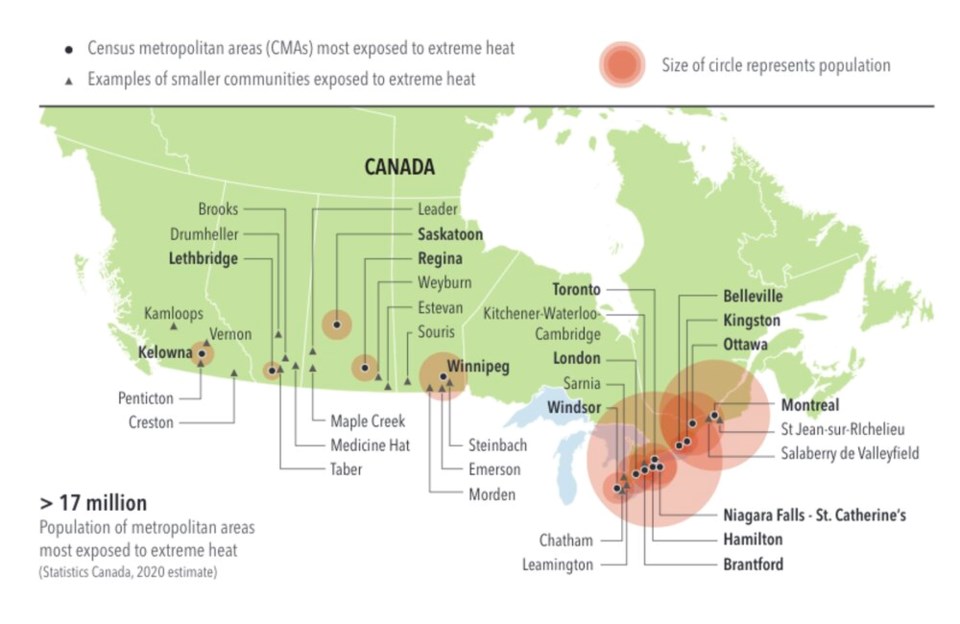 Last year's heat wave wreaked havoc on the natural environment, too, with one B.C. scientist calculating roughly a billion sea creatures cooked to death and reports from Oregon to B.C. of birds jumping from their nests to escape the heat.
Food systems are also put at risk — an estimated 651,000 chickens and turkeys were killed during the 2021 heat wave, and on the Prairies last summer, a combined heat wave and drought led some ranchers to emergency cull and auction off their cattle because they couldn't feed them.
Heat can threaten the electrified refrigeration that much of Canada's food system relies on, but also puts at risk the lives of thousands of foreign temporary farm workers who plant, tend and harvest crops across the country, says the report.
Modelling released last year from the Canadian Institute for Climate Choices estimates such heat waves could cost Canada up to 128 million work hours annually by end of century. That's the equivalent of 62,000 full-time equivalent workers or almost $15 billion.
"You can put these costs into dollar values, but we traditionally don't because we don't put a dollar value on a life," said Eyquem.
The report also nods to the knock-on effects of extreme heat, such as drought, wildfire, poor air quality, as well as an increased risk of thunderstorms and flash flooding.
"One of the challenges is where do you stop?" said Eyquem, pointing to extreme heat in B.C. giving way to wildfire giving way to flooding. "These things are interrelated."
"Luckily, the good news is that some of the solutions are [too]."
How individuals can prepare for extreme heat
The report lays out solutions that can be tackled well in advance by tenants, landlords, communities and governments.
At the individual level, preparing for a heat wave means coming up with a good plan — with neighbours, family and friends. The report recommends households learn how to use natural ventilation and arrange to receive public heat warnings.
By the time the heat hits, people should be ready to switch off unused appliances to reduce indoor "waste heat," and change their work, living and sleep habits to maximize time in cool spaces.
The report recommends tenants expand vegetation cover and gardens on balconies. That will help absorb water and keep them cooler. If possible, grow a green facade, plant and maintain trees and install a vegetated roof.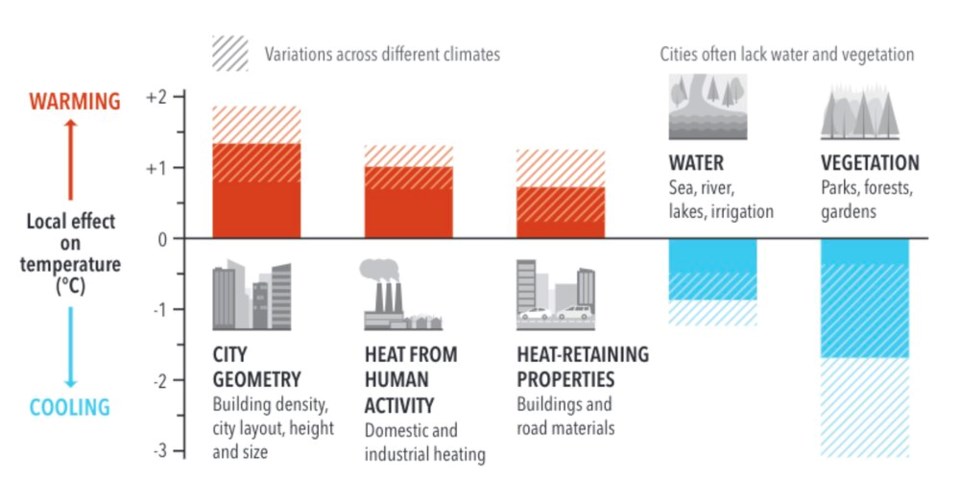 Of course, many individual actions to guard against heat require people to be homeowners or landlords.
They include enhancing a home's insulation and airtight seals around doors or windows; installing reflective roofs, walls and paving surfaces; and using concrete, brick, stone and tile finishes that absorb heat (some cities in the U.S. have taken to painting rooftops white).
Consider installing windows that reduce heat gain from the sun, or block the sun with shading devices like shutters, awnings, overhangs, blinds, or heat-resistant curtains.
Temperature and humidity monitors and controls can help warn of gathering indoor heat while improving energy efficiency.
Air conditioning units and heat pumps — and to a lesser extent ceiling and portable fans — go a long way in keeping residents cool and safe.
There are some limitations: air conditioning only adds to the heat island effect outside, and fans can either not work or contribute to unbearable temperatures in the worst heat.
Financial relief to carry out such retrofits may be available, including provincial and BC Hydro rebates for heat pumps in British Columbia, and the Canada Greener Homes Grant program nationwide.
More resources on how to protect your home can be found at the Institute of Catastrophic Loss Reduction's guidance on how to protect your home from extreme heat.
The Canadian Red Cross also offers advice on what to do before, during and after a heat wave.
How landlords can prepare for extreme heat
In addition to the measures listed above, the report suggests property owners and managers play a coordinating role to help entire multi-unit residential buildings plan for extreme heat.
That means providing information to help tenants adapt, identify and support vulnerable occupants and develop an extreme-heat emergency plan with the building's residents.
Green infrastructure can lower ambient building temperatures too. Plant and maintain trees on the surrounding property and parking lots, expand vegetated areas to absorb water around the building and work with tenants to install a green roof or vegetated wall, suggests the report.
At the building level, landlords can protect against outages during extreme heat by installing a backup generator to maintain air conditioning in designated cool rooms.
Without power, water will also be scarce, and landlords should consider arranging for a backup supply, states the report.
The report recommends landlords looking to make changes to consult BC Housing's Design Discussion Primer on heat waves.
How communities and government can prepare for extreme heat
At the community level, municipalities that haven't mapped out vulnerabilities to extreme heat should start there. Next, develop an extreme-heat emergency plan, recommends the report. That means coordinating emergence services, community organizations, government and media outlets in the event of an emergency.
The plan may include extending hours at beaches, pools, water parks or air-conditioned libraries. Other measures tend to focus on cooling centres and misting stations, offering free public transportation and establishing patrols to hand out water and offer help in vulnerable neighbourhoods.
Getting the message out before a heat wave hits is also crucial. Education and outreach campaigns can be effective in helping vulnerable populations and building owners understand what's at stake.
The report points to the "Green Patrol" in Montreal, a group of some 50 students funded by the city to engage with residents around climate change, heat-wave impacts, and community resilience.
Much of the planning at the municipal level requires strategic thinking about urban design.
The stakes are enormous. More than 70 per cent of Canadians — 27 million people — live in one of the country's census metropolitan areas, where urban cores are often prone to extreme heat.
Cities face elevated temperatures because of a phenomenon known as urban heat islands. Most people live in a layer of air between the ground and the tops of trees — where urban heating is most concentrated. In cities with over a million people, temperatures can climb 15 C higher than the surrounding countryside.
Part of that comes down to the built environment — concrete and steel reflect heat at much higher rates than green or blue spaces, and local geography and the urban geometry of a downtown core can disrupt natural wind patterns.
Residents cranking their air conditioners and driving gas-powered vehicles add to ambient temperatures in a city, but so does industrial activity and the collective heating of thousands of buildings.
At a community level, planting trees can save lives, lowering temperatures several degrees across entire neighbourhoods. Modelling in Vancouver has found a person standing under a tree can experience up to a 17 C temperature difference on a hot day.
But in many cities tree canopies are declining and what's left is unevenly distributed across metro areas like Vancouver. Even when new trees are planted, they take years to mature into their shade and cooling potential. Eyquem warns more green space can raise property values, pushing already vulnerable people out of the neighbourhood if supports aren't in place.
"What we see at the moment is often the most vulnerable people to extreme heat are in kind of poor quality housing with less, less access to nature," said Eyquem.
That includes the elderly, poor, people experiencing homelessness, those who live alone, as well as marginalized and racialized communities. The report says these groups will require targeted support.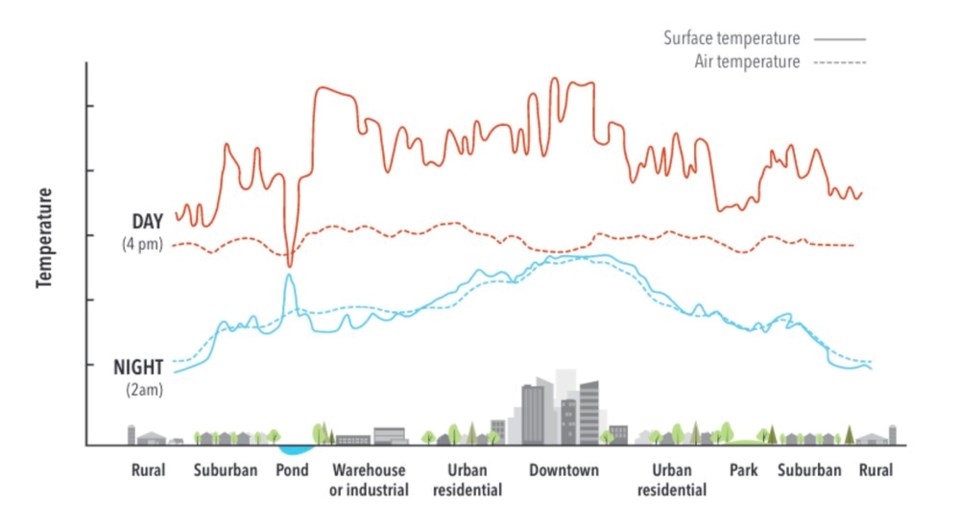 In Montreal, for example, the report notes the public health authority keeps a list of addresses and phone numbers of vulnerable people — including seniors' homes and homeless shelters. When heat waves come, public security checks in on residents through door-to-door visits and automated calls.
The report says cities can protect whole populations through good design — for example, requiring green roofs, strategically aligning green corridors to line up with prevailing wind, and requiring green islands or rain gardens in parking lots and playgrounds.
(Green infrastructure like trees, wetlands and rain gardens have also been shown to protect against flooding.)
Incentives to increase passive cooling have seen success in some cities. The report points to the City of Ottawa where "the Trees in Trust program provides tree planting on private property in exchange for three years of tree care by the property owner" or the "Schoolyard Tree Planting Grant Program," which does what its name suggests.
There are limitations. The National Building Code of Canada has yet to address overheating, and planting more trees and green corridors can be a challenge in already heavily developed neighbourhoods.
Other adaptations targeting built infrastructure are well underway in many Canadian cities but are not close to achieving their potential.
The report recommends reducing gas-powered vehicle traffic by restricting cars from urban centres, while boosting bicycle and walking corridors.
Cities that support mixed-use neighbourhoods also benefit from fewer car trips and the localized and planetary warming that come with them.
Less ambitious steps a city could take would be to install reflective or permeable pavements to help reduce ambient temperatures and expand artificial shade using awnings, umbrellas, tents or bus stops.
"We've done phase one, looking at kind of a vision for long term," said Eyquem, pointing to a recently released emission reduction plan.
"Now, it's time to look at short-term actions."
Extreme heat not treated as an emergency
After last year's heat wave in B.C., Eyquem said she expected to see a growing recognition of heat's deadly potential. But when she looked at Canada's federal disaster database, it still failed to mention the disaster.
On a Health Canada webpage outlining its role in a disaster, Eyquem said the agency did not include extreme heat among other risks like earthquakes, floods and outbreaks of disease.
"It's not seen as an emergency," she said.
Because extreme heat doesn't cause as much visible destruction, Eyquem says it often gets pushed aside as a government priority. She says there are real opportunities to twin government-funded home retrofit programs designed to improve energy efficiency to also target retrofits that protect against extreme heat.
To date, local governments have largely been left on their own to deal with extreme heat — whether creating cooling centres or deploying misting fountains. But as the COVID-19 pandemic has shown, provincial and federal governments play key roles providing funding, coordinating action plans and delivering messages.
In the interim, an individual who chooses to adapt their home to extreme heat also makes life more comfortable and affordable at the same time.
And while the report doesn't specifically target Indigenous communities or the acute challenges of Canada's North, Eyquem says it offers a baseline for action at the local level.
"There are simple things, even just sticking up some window films to kind of cut the sun coming through your windows," she said.
"That's very affordable. So I don't know why we're not doing that."