Wildfire smoke has arrived.
While it's late in the season for wildfires, several are burning in the region including large fires near Hope and Manning Park. At the same time large fires in Oregon and Washington as also sending smoke north.
This has created a situation where, according to IQAir, a website tracking air quality world wide, Vancouver has the word's worst air quality.
An air quality advisory sent by Metro Vancouver notes that due to the constantly changing situation some areas in the region may see air quality improve through the day, while others may see it worsen.
"Smoke concentrations may vary widely across the region as winds and temperatures change, and as wildfire behaviour changes," they state.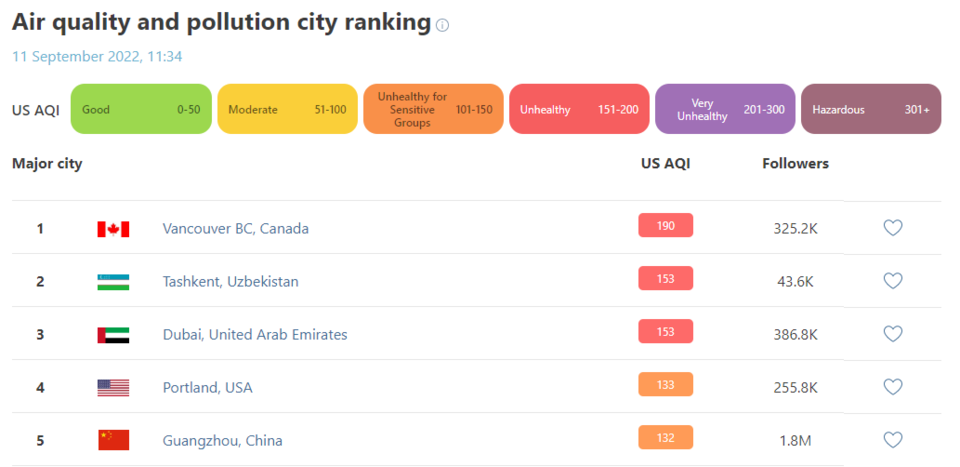 Some locals are taking the unusual skies to take photos capturing the somewhat surreal filter the smoke gives to Vancouver.
Good morning Vancouver#pickhappy #enough pic.twitter.com/4ibnoAAAAg

— Tricia Barker (@TriciaBarker49) September 11, 2022
A lovely run in Vancouver this morning round the sea wall at Stanley Park. pic.twitter.com/V19pIrU8mS

— Rachel Andrew (@rachelandrew) September 11, 2022
Wow the smoke is so heavy in Vancouver I can't see the mountains or the north shore. pic.twitter.com/WMIyArJVyz

— Gabrielle Miller (@MillerGabrielle) September 11, 2022
..But everything changed when the fire nation attack. #Vancouver pic.twitter.com/x5DByS1RRv

— Ivy B. (@GameRaterGirl) September 11, 2022
Eerie red sun when the forest fires smoke covers Vancouver pic.twitter.com/lyEReQp0k0

— David Chen, concerned citizen 陳冠余 (@DavidChenTweets) September 11, 2022
Flew into #Vancouver from Cabo tonight, and the talk of the plane was the smoke. Wowza! Everyone was shocked. pic.twitter.com/wCYyaEZOkW

— jackie (@jacqpatton) September 11, 2022
There's no filter on these photos, that's just what wildfire smoke does to the city of #Vancouver. pic.twitter.com/wbgVPpXIvK

— Brendan Kergin (@BKergin) September 11, 2022