The house is an anomaly, sitting on a rocky waterfront outcrop at the entrance to West Vancouver's Horseshoe Bay.
It sits by itself, with its back against the trees, looking out to a multimillion-dollar view of Howe Sound and passing BC Ferries.
The house itself is boarded up and covered with colourful graffiti.
The striking visual contradiction recently caught the eye of North Vancouver photographer Mark Teasdale, who regularly snaps photos of North Shore points of interest.
"It's unusual to have a house in West Vancouver all spray-painted up," he said. "And the property's worth so much money."
Teasdale recently posted his photo on Twitter with the comment "Party house with a view" which quickly went viral, garnering over 102,000 views and the attention of Vancouver Sun writer John Mackie.
"There's a lot of interest," said Teasdale this week. "People see that house on the ferry, and they don't know the story behind it."
Property assessed at close to $8 million
The once handsome house sits on a property that includes about eight acres of property on Tyee Point, recently assessed at close to $8 million, including an access road.
Since 1992, the property has been owned by PAK Construction Ltd., a company with an address at a residential home in the British Properties.
The two principals of the company, Kazem and Efat Askari, are both citizens or permanent residents of Canada and live in West Vancouver, according to B.C.'s Land Owner Transparency Registry. They've owned the house since 1992, when their company bought the property for just over $2 million.
The house itself was built in 1951.
A 10-year-old real estate listing for the property shows an older-style 2,200-square-foot West Coast Modern home with floor-to-ceiling windows and a wraparound deck, along with "a guest cottage, caretaker's residence, helicopter pad and float dock."
The real selling point, however, was the 2,500 feet of shoreline and 180-degree "totally unobstructed forever views of Howe Sound from every elevation," including a water lease for a dock.
"Nothing like this has ever been for sale or will ever be available again," the listing description enthused.
Price was listed as "on request," although was said to be about $15 million.
Property records indicate nobody snapped it up and the same owners continue to own the property.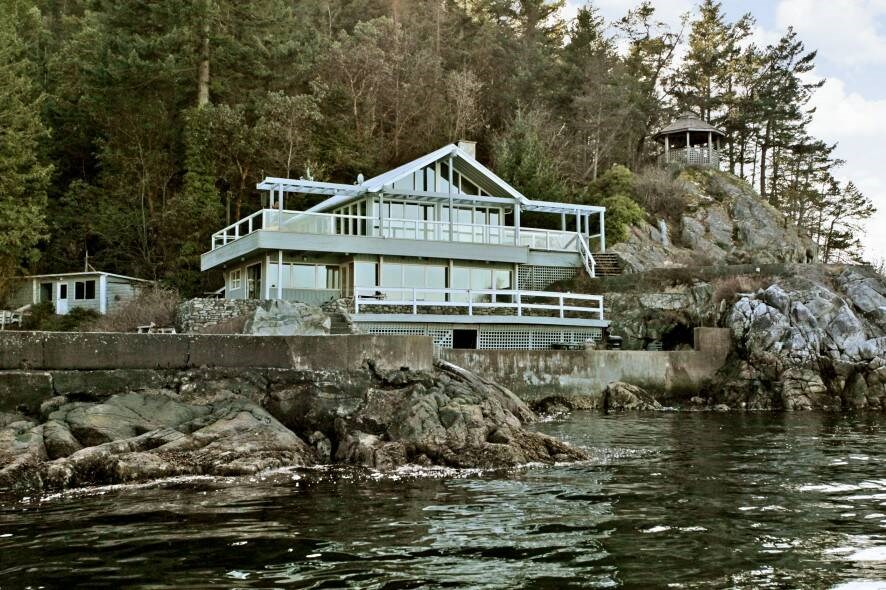 Leila Khorvash is an agent with Royal LePage Sussex who is currently listing a different but similar iconic West Vancouver waterfront property for the same corporate owners. That's the property at 7290 Arbutus Place near to Whytecliff Park, once the home of West Coast Modern architect Geoffrey Massey and his wife Ruth Killam. Sadly, nothing but a concrete perimeter remains of the once-striking architectural home that Massey built here, but the land is currently listed for sale for $18 million.
Khorvash described the Tyee Point land where the abandoned house sits in Horseshoe Bay as "a unique property."
The property is not currently listed for sale, said Khorvash, but probably could be, "for the right price."
In the meantime, the house has mostly just been left to deteriorate.
Some locals wrote comments on social media following Teasdale's post, recalling the property's happier times.
"Loved that place as a kid, when it was still habitable," wrote one man.
Steep slopes, environmental challenges
A permit for an alteration and to build a bridge was issued in 1986. A development permit for a new house was also approved in 1991 – around the same time as the property last sold – but that expired without anyone ever applying for a building permit, according to municipal records. Another building permit was issued in 2002 to repair a seawall on the property, but the permit was never finalized.
Despite its stellar shoreline location, there are significant constraints to any development on the property. Telegraph Hill – at it's known locally – and Tyee Point sit in their own development permit area because of the extremely steep slopes, exposed bedrock and sensitive environmental conditions, including rare and endangered plant species. The property is also within West Vancouver's foreshore development area, which places limits on building close to the shore.
"Oh, sure, it would be difficult to build on," said Calvin Lindberg, a West Vancouver agent with Angell, Hasman & Associates. "But that's what West Vancouver is. Lots and lots of West Vancouver, it's very difficult to build on it. And you end up building on it. There are architects here that thrive on very difficult sites like that."
Zoning currently allows for one single-family house on the property.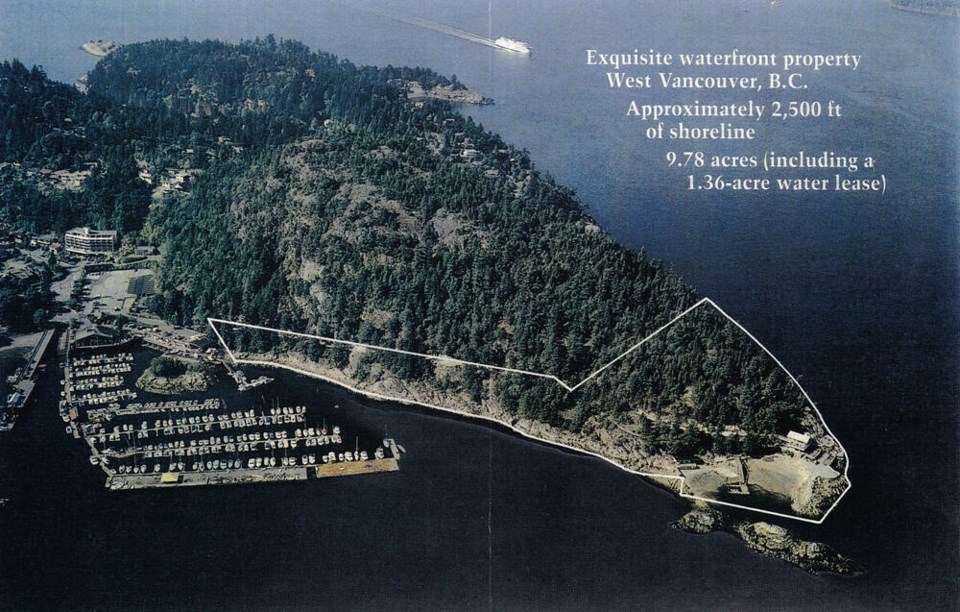 Municipality eyes public trail to point
The municipality itself has also expressed interest in acquiring or dedicating parts of "Madrona Ridge," as the upper part of the property is also known, for public access, especially a trail to the point and viewpoints looking out over the sound. One of the options explored in Horseshoe Bay's local area plan is allowing housing development on part of the nearby Tantalus Park – which sits at the top of the hill in Horseshoe Bay, in order to generate cash to pay for the Tyee Point trail and viewpoints.
When a massive condo development was recently built on the nearby former Sewell's property, the municipality secured public pedestrian and cycling access via a public right of way to ensure access to Tyee Point in the future, should parts of the property eventually become public.
While the house itself fell into disrepair, the abandoned property got a reputation as a place where locals got up to no good, away from prying eyes.
House has attracted squatters and parties
West Vancouver police have been called on occasion to make visits.
Sometimes people decided to squat on the property, which often got called in by BC Ferries' crews, who tended to have the best view of the house and knew it was supposedly unoccupied, said Sgt. Mark McLean of West Vancouver Police Department.
"We've been there multiple times for people who just trespassed onto that property and set up camp temporarily for a night or two," he said.
In mid-2022, a complaint to the municipality about the "unsightly property" prompted the fire department and bylaw officers to visit. The house was then boarded up and a fence installed, as required by local regulations, to try to discourage uninvited guests.
Predictably, that has only been semi-successful, as the property still has a presence on sites like Reddit, where locals who have been to the house over the years have weighed in on "the abandoned house on Tyee Point."
"My friend and I explored that place a few years ago and it was a neat location right on the water. It blew my mind how it's been desolate for so long with that kind of view without getting redeveloped," wrote one unsanctioned urban explorer.
"There's also a gazebo on the property that boasts beautiful views of Howe Sound and a reallyyyyyy big patio that's perfect for lounging around on or doing witchcraft or whatever u freaks are into," wrote another.