Burnaby school district youth support worker Marquis Lung understands the allure of gangs for kids – especially immigrant kids.
He arrived in Winnipeg from Hong Kong in 1978 when he was 18 years old and had to start high school over again in Grade 10 because he barely spoke English.
It wasn't easy.
"Just imagine, the 1970s in Winnipeg," he said. "There were very few Chinese there, and, of course, I had to face all this racism. It was pretty bad. I was just picked on for no reason."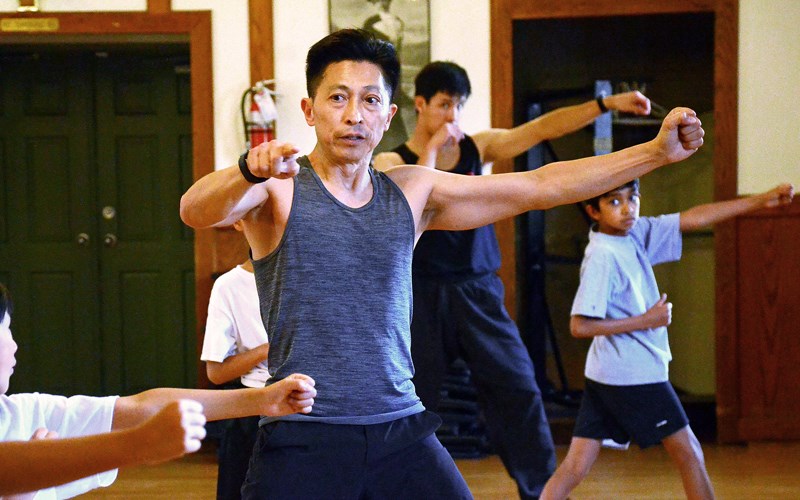 He said the few Chinese kids he knew grouped together for protection.
Trained in kung fu since age six, Lung often fell back on his ability to fight, just as he had on the streets of Hong Kong.
Since graduating from the University of Manitoba with a degree in psychology, though, he has used his kung-fu training – and his difficult experiences – to help guide other kids onto a better path.
"As an immigrant, I know what kind of struggles I've been through and what kind of struggles they will face," Lung said.
His first job after getting his degree was at a youth detention centre in Manitoba, and he's been working with kids and their families ever since.
"Right from the get-go I worked with youth," he said.
He started with the Burnaby school district as a youth support worker in 1994 and currently works at Cariboo Hill Secondary School.
He also teaches kung fu at the Marquis Lung Northern Shaolin Kung Fu Academy for two hours every day after school at five different Metro Vancouver locations, including Lochdale Community Hall in North Burnaby on Thursdays.
"I love teaching children and youth traditional kung fu," he said. "Watching them becoming more confident, healthy and respectful is a very rewarding experience."
Lung is also ready to share his insights about youth issues with anyone who needs them, volunteering his time to speak to parents and youth at seminars, workshops, churches and on the air at AM1320 as a guest host for a live call-in show that deals with topics like youth gangs, drugs, alcohol, bullying, mental health, family and youth violence, Internet addiction, youth and family counselling, Internet safety and more.
Cantonese is Lung's first language, but he's learned more Mandarin over the years to help the parents of the kids he works with, he said.
'You don't have to speak perfect English'
For all his community work over the years, Lung was awarded one of this year's RBC Top 25 Canadian Immigrant Awards earlier this month.
Presented by Canadian Immigrant magazine and sponsored by RBC, the awards celebrate inspiring achievements by outstanding Canadian immigrants, including community advocates, volunteers, successful entrepreneurs and cultural icons. 
Lung said he was "honoured and humbled" to win and hopes the award inspires other local immigrants to get involved in their communities.
"You gotta do something," he said of newcomers struggling to connect with their new communities. "Doing volunteer work is so rewarding. I want to inspire people. Do your part, whatever you can do. You don't have to speak perfect English to help other people."