Some 15 years ago, Rudy Pospisil found himself writing his obituary.
His doctor had just told him he had prostate cancer, and it wasn't confined to just one organ.
"He said, 'Rudy, it doesn't look good. It looks like your cancer has spread. I would suggest you get your affairs in order,''' recalls the Burnaby fire captain. "I left his office and thought, 'My God, what does he mean? I guess I have to try and pay my bills and tell them at work I might not be back, and tell my friends,' so I started
doing all that."
When his friends found out the news, Pospisil says he was pulled in a few directions. Some said go to church, while others encouraged him to live it up.
The "middle of the road," he says, was on his bike.
"That's how I kind of got my mind together and cleared my head."
When he put pen to paper and started his obituary, Pospisil asked himself a few questions.
"What have I done? I've never been late for work; I've been a good guy, but what did I really do? What could they say?"
It was at that moment the father of three decided to ride his bike to raise awareness and funds for cancer research.
Pospisil started by riding from Vancouver to Mexico, and before he knew it, he committed to cycling around the world.
"Everyone cheered me on. ... 'Rudy, keep going, keep going,' like Forest Gump," the 58-year-old says.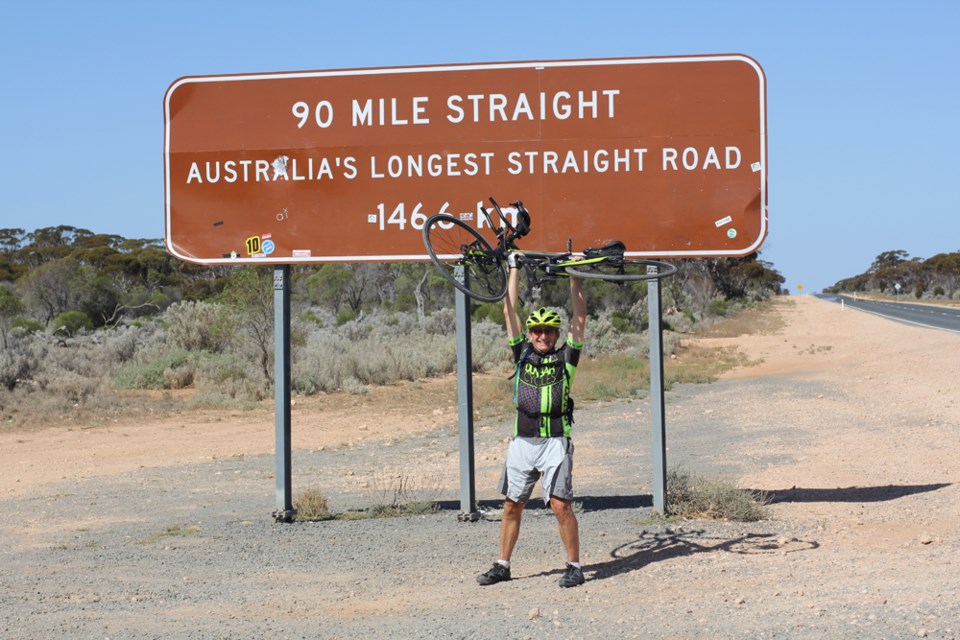 Each year, Pospisil took any banked time or overtime he had from the fire department and planned the next leg of his route.
After a decade of bumps and bruises, his journey will end on Nov. 18 in Melbourne, Australia.
He's clocked more than 26,000 kilometres so far, visited 18 countries and raised around $30,000 for the B.C. chapter of the Canadian Cancer Society.

Second diagnosis
It was during his "pinnacle of physical endurance" Pospisil found out his cancer had returned.
He was in New Zealand last December completing another leg of his trip when doctors told him he had to come home.
At the time, Pospisil had just set a world record. He rode up Dunedin's Baldwin Street, the steepest street in the world, in three minutes and 50 seconds.
"My front wheel was in the air, it was that steep," he tells the NOW, adding the grade of Baldwin is 35 per cent. "If you want to compare it in Burnaby, if people want to go up Springer from Hastings, that's 28 per cent."
Being cancer free for so long, Pospisil admits the news came as a surprise.
"After 15 years, you'd think you'd got it beat. ... I said there must be some kind of mistake. I said, "Let's do another test.' I still had like 1,200 kilometres to go (in New Zealand), so it was really tough to finish it because I was really pissed off."
After three months of treatment, Pospisil got back on his bike earlier this year and began to train.
Four months ago, he couldn't walk up a set of stairs, but slowly, he started riding from Vancouver to Whistler.
"I thought, "Now I have the strength back, I'll return to Australia and I'll do my last leg, the 4,000 kilometres from Perth to Melbourne, which is like from Vancouver to Toronto," he says.

Highs and lows
Plenty of moments stand out for Pospisil when he looks back on his journey. Some good, some bad, including a "close call" involving Mexican thieves.
He had been riding alone on the road when he was pulled over by two men, who insisted they take his bags.
"I said, 'Why don't you just take my wallet?' I knew they were robbing me, so I had a dummy wallet with me, with a Burnaby library card and an old credit card. I said, 'Please, take my wallet.' They looked at me and they looked at the wallet, and they got in their car and drove away."
Pospisil has also been hit by cars – twice.
"Luckily, I wasn't hurt too bad. I carried on," he says.
Being on only two wheels also means facing the elements. Pospisil has cycled in 37-degree heat, faced headwinds of 25 to 50 km/hour, has been without water for hundreds of kilometres, and has even been bitten by a scorpion.
It's countries like Thailand that hold a special place in his heart, he adds. Pospisil spent lots of time with Buddhist monks, who taught him material things don't matter.
"It's being a good person, giving and helping others. They said to me, 'Rudy, you found this in what you do. This is your destiny, to ride your bike and help other people.' ... It was the poorest country, but the happiest people I've ever seen in my life."
More recently, Pospisil set another world record. This time, on Oct. 19, he rode Australia's longest stretch of straight road. He crushed 146 kilometres in 5:1.20.
"It's ... like riding into a furnace on full blast," he wrote on his blog. "My eyeballs dried out and my nose is plugged with dust."

Praise all around
Burnaby fire Chief Joe Robertson says his department is "incredibly proud" of Pospisil.  
"He's done such a masterful job of doing this, while fighting his own cancer, and it's just an amazing thing."
Paula Tylor, senior manager of annual giving with the Canadian Cancer Society, agrees.
"We're just incredibly grateful for the efforts that Rudy has put forward," she says. "He has a deep, passionate, very personal commitment to the cancer cause, and we're so appreciative of that."
Tylor adds individual fundraising campaigns in B.C. can easily bring in a million dollars each year.
"Not necessarily as global as Rudy, sometimes as local as a garage sale in their own community or a golf tournament," she explains.  
As for Pospisil, he says he's looking forward to returning home after he finishes on Nov. 18. That day will also mark his retirement.
The last leg, according to the firefighter, will be the most dangerous.
"I told my family when I left, 'If anything happens to me, I'm doing what I love.' I would almost be honoured if something happened to me now instead of dying in a fire in an abandoned warehouse. ... I'm OK now. I'm not afraid anymore."
To donate to Pospisil's cause, visit firefightercycle.com.