It's summer, and that means it's time for all those  fun things that come along with the season - from backyard barbecues to road trips to weekends at the cabin.
It also means it's time to watch the bills mount up as you pay for the food, gas and tourist attractions attached to all that fun.
But the good news is, Burnaby is full of things to do that don't cost anything - or at least, not much. You just have to know how to find them.
Never fear, you don't have to look far, because we've done your homework for you and compiled this list of the Top 10 Free (or Dirt-Cheap) Things to Do in the city this summer.
Without further ado, here are our ideas. Have fun!
1. Take a walk back in time at Burnaby Village Museum.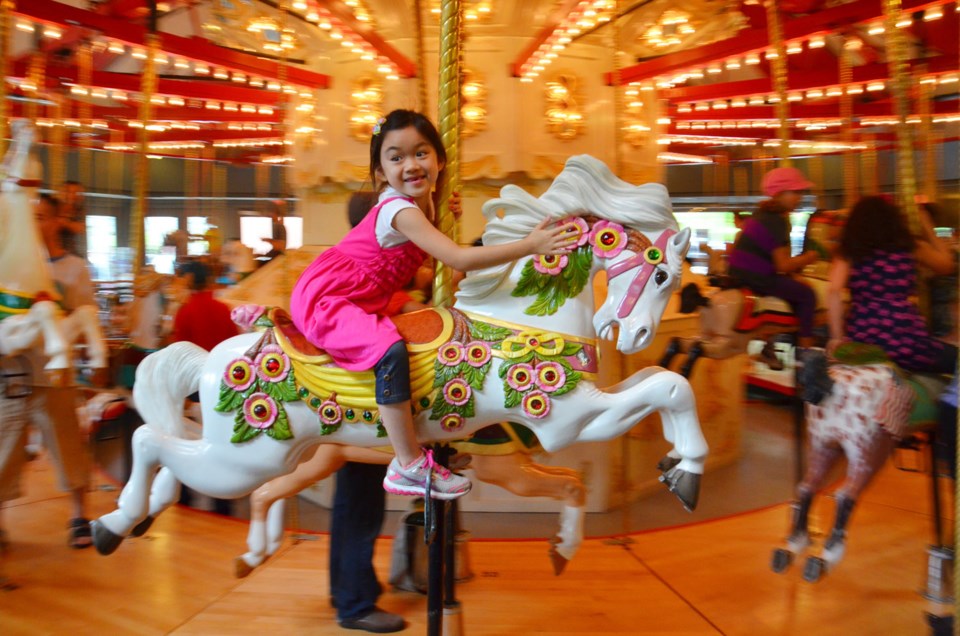 With admission now free, you just can't beat the value you can get out of a day at the museum, which walks you back in to the 1920s. Special events, demonstrations and programs are offered throughout the summer. Extra fun this year is the At the Movies summer exhibition, which includes Saturday demos of various aspects of filmmaking - green screen, makeup, stunts and animal handling are among them. Of course, a highlight of any visit to the village is always a spin on the restored 1912 C.W. Parker Carousel. (There is a $2.50 charge for a carousel ride.) And don't forget to visit the restored Interurban tram No. 1223 and get some treats at the ice cream parlour, too.
The village is open Tuesday to Sunday, plus statutory holidays, from 11 a.m. to 4:30 P.M.
It's at 6501 Deer Lake Ave. See www.burnabyvillagemuseum.ca or call 604-297-4565.
 

2. Take in the view from the top at Burnaby Mountain.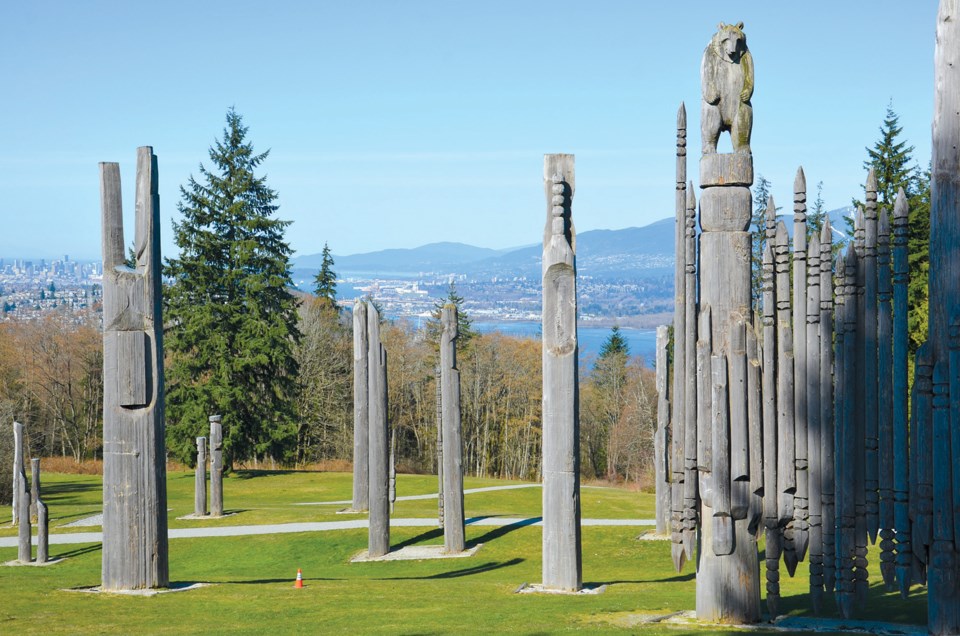 Although a hoped-for gondola won't be making its way up the mountain anytime soon, you can drive your car or take a bus up instead to enjoy life at the top of the city. It's home to Simon Fraser University - worth a visit just to check out the architecture and the recognizable academic quadrangle that's made its way into a lot of movies and TV shows - and the growing UniverCity urban community. And, of course, it also houses the fantastic Burnaby Mountain Conservation area. With trails for hiking and mountain biking, grassy lawn for playing and picnicking, the Centennial Rose Garden and Horizons restaurant for a beautiful lunch or dinner, there's something for everyone. Don't miss the awe-inspiring Kamui Mintara (Playground of the Gods) sculpture, a gift from Japanese sculptors Nuburi Toko and his son, Shusei, in honour of the city's sister city relationship with Kushiro, Japan.  And just pause to enjoy the sweeping views over Burnaby, the Burrard Inlet, the North Shore and downtown Vancouver.
Check out www.tinyurl.com/BurnabyMtn.
3. Soak in the sounds of summer at Symphony in the Park.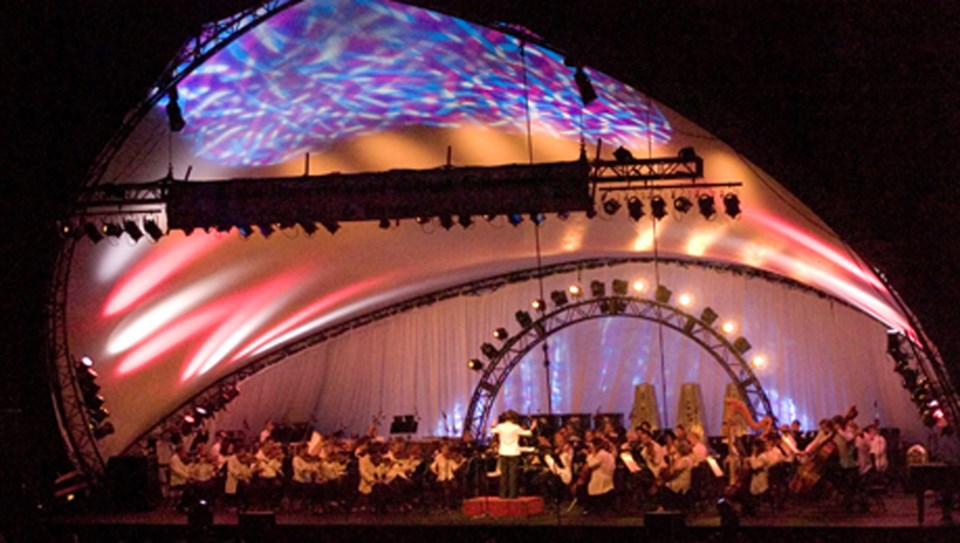 It doesn't get any better than the Vancouver Symphony Orchestra playing at Deer Lake Park - which probably explains why thousands of people turn out every year to enjoy this free concert. This year's (the 26th edition) is on Sunday, July 13 at 7:30 p.m. (Tip: You'll want to arrive early, with blankets and picnic, to stake out your spot.) The program will offer classical favourites like the overture to Strauss's Die Fledermaus, Wagner's Ride of the Valkyries and the ever-popular 1812 Overture by Tchaikovsky. Featured soloist this year is 17-year-old violinist Lucy Wang.
Parking is limited, so you'll probably want to take transit (or walk, or ride your bike).
Check out more at www.vancouversymphony.ca.
 

4. Take a hike. And another. And another.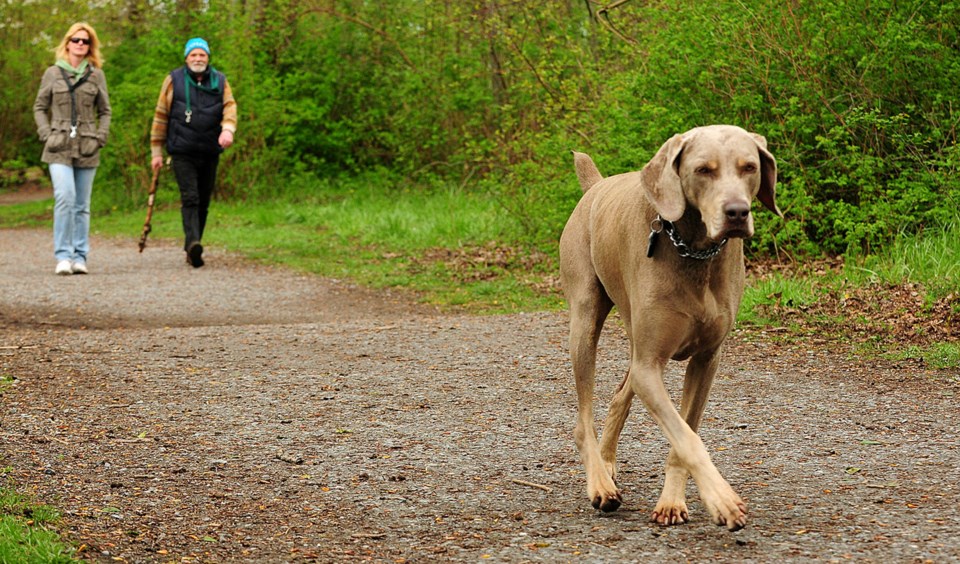 Never mind about the crowds who flock to the North Shore for the Grouse Grind - Burnaby has its own "Grind" trail - the 1,400-metre Velodrome Trail that starts in the gravel parking lot at the Doug Drummond trailhead, just north of the Harry Jerome Sports Centre on the north side of Barnet Highway.
"Hikers experience natural forests through the gradual (average grade 20 per cent) 240-vertical-metre elevation climb," the city's website notes. "Reaching the hillside base are the impressive 500 timber stairs that wind up the steep slope and into Pandora Trail. The trail continues until it enters the open meadow below Horizons Restaurant, and there you discover the outstanding towering Kamui Mintara totems, reach the highest point of the route and savour the breathtaking views of Burrard Inlet and Indian Arm."
If uphill is not your thing, never fear. There are hosts of other places to walk in Burnaby - a stroll along the Fraser River at Burnaby Fraser Foreshore Park (pictured above), a circuit of Burnaby Lake, the network of trails at Central Park or a meander around Deer Lake and its surroundings are among some popular favourites.
Byrne Creek Ravine Park, Barnet Marine Park, Robert Burnaby Park and Squint Lake Park are among the other parks offering walking trails.
Check out www.tinyurl.com/BurnabyTrails.
5. Get arty at the city's galleries.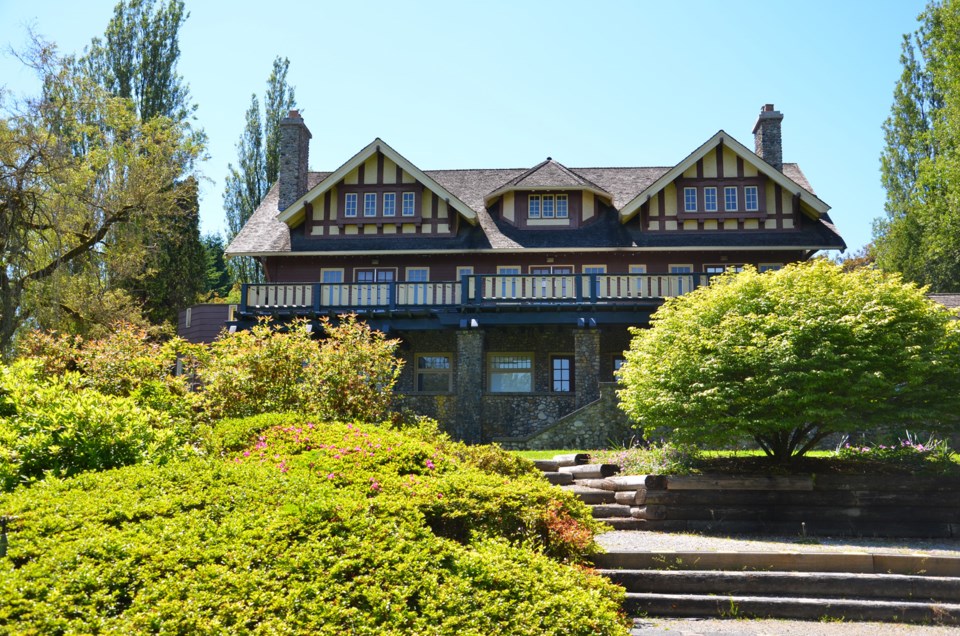 Whether you're an art expert or a newcomer to the gallery scene, Burnaby's galleries will offer something of interest for you.
There's the Burnaby Art Gallery (www.burnabyartgallery.ca, 604-297-4422) in historic Ceperley House at Deer Lake (6344 Deer Lake Ave.) It's open Tuesday to Friday, 10 a.m. to 4:30 p.m., Saturday and Sunday from noon to 5 p.m. Admission is by donation, and the exhibits are accompanied by a variety of public programs - including tours and hands-on family activity sessions. Check out the website for the most current exhibition information.
Just down the way, at 6584 Deer Lake Ave., you can also visit the Deer Lake Gallery, run by the Burnaby Arts Council.
It's open Tuesday to Friday from 10 a.m. to 4 p.m., and on weekends during exhibitions. Call 604-298-7322, email info@burnabyartscouncil.org or check out www.burnabyartscouncil.org for current exhibition information. It's free.
And don't forget about the SFU Gallery, up on Burnaby Mountain. It's in the Academic Quadrangle, Room 3004 - on Level 3, across from the Shrum Science Centre. It's open noon to 5 p.m. Tuesday to Saturday (closed Saturdays on holiday weekends). Check out www.sfu.ca/galleries for all the details, or call 778-782-4266  or email gallery@sfu.ca.
 

6. Browse, buy and eat at the Burnaby Farmers' Market.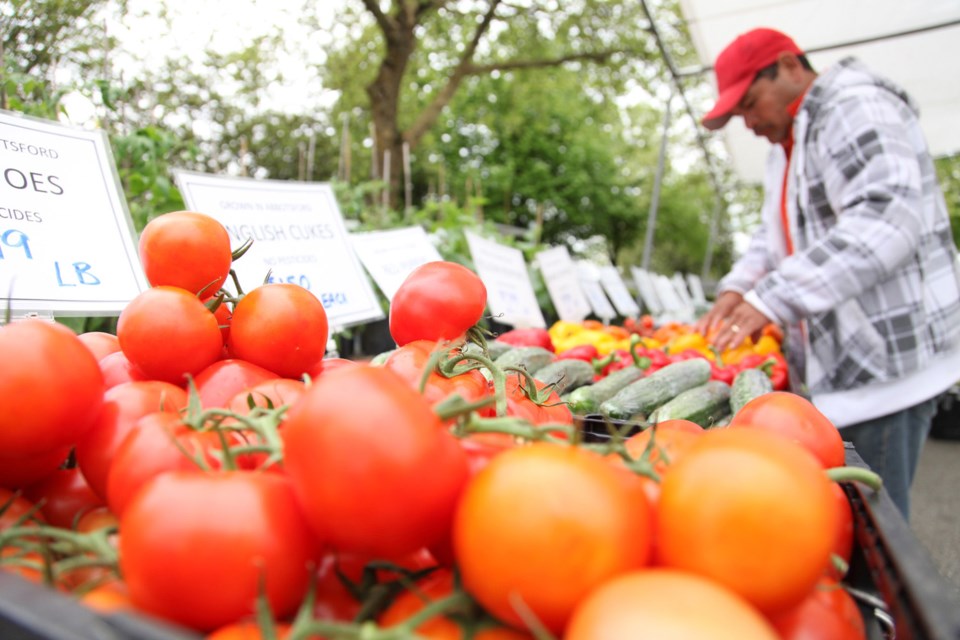 You just can't beat a community farmers' market for a great way to start your weekend. The Burnaby market runs Saturdays, 9 a.m. to 2 p.m. in the north parking lot at Burnaby City Hall (Canada Way at Deer Lake Parkway). It runs every Saturday until Oct. 25, and there are a variety of special events: the Teddy Bear's Picnic on July 19, Great Zucchini Races on Aug. 16, Dog Day on Sept. 20 and a Scarecrow Contest on Oct. 18.
Each weekend, you can browse among the offerings of conventional and organic produce, prepared foods and crafts, and there are also fun extras like a kids' area, a reading area, games table and live music.
Check out www.artisanmarkets.ca.
7. Discover Japanese Canadian Culture at the National Nikkei Museum and Cultural Centre.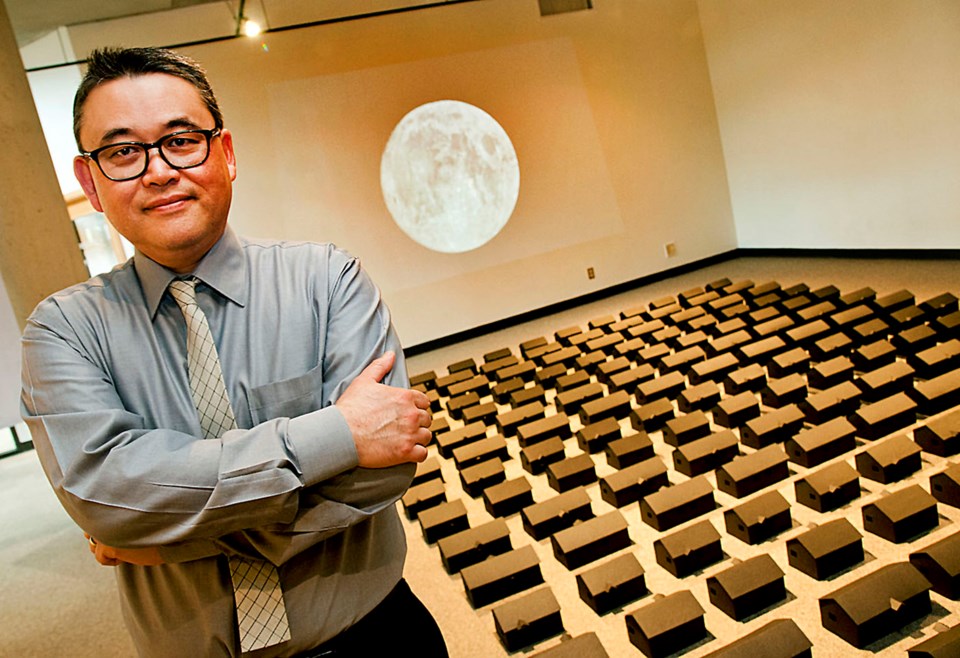 The Nikkei Centre is a cultural gem that may not be as well-known as it should be, considering what a host of programs and activities it offers. The museum gallery is open Tuesday to Sunday from 11 a.m. to 5 p.m. - the current installation is Ghostown (pictured above), Steven Nunoda's homage to his family's past in the Japanese Canadian internment camps, which runs until Aug. 31. Special events in the summer include workshops and book readings, plus the Tanabata Festival on July 5 and the Nikkei Matsuri festival on Saturday and Sunday, Aug. 30 and 31.
Check out centre.nikkeiplace.org, drop in to 6688 Southoaks Cres. (near Kingsway and Sperling Avenue) or call 604-777-7000 for more details.
 

8. Take a ride on the Burnaby Central Railway.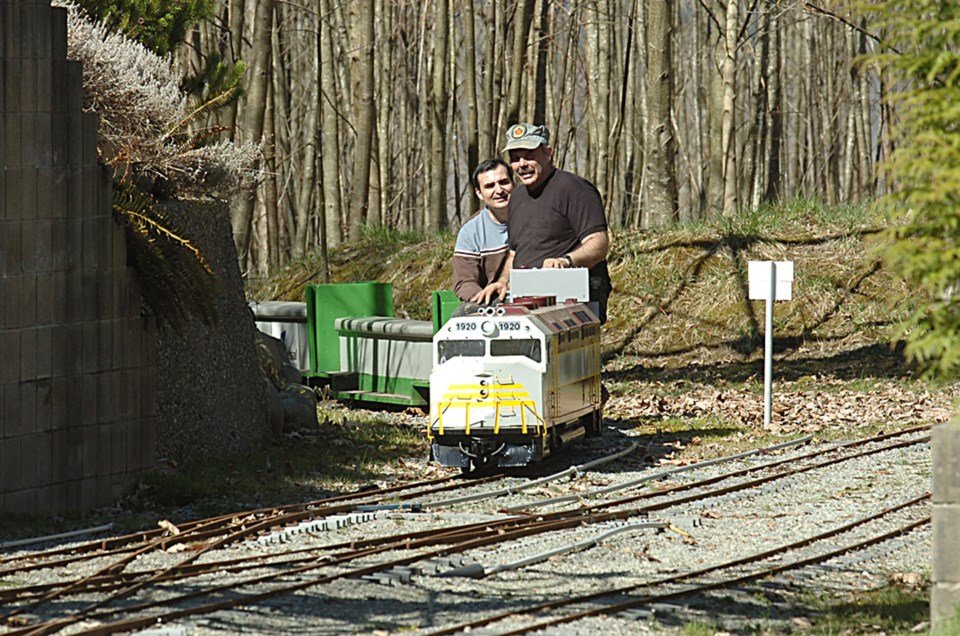 It's all aboard for family fun at the miniature railway in Confederation Park. These one-eighth scale steam trains chug their way around more than two kilometres of track in North Burnaby. The railway is open on weekends and statutory holidays from Good Friday to Thanksgiving, 11 a.m. to 5 p.m. It's $2.50 per ride, or you can get a 12-ride pack for $25. Kids under three ride free, and group rates are also available for group functions. There's a concession, gift shop and small museum, as well as a large birthday party area, picnic area and viewing station.
You can find the train at 120 North Willingdon Ave. (Entry is off Penzance.)
Check out all the details at www.burnabyrailway.org or call 604-291-0922.
9. Get into (or onto) the water.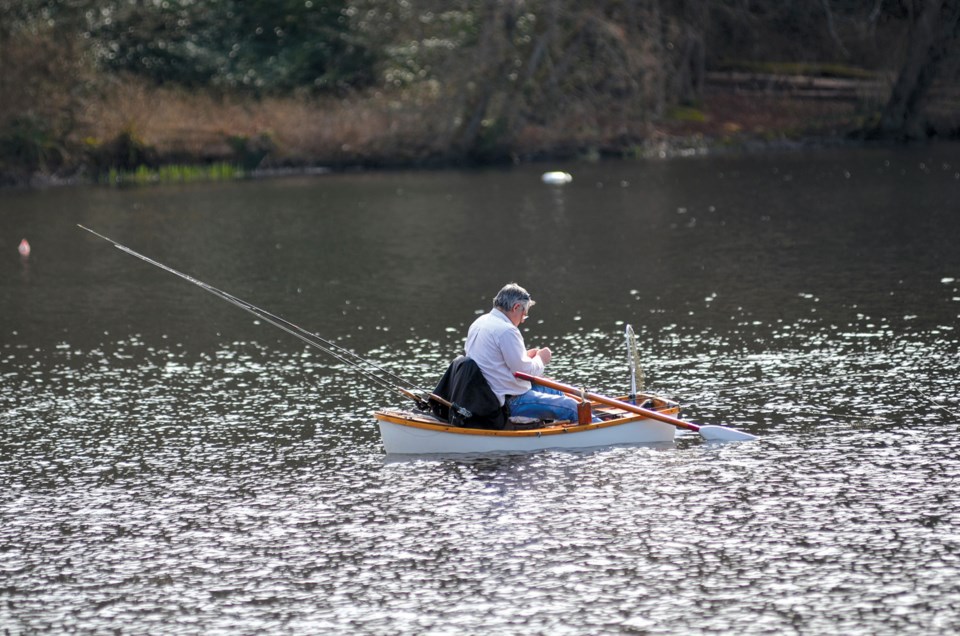 It's not summer till you get wet - and our beautiful city has plenty of places to take in the water. You can swim in the beaches at Barnet Marine Park or Deer Lake or just enjoy a stroll along the river's edge at Burnaby Fraser Foreshore Park. If you have a boat, you can take advantage of the boat launches at Barnet Marine Park or Deer Lake Park (pictured above), and those with canoes or kayaks can also enjoy Burnaby Lake.
If you don't have your own, you can also rent a boat at Deer Lake - Deer Lake Boat Rentals (www.deerlakeboatrentals.com or 604-839-2201) offers canoes, kayaks, rowboats and pedal boats (ranging from kayaks for one to four-person canoes or pedal boats). It's open 10 a.m. to sunset from July 1 to Canada Day. (No, the rental part isn't free - but with rates ranging from $13 per hour for a single kayak to $28 for the big canoes and pedal boats, you should be able to squeeze it into the budget with all the other money you've saved by enjoying the rest of this list.)
For all the details on the city's parks, visit www.burnaby.ca.
10. Check out books - and fun - at the Burnaby Public Library.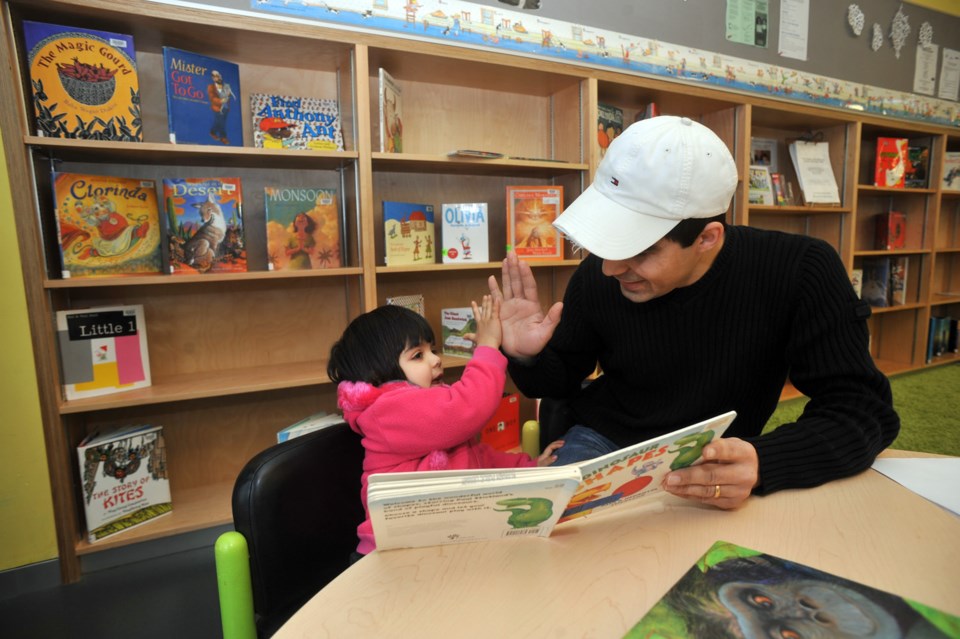 Granted, when you think of summer fun, you may not think of the library. But don't knock it, because Burnaby Public Library's four branches offer not only an endless supply of reading material for those rainy days, but all sorts of fun programs and activities, too. There are family movie matinees, Friday evening films for teens, a Lego club, storytimes for all ages, summer reading clubs, author readings and much, much more. New this summer is Julia's Studio, a series of free Wednesday workshops for teens introducing a variety of different creative art forms.
No matter where you live in Burnaby, you won't be far from one of the branches: there's North Burnaby's McGill branch, at 4595 Albert St.; the Cameron branch, in the rec centre at 9523 Cameron St.; the Tommy Douglas branch in Edmonds at 7311 Kingsway; and the Bob Prittie branch at Metrotown, 6100 Willingdon Ave.
Check out www.bpl.bc.ca/events to find out what's happening near you.
*
Got your own ideas about fun free stuff in Burnaby? Email Julie, jmaclellan@burnabynow.com, or leave your comments here!