The Caesar, Canada's iconic cocktail, is turning 50 this year, and people are really pulling out all the stops to celebrate.
While Vancouver is already home to at least one place known for their epic Caesar concoctions, there's a new contender for the craziest Caesar in the city.
The catch: It's available for one day only.
Notch8 at the Fairmont Hotel Vancouver has come up with The Anniversary Caesar they're hailing as "a mammoth and mouthwatering concoction that's a drink AND a meal for two."
Inspired by Caesar creator Walter Chell, this ginormous feast in a glass includes a chorizo and roast garlic calzone as a nod to its Italian lineage, and a deep-fried clam "po'boy" smothered in tomato sauce to reflect Chell's love of spaghetti vongole.
Wait, there's more: "The mixologists took inspiration from the cowboys and cattle of the Rockies and included two smokey BBQ pork sliders, two Alberta Beef prime rib-stuffed Yorkshire puddings and two fried chicken skewers to the cocktail. And to reflect the west coast and provide local flavour, two BC grilled prawn skewers were added. Garnishes provide crunch with a skewer of pickled vegetables and celery sticks to illustrate the evolution of the Caesar over the decades."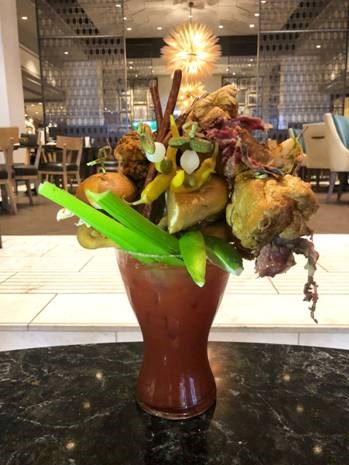 And, yes, the base is a classic Caesar, featuring three ounces of vodka mixed with Mott's Clamato juice.
The Anniversary Caesar also comes with an epic price tag: $99.
Notch8 will be serving up this insane Caesar on Thursday, May 16, 2019, which is National Caesar Day.
National Caesar Day is celebrated on the Thursday before the Victoria Day May long weekend each year, and fans of the savoury boozy drink can expect to find special Caesar creations and pricing at plenty of places.
In addition to Notch8's Anniversary Caesar, Fairmont Hotels in and around Vancouver will have a variety of Caesar on deck on May 16 to mark Caesar's 50th. The Jetside Bar at the Fairmont Hotel Vancouver Airport will have a Lemon Beer Caesar; the Fairmont Pacific Rim in Vancouver was inspired by nature for their Coastline Caesar; while up in Whistler, The Mallard Bar's 5 DECADE CAESAR at Fairmont Chateau Whistler takes on an ambitious five flavour profiles for one special drink.
Notch8 is located at the Fairmont Hotel Vancouver at 900 W Georgia St.