She still walks there, they say; a silent figure in a flowing white dress passing silently from room to room.
Sometimes she is seen as a misty figure, a soft-focused image; other times she appears more distinct, a character from some spectral Downton Abbey come to make her appearance in the silent hallways.
She brings, in her wake, strong emotions: peace and tranquility most often, but other times sadness. Loneliness.
She is Grace Ceperley. And, though she has not walked this earth for a century, there are many who swear she has never left her home at Fairacres, on the shore of Deer Lake.
HAUNTED TALE RETOLD
The Burnaby mansion's well-known haunted history has come to the forefront again, 100 years after Ceperley's death, thanks to a newly published book: Haunted Museums and Galleries of Canada, by Andrew Hind.
Taking its place alongside stories from across the country – from famed artist Emily Carr lingering at her former Victoria home, to spectral nuns at Le Musée de Saint-Boniface Museum in Winnipeg, to the restless spirit of a long-dead soldier at Haliburton House Museum in Windsor, N.S. – is a chapter featuring what has become one of the Lower Mainland's favourite haunted locations: the Burnaby Art Gallery.
The gallery - dubbed, in Hind's chapter, A Gallery of Ghosts - has occupied the former Ceperley Mansion since 1967, making it the longest-standing occupant in the building's long, colourful and sometimes sordid history.
As Hind's book reveals, the mansion was the home of a wealthy and successful New York businessman, Henry Ceperley, who moved to Burnaby in 1909 in search of a peaceful life with his second wife, Grace. The couple had a home designed by British architect R.P.S. Twizell on the shore of Deer Lake – a lavish home, completed in 1911, containing such features as a billiard room with a beamed ceiling, a dining room with crystal chandeliers and a huge veranda with spectacular views, all set in magnificent grounds.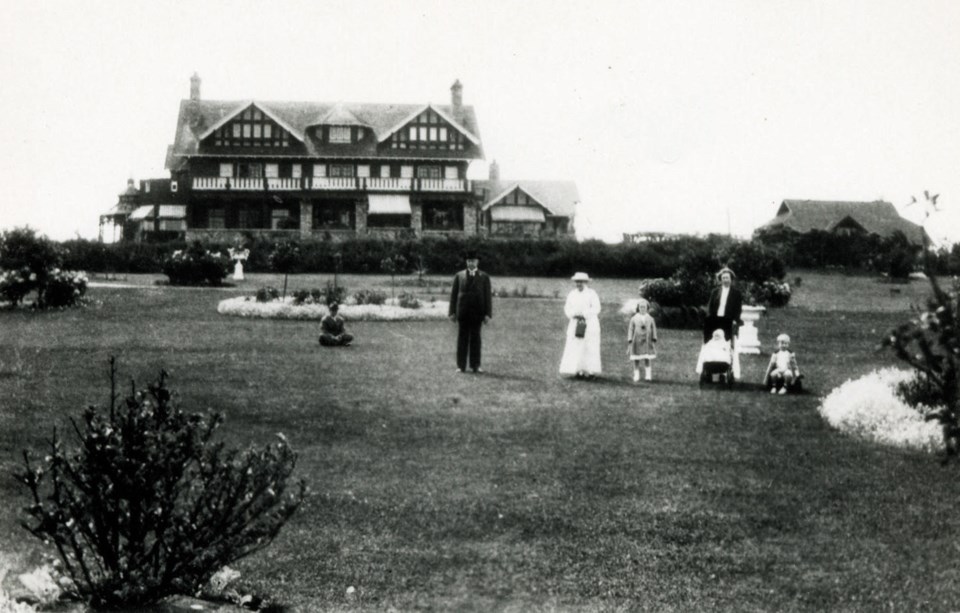 Grace, it is said, loved the gardens and spent most of her time outside. She also adored children, doting on her stepchildren and grandchildren, and was known to support youth-related causes.
When Grace died in 1917 at age 54, it was revealed that she was the sole owner of the mansion. She willed it to Henry, who sold it three years after her death and moved back to California. Although Grace's will stipulated that Henry should use the proceeds from the sale of the house to construct a children's playground in Stanley Park, Henry didn't in fact do that right away; the money was only donated in 1929, after Henry's own death at age 79.
After Henry left, Fairacres was fated never to be a family home again. As it turned out, the once-beautiful home would see more than its share of sadness and suffering.
HOME'S COLOURFUL HISTORY
Hind's exploration traces the history of the building, which was eventually sold to the City of Vancouver and converted into a tuberculosis ward for Vancouver General Hospital.
In 1939, the tuberculosis ward was moved and an order of Benedictine monks moved in.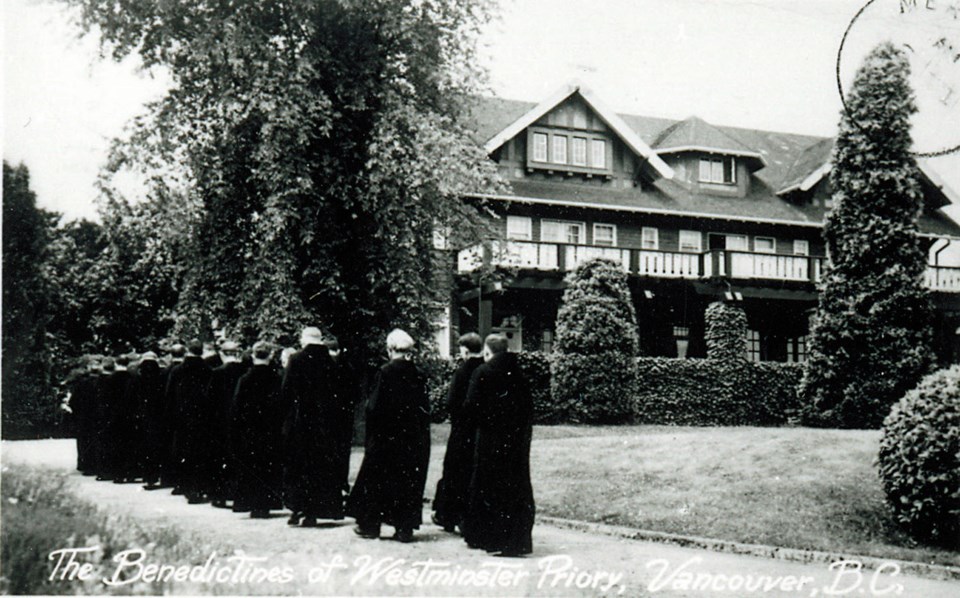 In 1954, the mansion changed hands again, becoming home to a cult known as the Temple of the More Abundant Life. It was headed by William Franklin Wolsey, who styled himself as Archbishop John I and who, it would later be revealed, was wanted in the U.S. on a string of charges for bigamy, assault and extortion. The cult became known for bigamy, incest and child abuse.
"Fairacres was caught in a downward spiral; with each passing year and with each new debased ritual, its reputation became darker and more ominous," says Hind in his book.
After Wolsey was exposed in 1960 and fled back to the U.S., the mansion became a residence for students of a Simon Fraser University fraternity – but, as Hind reports, the students found it difficult to sleep and study thanks to paranormal activity. During the students' tenure, the building was damaged; a bonfire was set in the billiard room, and the exterior was covered in graffiti.
It wasn't until the Municipality of Burnaby bought the building in 1966, with an eye to turning it into an art gallery to mark Canada's centennial celebrations, that the mansion began to return to its former glory.
But its paranormal troubles had only just begun.
GHOST STORIES ABOUND
"When floors were ripped up and drywall torn down, the apparitions that had hidden out of sight were released. Ghost sightings and reports of poltergeist activity became common and widespread," Hind writes.
Over the years, staff have heard strange sounds and disembodied voices; accompanied in some cases by large drops in temperature, making the air cold enough for teeth to chatter.
The anecdotes are many, and Hind's book explores a number of them.
One employee who worked in a second-floor office often heard the sound of footsteps overhead and furniture scraping the floor. The third floor was unoccupied.
Other staff members have reported hearing footsteps walking across all the floors of the gallery, when there should be no one present, and hearing loud bangs when the building was empty.
A male employee working in the basement, removing paintings from their frames, found that when he would put his tools down and turn his back, he would find his tools hung up on the wall several feet away.
That there has been some amount of paranormal activity is widely talked about. But the question remains: who, or what, are the ghosts?
As Hind tells it, psychics and eyewitnesses agree there may be as many as half a dozen separate spirits.
Staff members have heard the sounds of children crying in despair; one of whom was reported to be a girl about 10 years old whose sadness is said to pervade the building. Staff members have encountered "ethereal children" on the third floor, shy apparitions that peer around corners and run away when spotted.
"It seems likely that these apparitions are children of the Temple of the More Abundant Life – helpless little ones who were abused and tormented for years by cultists and their deranged leader," Hind writes.
Was it, perhaps, the presence of these young spirits that brought Grace Ceperley back?
That's one of the theories Hind puts forward, noting that Grace was known for her love of children and hypothesizing that the suffering of innocents in her home prevents her from resting easily.
"Regardless of why Grace has resisted crossing over to the other side, I prefer to think that she does indeed provide warmth for the spectral children – it's a comforting thought," Hinds writes.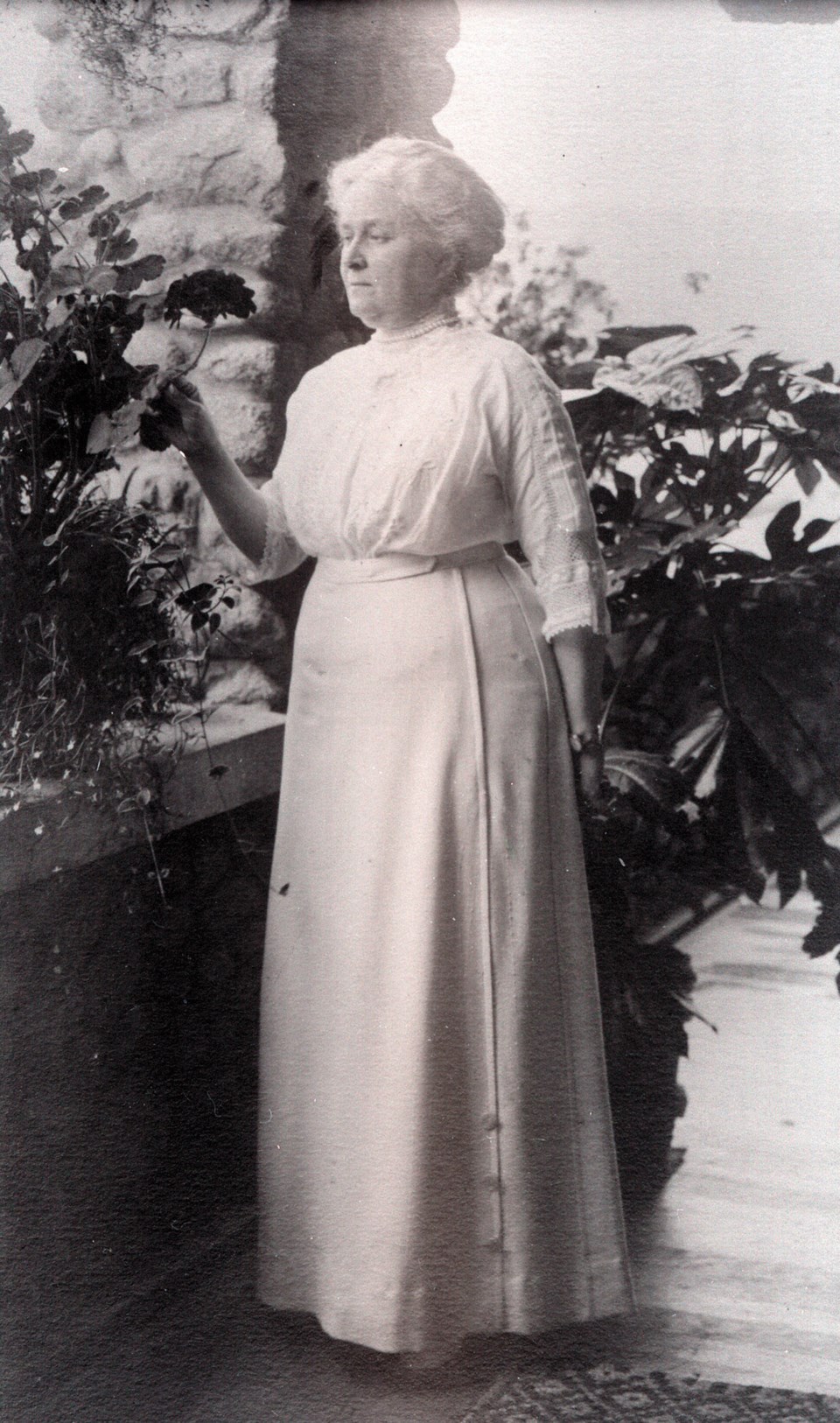 Either way, there have been many reports of Grace walking through the gallery in a flowing white dress before disappearing through walls (one night watchman noted a spectral woman who wore a long, white flowing dress that looked like something out of Downton Abbey). Other times, she's seen as blurry and misty – but, on most occasions, an eyewitness also senses strong emotion in her presence; often, as previously mentioned, peace and tranquility, but sometimes sadness and loneliness.
Another employee reported having heard the rustle of Grace's flowing skirt behind her. The employee fled without turning around, terrified of seeing a ghost.
Several staff members have also reported seeing a man, described as distinguished-looking and wearing dated formal attire, whose footsteps are heard more loudly than Grace's. He's been spotted at the top of the staircase, looking down as though surveying his domain.
Speculation abounds whether Grace and Henry are united in the afterlife, or whether their spirits are restless because Henry failed to follow through on Grace's wishes in regards to the money from the sale of Fairacres. Is he trying to atone for his failure? Is she walking the halls because she is angry that her final wishes were disregarded? Or are they partnered in death, drawn back by their love for each other and for Fairacres, fated to remember its better days forever?
Hind's book allows readers to speculate and draw their own conclusions.
And it also leaves readers with the thought that the Ceperleys' story is but one small part of the gallery's haunted past - and, arguably, present.
"Psychics who have toured the Burnaby Art Gallery believe the ghosts mentioned above may be only the tip of a paranormal iceberg when it comes to lost souls that inhabit the historic building," reads Hind's book. "Over the years, various mediums have picked up the energies of one or more monks, a sickly tuberculosis patient who desperately wants to return home, a mysterious male who is trying to take over the building for undetermined but likely unsavoury reasons, and perhaps even the vile wraith of the self-styled Archbishop John I, William Franklin Wolsey."
Hind reports that paranormal activity is said to have abated in recent years, after psychics were called in to help.
But, for those who love a good ghost story, Hind's book offers up an abundance of rich historical details.
And here at home, Burnaby Art Gallery still beckons – a majestic mansion on the lake shore where maybe, just maybe, you too can catch a glimpse of an ethereal woman in white.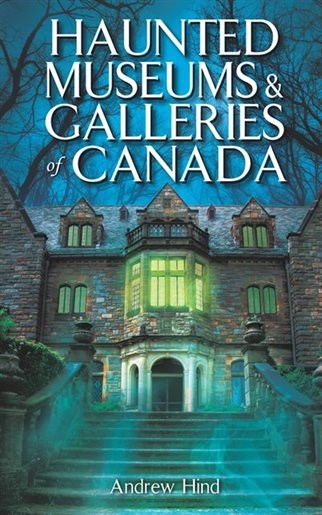 Haunted Museums and Galleries of Canada is published by Quagmire Press. It's available for online purchase at www.tinyurl.com/HauntedMuseumsBook. It's also available in iBook format from iTunes.