The Burnaby Art Gallery has found a unique way to showcase student art in the city.
Utility boxes in the new Willingdon Linear Park are being wrapped with art from Burnaby high school students, thanks to an effort by the gallery. The linear park runs 13 blocks along the east side of Willingdon Avenue between Brentwood Town Centre and Hastings Street, with a number of "pocket parks" and various art and water features along the way.
Ellen van Eijnsbergen, director-curator of Burnaby Art Gallery, noted the gallery has been working to include both high-level, professional public art and community art in the new park, and the utility box project is one step in that effort.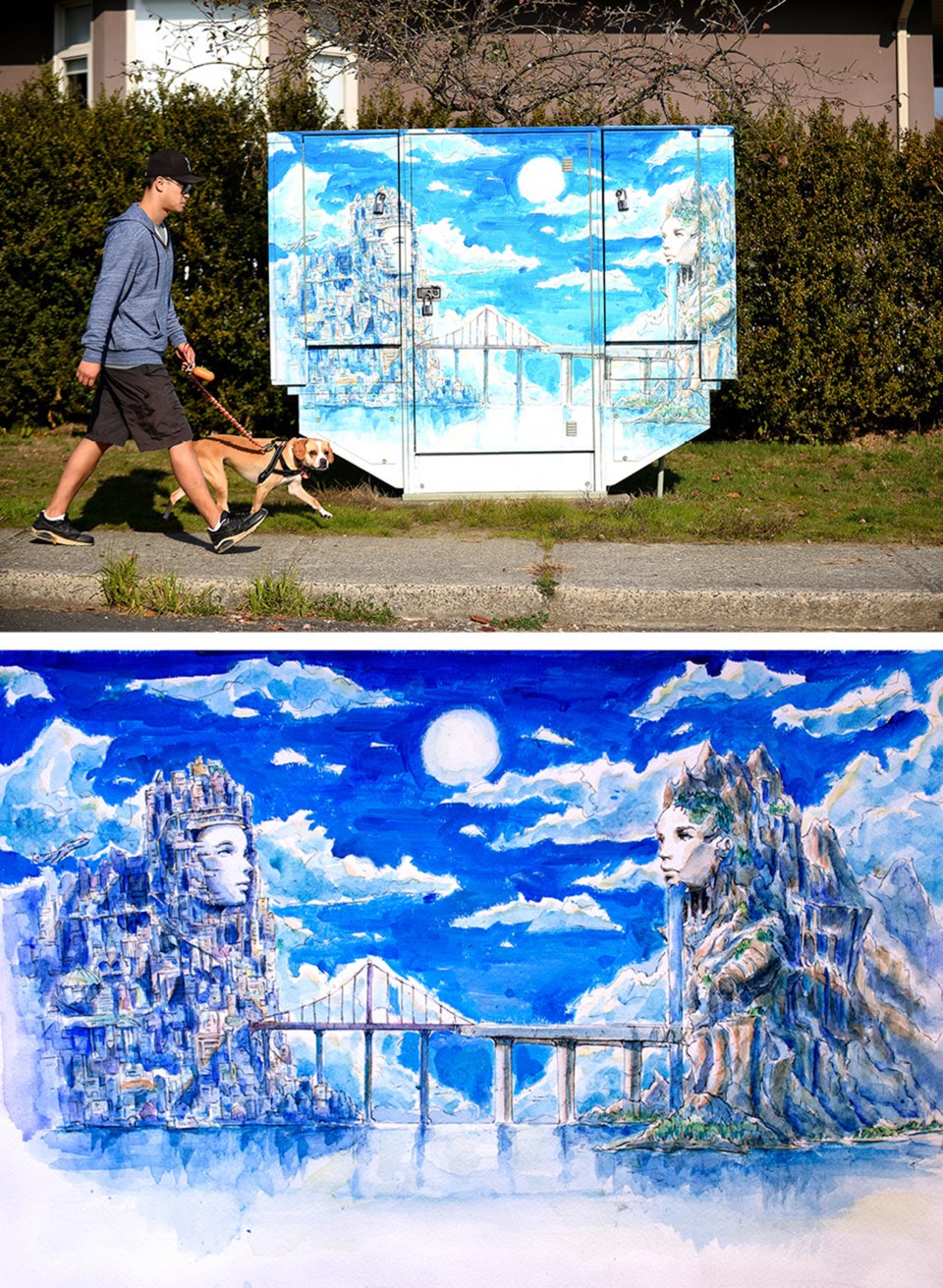 The winning artwork was chosen from student entries in the past year's Arts Alive exhibition. The gallery hosts the exhibition every year to feature work by students in the Burnaby school district, alternating between elementary and secondary schools. This past year, it was secondary schools in the spotlight.
Van Eijnsbergen noted that the gallery's public art committee looked at the works that had been submitted by the students to find those that met the parameters required by TELUS and BC Hydro; from there, the jury selected several winners to actually be turned into "wraps" to cover the utility boxes.
The selected student artworks include:
Endangered Species, acrylic, by Kathryn Wu, Grade 8, Burnaby South
The Marsh, digital drawing, by Sofija Pidtikanija, Grade 12, Moscrop
Wave, acrylic, by Nico Santiago, Grade 10, Burnaby Mountain
Bridged Bond, watercolour and acrylic, by James Huang, Grade 12, Burnaby South
Resplendence at Dusk, oil pastel on paper, by Sophie Liu, Grade 10, Burnaby South
City Under Wave, watercolour, by Celia Mengxi Xiao, Grade 12, Byrne Creek
Impetuous, acrylic, by Sun Shen, Grade 9, Burnaby Mountain
Aunt Motya, acrylic, by Alina Alpert, acrylic, Burnaby North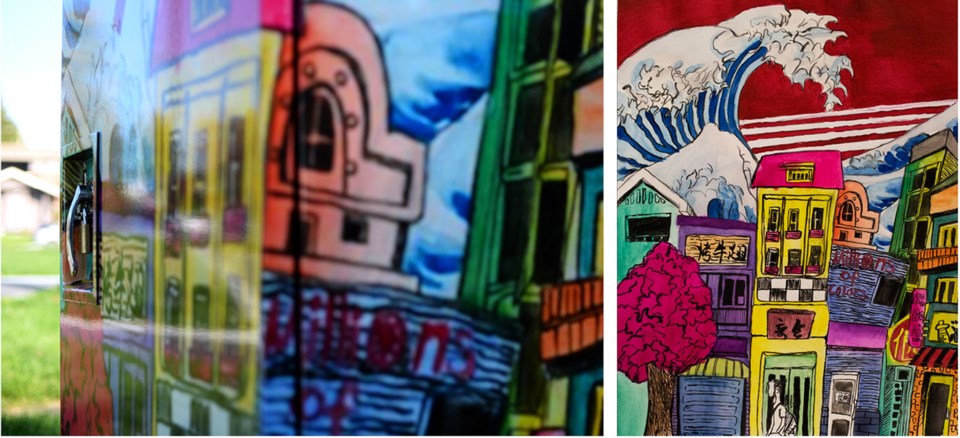 "It's a way to kind of get the students involved in the park," said Van Eijnsbergen.
She noted the gallery will be reaching out to Alpha Secondary in 2019 to work on the Parker Street pocket park, right near the school. Alpha's graphic design department will host a competition for designs to create some large-scale art on sign blades.
She noted there has been a bit of vandalism in the pocket park, and the city is hoping that public art by students will help to curb that problem.
"Our intention is to make this a place the students can use and enjoy and value," she said. "We would like them to take some ownership and pride in the park, because they're the main users of it. All the kids from the high school walk past every day. How can we make it something they'll use and value?"
For more on Burnaby Art Gallery, see www.burnabyartgallery.ca.