The bronze horse looking out over the corner of Kingsway and Edmonds is far from your usual equestrian statue.
It's neither a noble steed bearing royalty nor a victorious warhorse carrying the triumphant general.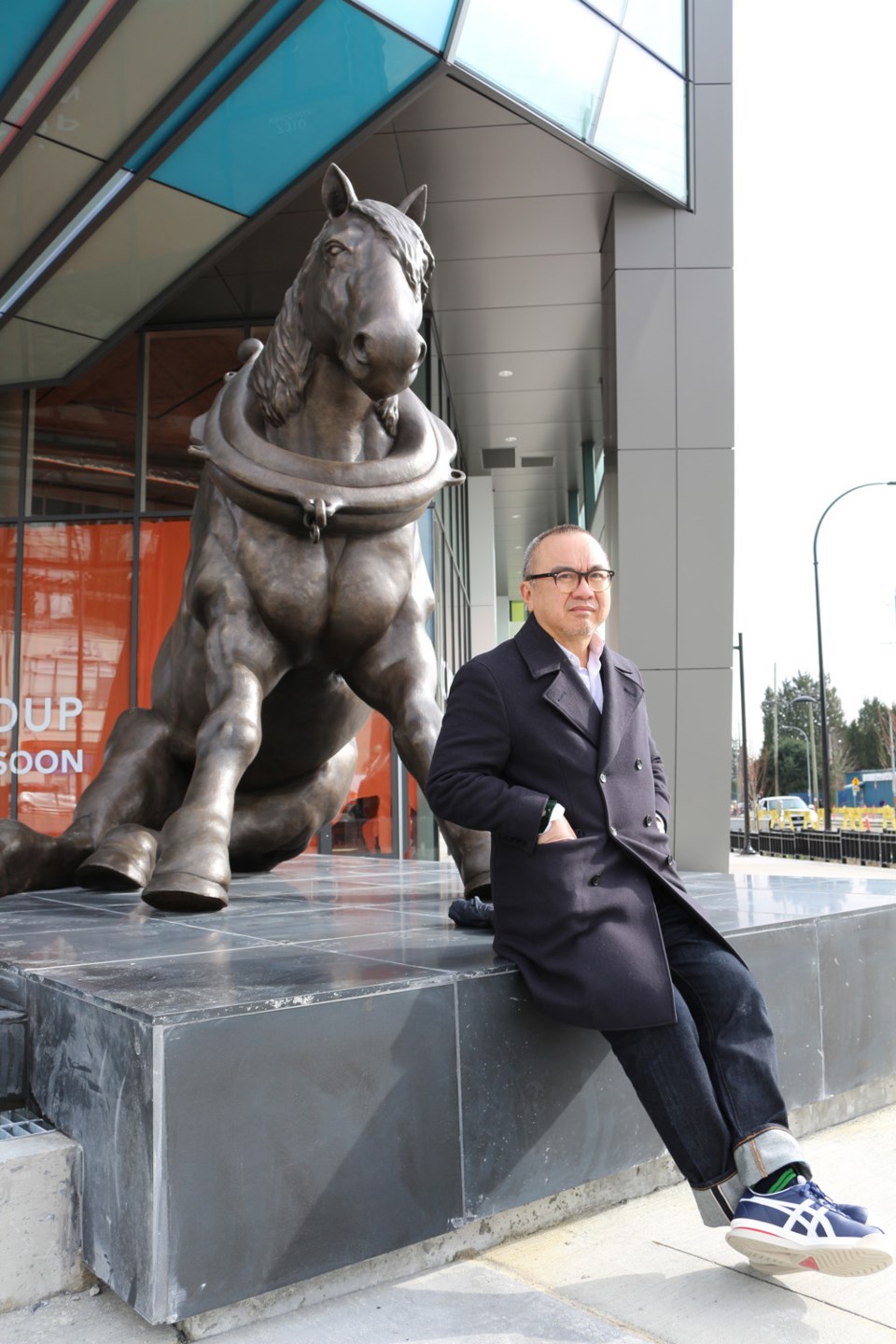 It's an old horse with a sway back, caught in the act of dropping to the ground for a rest. It still wears its yoke, a sign of the work it has done for years, logging the wilderness that used to occupy the very ground on which it sits.
Ken Lum stands next to the statue, rubbing the yoke with his fingers – an act he hopes will become the "good luck" touch for visitors who will cross paths with his art in the years to come.
The Retired Draft Horse and the Last Pulled Log is a new piece of public art, commissioned by Cressey Development Group and newly installed in the plaza at the new Kings Crossing development site. (An official unveiling ceremony is set for the morning of Monday, March 2.)
"I wanted it to evoke a past but also to address today. I didn't want it to be about just what we have lost," Lum says.
Rather, he says, he sees the work as an allegory that may speak to progress and change in the city and spur reflection of what we have built out of the wooded land that used to occupy this urban space.
The internationally acclaimed artist, born and raised in East Van, is most known in Vancouver as the creator of the East Van cross, formally known as the Monument to East Vancouver. Lum, who's now serving as the chair of fine arts at the University of Pennsylvania's School of Design in Philadelphia, is back in the Lower Mainland for the launch of his new book, Everything is Relevant: Writings on Art and Life 1991-2018 – and, of course, for the installation of his new sculpture in Burnaby.
Lum's quest to conceive a sculpture based on Burnaby's history led him to a search of historical photographs, inspiring several ideas that he discarded for various reasons. Lakes and woods? Too romantic. The old Interurban tram? No, now we have SkyTrain. Mid-century architecture? No, an architectural-inspired piece seemed the wrong fit for the development.
Delving into Burnaby's labour history gave him a few more ideas. He considered the donkey engines they used to use in logging, which he notes had an interesting modernist shape.
Then he hit upon the horses. He was familiar with the massive Percherons and Clydesdales who hauled giant wagonloads of produce down to the Fraser River for shipment out to English Bay and beyond.
But Lum didn't hit upon the final design for his statue until he happened, by chance, to see a picture on the Internet of a sitting horse.
"I thought, 'I didn't know horses sat,'" he says.
As it turns out, they don't; sitting is an unnatural action for a horse, and it only happens for a moment while the animal is transitioning from standing to lying down, or vice versa.
Lum liked the idea of a sitting horse who would "stand sentinel" at the busy intersection, looking out at traffic.
The piece evokes the history of equestrian statuary, Lum notes, but completely turns it on its head.
"Equestrian statues are really symbols of power, but this is a beast of burden," he says, noting it's an obviously older horse, wearing a yoke. "It's not about the upper classes. It's about the labouring classes."
Lum says that fits well with Burnaby's history, which has been strongly working-class, and with its present. The artist, who was born in Vancouver in 1956, says the Edmonds neighbourhood now reminds him very much of the East Vancouver he grew up in, with its multi-ethnic shops and restaurants.
"Burnaby is more like East Van to me than East Van is these days," he says.
In keeping with the terms of the art the developer wanted – to occupy two separate locations at two separate entrances to the building – Lum created a second part to the piece: the large log, with chain, that the horse has now finished pulling. That piece will be on the Edmonds Street side of the development.
The entire work, which Lum first modelled in clay and then scaled up (a process that's much easier now than it used to be, he notes, since everything can now be done digitally), took about a year in creation from initial conceptual drawings to the finished product in bronze.
Watching over the installation of the work on Thursday and Friday, Lum has been happy to see people already stopping to check out the work and take pictures of it.
A plaque that will be installed next to the work will give its title and Lum's name – but it won't, Lum says, tell them what they should think of it or how they should interpret it.
"I don't like directions that tell people how to read the work," he says. "I want them to enjoy it, and I want them to hopefully think about its meaning."


Note: This piece was updated March 2 to reflect the fact that the work was commissioned by Cressey Development Group.