Craig Taylor can pinpoint when baking became more to him than just a pastime.
It was March 2017, the day after his father died.
"I've always baked; I've always enjoyed it, but then I kind of threw myself into baking," he recalls.
Taylor set himself a mission that day: to make a peppermint bark cheesecake for his girlfriend's birthday. He quickly learned peppermint bark was out of season and nowhere to be found in stores, so he spent the day running from store to store in search of all the ingredients he'd need to make it from scratch – before he even got started on the cheesecake.
"I got it to her at 11:59 p.m., but I did it," he says with a laugh.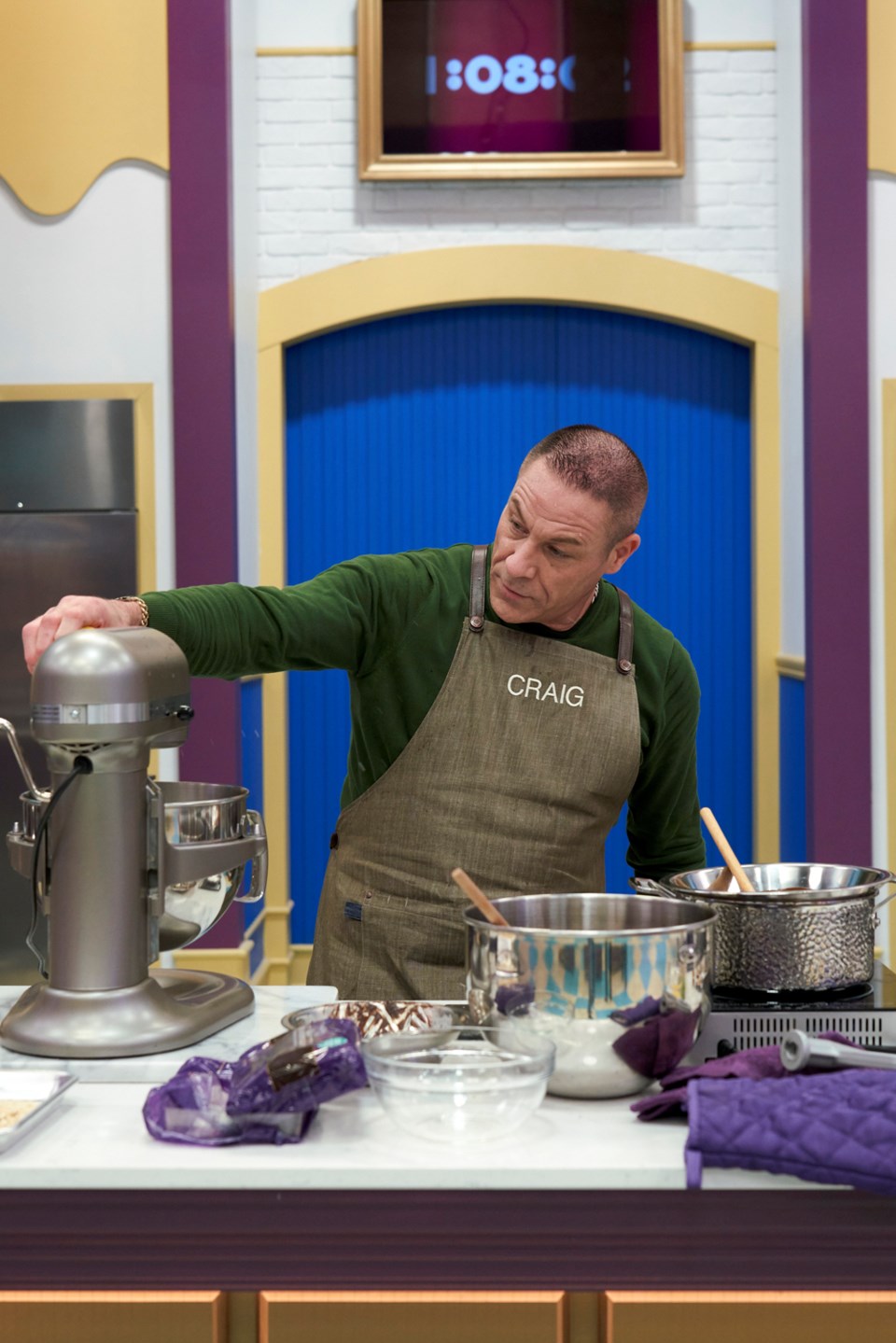 That was the moment that set him on the path to where he is now: competing for a $50,000 prize on the Food Network's new Great Chocolate Showdown. Starting tonight (Feb. 4), 10 home cooks, five Canadian and five American, face off in an elimination-style competition where they go head to head each week in a range of chocolate-based challenges.
Competitive baking wasn't Taylor's original goal three years ago. With a 25-year career in the casino industry, during which he worked his way from dealer to pit boss to management consultant, he wasn't looking for a new professional direction. More than anything, he says, he took to the kitchen because he discovered it had huge psychological benefits.
"I don't know if there's anything that makes me happier to be doing on my own," he says. "It's just seeing that look on somebody's face when they taste something and it hits them somewhere else. … That's what I like to do. I want to see people happy."
With his father's illness, Taylor had left Las Vegas behind to return to the Lower Mainland. His mom still lives in Burnaby, where Taylor grew up and graduated from Burnaby North Secondary School (where he was active in band and theatre and even served as president of the student government). He now lives in downtown Vancouver, opting to stay close to his mother and to continue most of his casino-related work online.
At the same time, as he devoted more and more hours to baking, friends and family started to notice how elevated his skills were becoming. Two years ago, someone forwarded him information about the Great Canadian Baking Show, which he set aside because he didn't feel ready. Last year, someone forwarded it again.
"I thought, you know what? It's time. I think I'm ready for this," he says.
He sent in an application and video reel and got himself invited for a live audition in Vancouver, where everything went well and he could tell he was in the running. In the end he wasn't chosen, but he received a personal message from the show's producers asking him to please come back and try again.
Taylor set himself a mission. He looked at the kinds of things other competitors were capable of, figured out what skills he needed to acquire – "I didn't have as much experience with some of the French pastries," he noted - and set out to acquire them. Armed with a list of 25 things he wanted to accomplish over the next year, he started documenting his journey on Instagram last February.
That Instagram journey drew the attention of a casting producer from the Food Network, who messaged Taylor on social media to encourage him to apply for a new show they were casting.
Taylor jumped at the chance.
"The Food Network is massive. A lot of great careers have been started through the Food Network," he points out, adding that the large cash prize was an added incentive.
He submitted everything the show needed as fast as possible, passed through a phone interview and then did a live Skype audition from his own kitchen, during which technical difficulties meant he could only hear the other end of the conversation and not see it. Despite talking to a black screen the entire time, he clearly managed to impress the judges, and he found himself invited onto the show.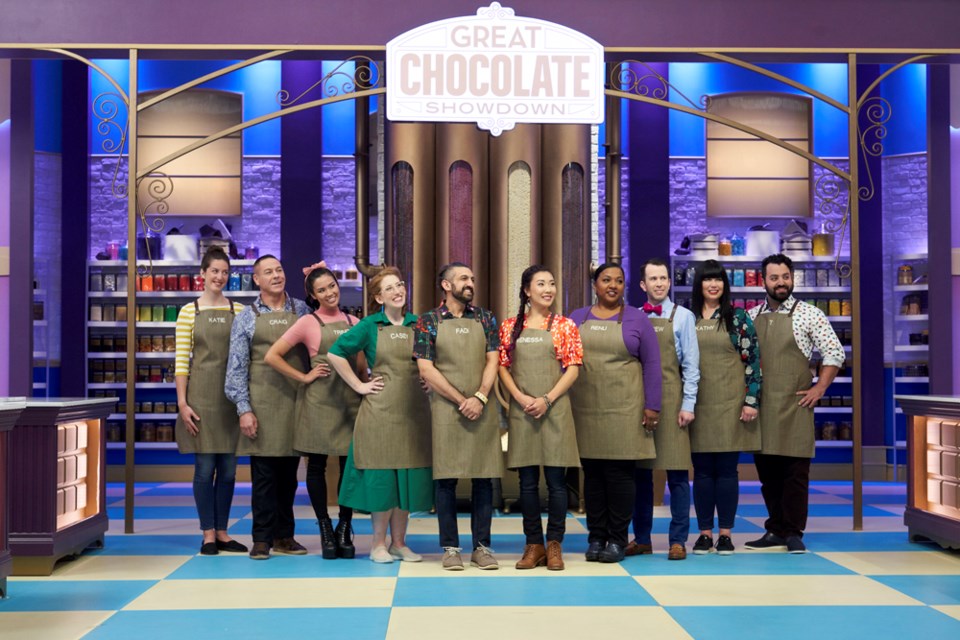 He's not allowed to reveal any details about the filming, so you'll have to tune in on Tuesday evenings to find out what happens. But he will say the experience is one he wouldn't change for the world, and he treasures the bond he formed with the other contestants.
"They are my family. They are such an amazing group of people," he says. "We were family in a day. The connections that I made with the competitors were phenomenal."
The contestants come from a huge range of backgrounds, from teacher and pharmacist to human rights lawyer and aerial circus artist. They range in age from their early 20s to 50-ish. At 47, Taylor found himself with the nickname "Bake Daddy" and says he became a bit of an advocate for all the bakers.
He notes it was odd for the bakers to get along so well and find themselves in competition with each other. Even for Taylor, who's used to competition – he has a background in both competitive dance and competitive sports – the experience was somewhat disconcerting.
Not to mention intense.
In the real world, he says, he doesn't usually bake under time constraints.
"It can be an art form, and it's not something to be rushed," he says.
So creating a new dessert with the pressure of a giant clock ticking off the minutes – not to mention an ever-present film crew – added an entirely new dimension of stress to the process.
"It's really intimidating when you have a camera up your nose," he says with a laugh.
Ultimately, Taylor says, he'd love it if his Great Chocolate Showdown experience could serve as a stepping stone for his next culinary goal: to open a small dessert shop in Vancouver. He'd like to see a small, 10- to 12-seat café, serving cake by the slice with coffee by day and wine by night. He can see such a plan going over well in the neighbourhood where he lives, near Beach and Hornby – but, as with everything in Vancouver these days, the catch is in the cost.
Taylor, however, is optimistic. He knows he'll continue to bake, and he's happy to follow this new road wherever it may lead him.
"You never know where things could go to," he says with a smile.
(And, yes, for the record, he came to the interview armed with chocolate cake – with a salted caramel layer inside and the best chocolate buttercream icing you'll find anywhere. I could unleash a barrage of adjectives on it, but we'll stick with "sublime.")
Want to know more about Taylor's baking? Follow him on Instagram, @craigt2k.
ABOUT THE SHOW
Great Chocolate Showdown's panel of judges is made up of television personality and bestselling cookbook author Anna Olson, award-winning British cake designer Cynthia Stroud and renowned pastry chef and chocolatier Steven Hodge.
The show airs Tuesdays at 9 p.m. ET/PT on the Food Network.