It's not really Christmas until you've heard a choir singing.
Fortunately for Burnaby residents, the choral offerings are rich this holiday season.
Check out what's coming up:
UNIVERSAL GOSPEL CHOIR
This is a Vancouver event, but the Universal Gospel Choir has a strong Burnaby presence at this year's concert, The Magic of Yule, coming Nov. 29 and 30 to Canadian Memorial United Church (1825 West 16th Ave.)
The 70-voice choir will offer up traditional carols, gospel favourites, inspirational pop songs and world music, backed by the UGC Band (Michael Creber on piano, Jason Nickel on bass, Jay Esplana on drums and Jay Leonard Juatco on guitar).
The concert includes a number of featured soloists from Burnaby: Sabrielle McCurdy-Foreman, Heather Olson, Josh Andallo and Rosanna Francis.
The concert is on three times: Friday, Nov. 29 at 7:30 p.m., and Saturday, Nov. 30 at 3 and 7:30 p.m. Tickets are $30 regular, $25 for seniors/students, $15 for children aged five to 15. See www.universalgospelchoir.ca.
VANCOUVER THUNDERBIRD CHORUS
The Vancouver Thunderbird Chorus is bringing its close-harmony, barbershop stylings to the stage for 'Tis the Season, Saturday, Dec. 7 at Shadbolt Centre for the Arts.
The chorus has been offering a singing experience for people from all ages and walks of life since 1950, and its repertoire covers swing, gospel and modern music.
The concert is at 7 p.m., and tickets are $25 (free for children 12 and under). Buy through tickets.shadboltcentre.com or see www.thunderbirdchorus.ca for information.
MUSICA INTIMA
The acclaimed a cappella vocal ensemble musica intima returns to Burnaby with this year's Christmas concert, Sing Lullaby.
The concert, grounded in the British choral traditional, will feature seasonal music from Herbert Howells and Kenneth Leighton, as well as the newer generation of English composers, such as Jonathan Dove and James MacMillan. Also on the program are works by Canadian composers Kristopher Fulton and John Burge.
Tickets are $35 adult, $30 seniors and $15 for students. It's on Friday, Dec. 13 at 7:30 p.m. at Brentwood Presbyterian Church, 1600 Delta Ave. See www.musicaintima.org.
AMABILIS SINGERS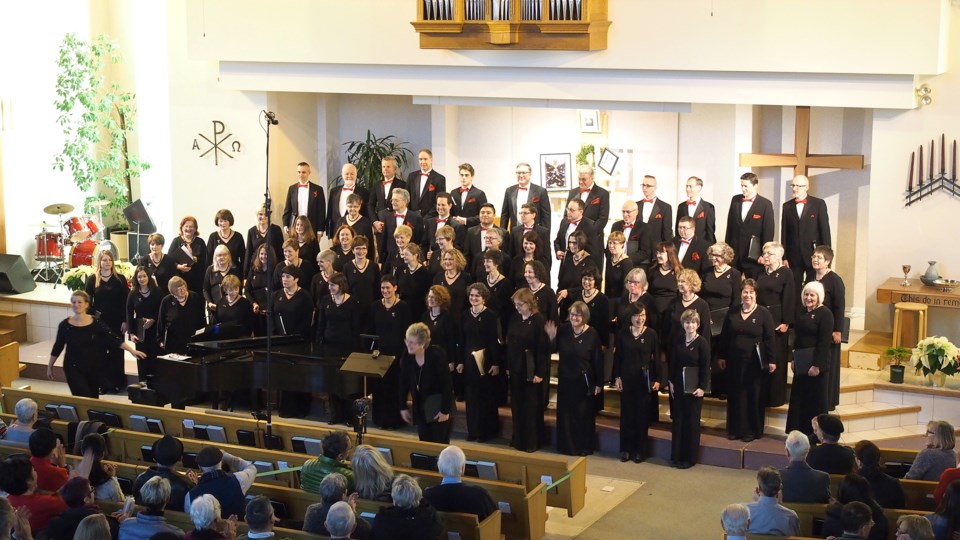 This 65-voice community choir is offering up its annual Christmas concert on Friday, Dec. 13 and Saturday, Dec. 14.
Director Ramona Luengen and pianist Ingrid Verseveldt will lead the choir in a program that includes such highlights as Abbie Betinis' In the Bleak Midwinter, Allan Bullard's The World Has Waited Long and Benjamin Harlan's sparkling new arrangement of Angels We Have Heard on High, as well as music by Bob Chilcott, Ian Crawford, Dan Forrest, Will Todd and more.
There will also be sing-alongs and raffle baskets to win. Tickets are $25 for adults (including seniors) and $15 for secondary school students. Children under 12 are free.
The concert is on Dec. 13 at 8 p.m. and Dec. 14 at 2 p.m. at New Westminster Christian Reformed Church, 8255 13th Ave., Burnaby. Tickets are available through www.eventbrite.ca or by calling 604-897-7258. See www.amabilissingers.org.
COASTAL SOUND YOUTH CHOIR
The always popular Coastal Sound Youth Choir is returning to New Westminster Christian Reformed Church (8255 13th Ave., Burnaby) with Betting Warmth Against the Cold.
Will de Sousa directs, with Krista Pederson on piano, in a program of uplifting choral music for the holiday season.
The concert is on Saturday, Dec. 14 at 7:30 p.m. Tickets in advance are $20 for adults, $15 for seniors/students and $10 for children 12 and under; at the door, they're $23, $18 and $15, respectively. See www.coastalsoundmusic.com.
MAPLE LEAF SINGERS
The Maple Leaf Singers, a  Burnaby-based, 50-voice show chorus, is known for its high-energy performances featuring music that spans the spectrum from pop, rock and jazz to spiritual, gospel and Broadway hits.
It's bringing its holiday show, Christmas With the Maple Leaf Singers, to Cliff Avenue United Church (1600 Cliff Ave.) on Saturday, Dec. 14 at 2 p.m.
And psst, there's also a bake sale, so come prepared to take home some holiday treats while you're at it.
Tickets are $15. Call 778-245-4445 or see www.mapleleafsingers.com for information.
Do you have any Christmas concert info to share with NOW readers? Send details to Julie, jmaclellan@burnabynow.com.