Rosemary Siemens wasn't sure how she'd be able to balance a performing career and a baby.
Fourteen months later, holding her toddler son in her lap while she chats at her Brentwood-area condo, she can't help but laugh a little bit at the thought.
"I didn't know how it would all work out," she says with a smile that radiates warmth. "It's been so cool."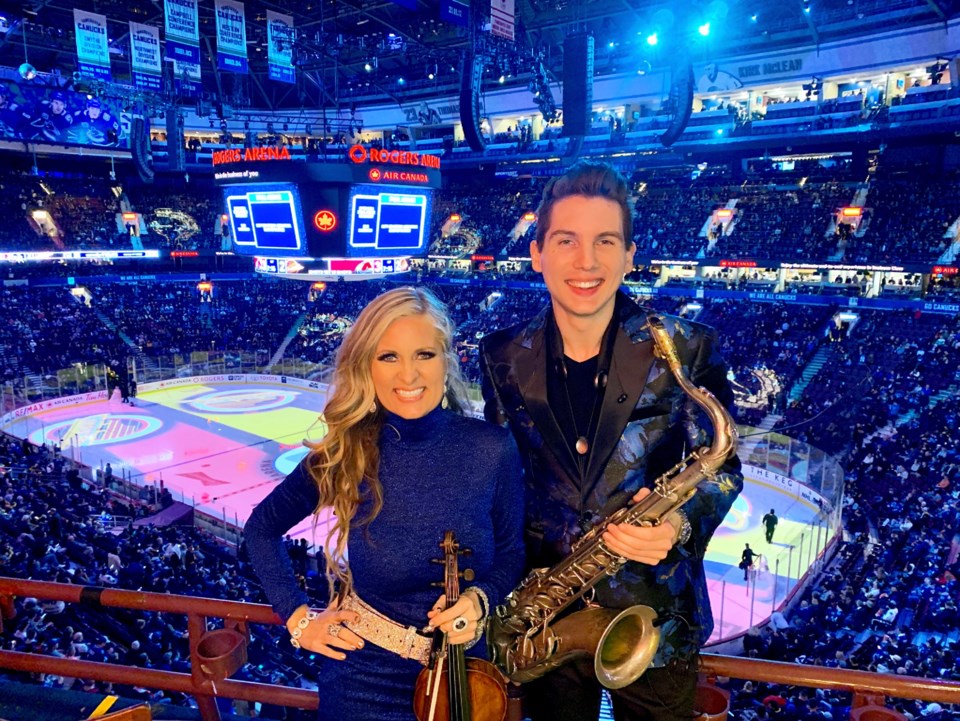 Siemens is a violinist, both as a solo performer and as one-half of the duo SaxAndViolin alongside her husband, Juno-nominated jazz saxophonist Eli Bennett. The two have just come off a whirlwind series of performances – first at the Vatican, then back home for the Burnaby Hospital Foundation's Nashville Nights gala, then for Hockey Night in Canada at Rogers Arena.
Through it all, they've been accompanied by the youngest family member, Theodore, whose impending arrival they kept secret last year while Siemens performed right up to a week before his birth. In fact, they logged some 175 shows in 100 cities while she was pregnant – without anyone knowing. ("I had to dress completely differently," she says with a laugh.)
Their Vatican performance was part of a conference of 40 Christian leaders from around the world. Siemens was one of the speakers and then closed the conference, with Bennett, playing Ave Maria and the Lord's Prayer. It was her fourth performance at the Vatican; in fact, it was a video of her playing in an earlier appearance at the Sistine Chapel (the first solo violinist ever to do so) that led to this most recent engagement.
Though Siemens isn't Roman Catholic – she grew up Mennonite, in Manitoba, and now attends the non-denominational Coastal Church downtown – she cherished the chance to share her faith and her love of Christian music.
"I have a deep love of hymns, and bringing them back into churches," she explains.
Hymns are pretty much in her blood. Growing up, she had one of those large extended families where the grandparents and dozens of relatives would gather on the family farm.
"We'd come together and we'd sing hymns all afternoon," she says.
Siemens was just three years old when she first picked up a violin to join in. A few things have changed since then - like an international performing career that includes some of the world's great concert halls (take Carnegie Hall, four times) and an upgrade to a 300-year-old violin that used to be played in King Louis XIV's orchestra – but her deep and abiding love of hymns remains.
Siemens now hosts a regular Sunday hymn serenade on her YouTube channel, sharing her vocal, violin and piano skills in renditions of traditional hymns including Amazing Grace, How Great Thou Art and Old Rugged Cross.
The hymn series has pulled in more than a million views on YouTube, but, for Siemens, its impact has been far deeper than that.
Siemens is emotional telling the story of a homeless man who found her on YouTube and messaged to her: "Your videos are very comforting to a confusing and complicated life, thank you for being you."
She responded asking him what his favourite hymn was, and he said What a Friend We Have in Jesus. The next week, she recorded that one and dedicated it to him.
He messaged back, telling her how much it had meant to him, and then later messaged her again updating her on his life: he had started a new job, bought new boots and socks, even bought his own meals that weekend. "God arranged our meeting each other," he told her.
That, Siemens said, is why she plays music.
"I say everyone has a gift to give. Mine is music," she says simply. "It's important, especially this Christmas season, that we do what we can to give, to change someone's life. I never thought it would turn into a ministry, but it totally is."
Siemens believes strongly in the power of faith to change lives. At her speaking engagements and performances, she often tells the story of how her precious violin (which, by the way, is named Sparkle) was stolen while she was in California three years ago. During her frantic search for the valuable instrument, Siemens had a random encounter in a gas station parking lot with a stranger who was involved in prison ministries. He said a prayer with her before promising to put the word out on the street and even volunteered a $2,000 reward for its return.
The violin was returned, unharmed and apparently untouched, several hours later to the hotel where she'd been staying. A man in a black hoodie set it down on the front desk and said, "I hear you've been looking for this."
To this day, Siemens believes the incident happened because the story has the power to touch people and to remind them of the power of faith.
"I can go from a concert hall to the Vatican to a club to a church and share this story, and no one can deny it," she says.
It even inspired a song, Have a Little Faith, which she recorded with her bluegrass band, The Sweet Sound Revival.
Siemens' dedication to sharing her faith through music has earned her numerous honours, including two recent nominations for the 2020 Canadian Gospel Music Awards: Children's Song of the Year for You and Me, a song she wrote for Theodore; and Instrumental Song of the Year, for You Say, by SaxAndViolin.
At the same time, Siemens is also hard at work on other music – including the worldwide iTunes release of her new single I'll Be Home for Christmas, which is heading to the radio now. Her recording of Jingle Bells is featured in the 2019 Hallmark Christmas movie Our Christmas Love Song.
Now she's taking a quick trip to Manitoba for three I'll Be Home for Christmas concerts in early December, with Bennett as a special guest, then returning for a SaxAndViolin Christmas concert at St. Joseph's Roman Catholic Church in Langley on Dec. 8.
Through it all, Siemens and Bennett are travelling together.
Their life as a couple has been inspiring their music in a public way since 2016, when Bennett surprised Siemens by showing up at one of her concerts and coming down the aisle, wearing a white suit and playing Can't Help Falling in Love, before getting down on one knee and proposing to her in front of the crowd.
When the two got married in 2017, they decided to top that by having a public wedding in Siemens' hometown, Plum Coulee, Manitoba – 1,500 people came, and their 28-member wedding party of mostly professional musicians sang themselves down the aisle. Bennett played Can't Help Falling in Love, again, and all the musicians teamed up for a giant Rosemary, Eli and Friends show as part of the town's Plum Fest.
That was pretty much the beginning of SaxAndViolin, and the duo's rise has been rapid ever since. Their YouTube channel has already generated some six million views – an almost unheard-of feat that Siemens attributes to the fact that the idea of a saxophone and violin duo is so unique.
Bennett agrees.
"We always get, 'Does that go together?' Then they see us play and they say, 'That's the best combination we've ever seen,'" he says.
Now that Theodore has turned their duo into a trio, they're enjoying being musicians who can base themselves at home. Bennett, besides being a saxophonist, is also a composer (he was featured in the NOW in June 2018 for his Leo Award win for film composition). Just like Bennett used to do with his own dad, Daryl, who's also an award-winning composer, Theodore can now join him while he works.
"He literally comes when I'm composing and sits on my lap," Bennett says with a grin. "We have a lot of fun."
Bennett also produces Siemens' videos, and when they record new SaxAndViolin videos, they do so right in their own living room.
With Bennett's parents close by, they have built-in backstage child care for Theodore when they're performing – and during the day, he doesn't have to go off to daycare. They're even hoping to homeschool him when he's older so they can continue their simultaneous double life as musicians and parents.
"We have an unusual scenario, but I wouldn't change it for anything," Bennett says with a smile. "It's basically music when we wake up, music when we go to bed. Non-stop music."
Theodore, bouncing on the couch in time to the sound of his mother's music playing on YouTube, claps his hands along with the beat and smiles happily.
Siemens looks down at him, and her already bright smile turns radiant.
The life they're leading – as parents and as performers – has been more successful than she could have imagined just a short time ago, when she was trying to keep her pregnancy hidden and wondering how it was all going to work out.
"We haven't had to say no to anything," she says. "It just makes it more fun having him there."
LISTEN
Want to hear more from Rosemary and Eli?
www.saxandviolin.com, www.youtube.com/saxandviolin
www.rosemarysiemens.com, www.youtube.com/rosemarysiemens