UPDATE: Luminescence V has been postponed due to the COVID-19 pandemic.
For many artists and art lovers in Burnaby, it's become a rite of spring.
It's the night when Deer Lake Gallery throws open its doors, setting both indoors and outdoors ablaze with light and fire and colour and sound and inviting the world in to mark the night when light returns to the earth.
This is the opening night of Luminescence, an annual exhibition of two- and three-dimensional works celebrating light, held each year to mark the spring equinox.
The Burnaby Arts Council is presenting the fifth edition of the show from March 21 to April 25. An opening night celebration – featuring DJ, fire performance, food and drinks along with indoor and outdoor art – is set for Saturday, March 21.
Since its first year in 2016, when the show went unexpectedly viral and an estimated thousand or more people lined up down Deer Lake Avenue to take in opening night, Luminescence has been building a reputation as one of the shows to watch for on the Lower Mainland arts calendar.
"It's really cool that we're getting put on the map as a cool light exhibition," said Jasmine Wu, the Burnaby Arts Council's gallery coordinator and interim executive director. "Word is spreading."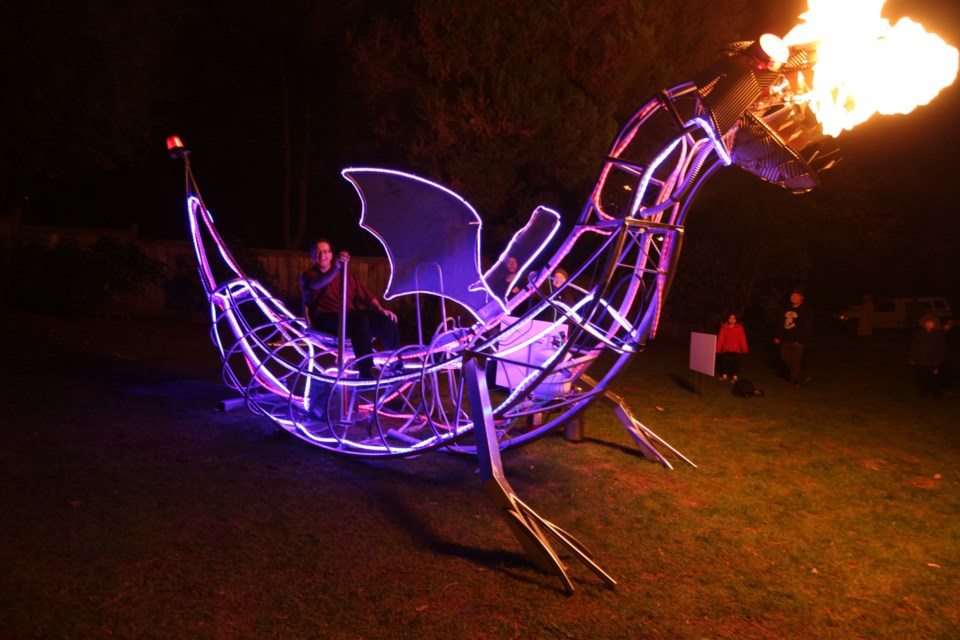 Luminescence V will feature works by some 20 artists, with work on display in every part of the gallery – including the front lawn, back yard, all the main-floor gallery spaces and even the basement.
"We're trying to activate the whole space," Wu said. "This year especially we're having much more interactive artwork."
Instead of just looking at the art, visitors will in many cases be invited to touch it and interact with it – like Kotone Natasha Frankowski's brain teaser involving lit blocks, and Grant Withers' stereoscopic imagery that challenges viewers to reveal a hidden message.
A crowd-pleaser from last year, Ron Simmer's Berzerkatroid Dragon, is also returning to the lawn (yes, you can "ride" the dragon, and, yes, it breathes real fire - check out more about it in the video at the bottom of this post).
For the first time, the exhibition will feature works created by community members at a lantern-making workshop led by artist Andrew Tuline in the run-up to the show. The lanterns will hang outdoors around the back porch – and their makers will be able to control their creations via cellphone, thanks to programmable LED lighting.
Withers, who's based in North Burnaby, is looking forward to returning to the show once again. He was drawn to the first show in 2016 because of its focus on light – and, as a photographer, light is his tool.
 "It's a Burnaby tradition," he said. "I always cross my fingers I'll be able to join in. It's a challenge to outdo myself from the previous year."
Each year he's taken part, he says, he's been inspired by the ideas of the other artists in the show.
"I find so much inspiration in other art forms and other artists. I think, 'How can I do that with my camera?'" he said.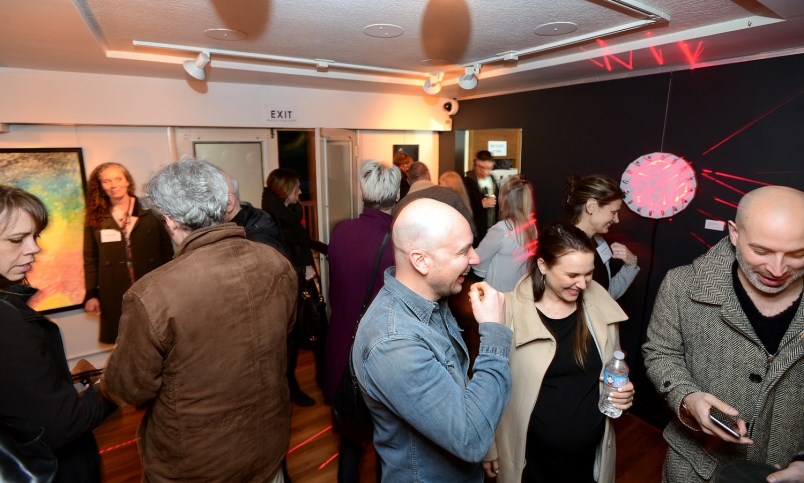 A big draw for him, he said, is the chance to talk to the other artists in the exhibition and "geek out" about the behind-the-scenes processes that went into the creation of the art in front of him.
"Sometimes we don't want to know how it was done because we want to be immersed in that fantasy," he pointed out.
Other times, though, he'll find another artist's approaches and processes to be a "breeding ground" for future work of his own.
Kathryn Wadel agrees. She was in the show for the first time last year, with an illuminated sculptural work, and she's returning this year with a projection-based installation in the gallery basement.
"I always love seeing how different artists interpret or utilize light in their practise, because it's so different from person to person," she said. "It's all about perspective and how we see the world."
Wadel says her experience with last year's show was inspiring.
"I can't even describe it," she said. "I didn't know how many people to expect. It was very exciting and very inspiring to see so many people from the community turn out."
One of the things she loves most about the show is that it's open for all ages.
"It always brings me joy to see kids come to art exhibitions," she said, noting it reminds her of attending shows in her own childhood and how much those shows inspired her on her artistic path.
Withers pointed out the show is a big part of the gallery's efforts to build connections to the community, connecting people to both art and to artists and their processes.
And, he notes, the theme of light is one that has universal appeal.
"It's a very approachable theme, if you will, for both the artists and the art-loving public," he said. "You're going to have everything from playful eye candy to thoughtful, thought-provoking pieces, all in the same space. They're going to find one, two, five things of the 20 or 30 that really speak to them. …
"There's a chance to get a full range coming to a show like this."
Add in the fact that opening night festivities include food, music and a fire performance, and you've got a recipe for a show that won't soon be forgotten.
"They'll be talking about the show after they leave," Withers promised.