Clarissa Roque has been preparing for this moment since she was just three years old.
The 19-year-old pastry chef is one of two young women working at Burnaby businesses heading to Kazan, Russia this month for the 2019 World Skills Competition. The competition is a test of the various trades ranging from 3D digital game art and mobile robotics to fashion and plumbing.
Roque, who works at Chez Christophe in The Heights area of northern Burnaby, will be competing in the pâtisserie and confectionery category. Leah Patitucci, who works at The Pear Tree Restaurant in The Heights, will be competing in the cooking category.
To get to the World Skills Competition, competitors in Canada have to advance from the provincial level to nationals. There, each category holds an initial round of competitions. The following year, the top-two competitors from each category go head-to-head to determine who will represent Canada on the world stage.
Roque says she found her passion for the kitchen early, helping out with baking and cooking since she was just a toddler.
"I love that you have the ability to express yourself. Every plate that you make, you put yourself on that," she said. "I think one of the best parts about it is seeing other people, having the ability to bring joy to other people."
While in high school, she was originally intending to enter the provincial qualifying skills competition for fashion, but later changed her course to pastries.
Her first year competing in provincials, Roque qualified for the national Skills Canada competition, where she achieved a bronze medal. The silver medallist was not age-eligible for World Skills, though, so Roque was able to compete in the second round, where she qualified for the international competition.
Patitucci says she knew she wanted to get into professional cooking when she was in high school, and she now attends the culinary program at Vancouver Community College.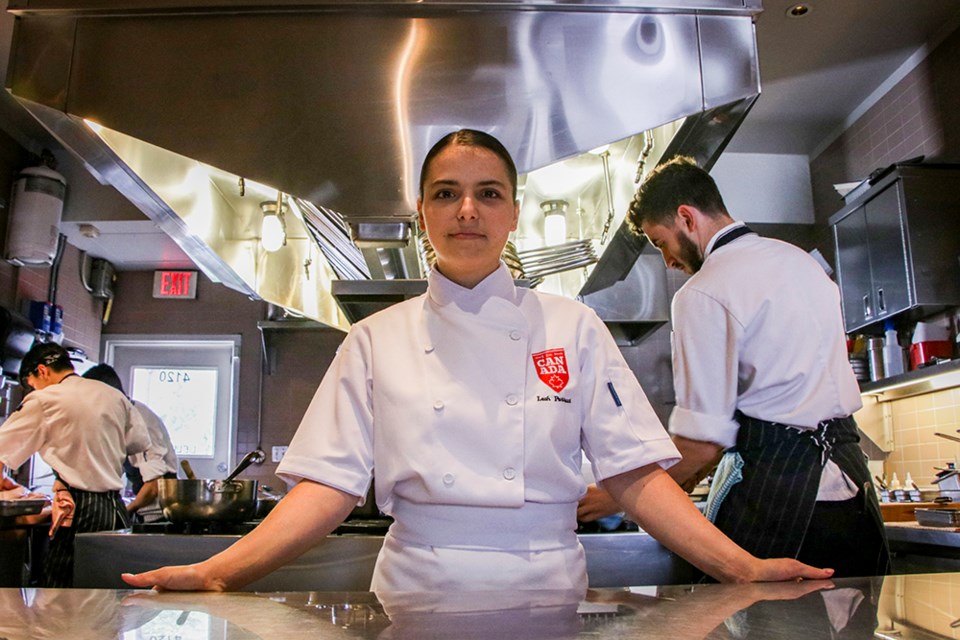 "I've always loved cooking … [and] the self-achievement that it brings. All of your effort goes toward it; you get to see the reward at the end," she said.
Patitucci competed in the 2017 Skills Canada competition, but didn't make it to the second round that year. The following year, however, Patitucci competed again in the national competition and ultimately qualified for this year's World Skills.
Both Patitucci and Roque are putting eight or more hours per day to prepare for the four-day competition – each day will involve a different dish for both the cooking and pastry competitions.
"It has a huge impact on your personal life as well," said Christophe Bonzon, chef and owner of Chez Christophe. "[Clarissa] is still working a little bit with us on a normal job. Not as much, but she's still working two days a week. On top of that she's prepping pretty much another five days a week for the competition."
Scott Jaeger, owner and chef of The Pear Tree, said he feels it's Patitucci's determination that will see her perform well at the World Skills competition.
"She's somebody who has been on task with not only this competition, but others," he said. "So she has that drive."