It'll come as no surprise to Burnaby residents that the city is full of fantastic dining options, but now a new campaign by TransLink is hoping to draw even more people to some of the city's hottest food destinations.
TransLink has teamed up with WestCoastFood, an initiative led by tourism groups in Metro Vancouver and the Fraser Valley, including Tourism Burnaby, aimed at promoting the region as a culinary hub, for Dine the Line.
Dine the Line showcases a number of foodie destinations across the region and encourages "tourists and diners to take transit while enjoying a day out," according to a press release.
There are three different self-guided tours to choose from, one for each SkyTrain line.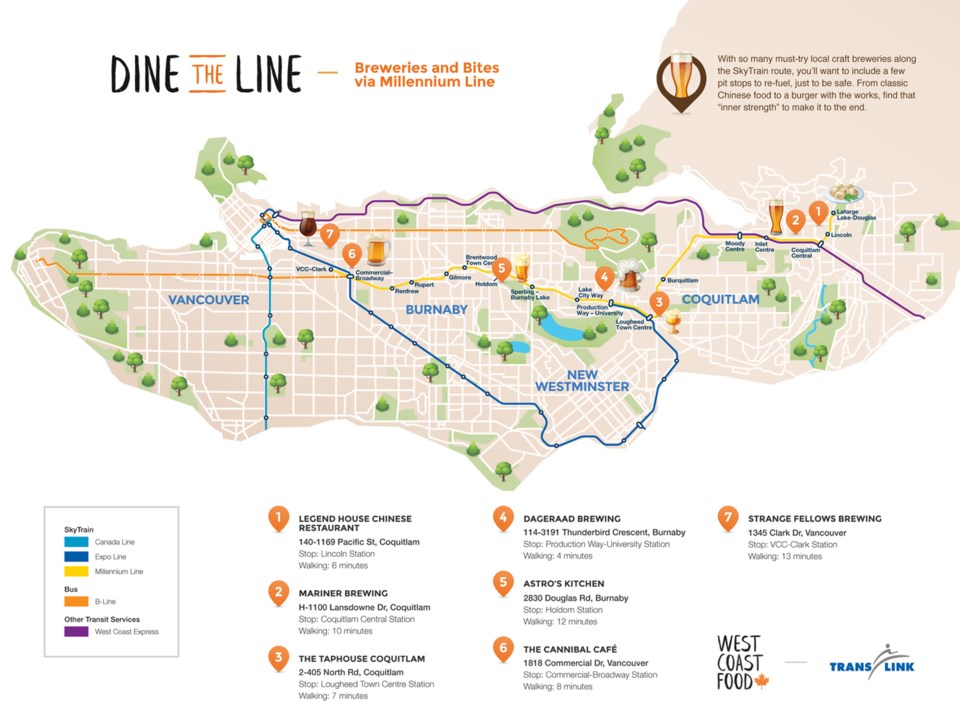 Take the Breweries and Bites tour from Coquitlam to Vancouver via the Millennium line and stop at Production-University and walk over to Dageraad Brewing (3191 Thunderbird Cres.) for a pint. After a flight or two, get back on the train and pop over to Astro's Kitchen (2830 Douglas Rd.) for a bite to eat (Astro's is a breakfast and lunch joint and is only open Monday to Friday).
Choose the World Cuisine tour from Vancouver to Surrey via the Expo Line and stop by Café La Forêt (6848 Jubilee Ave.), Hanwoori Korean Restaurant (5740 Imperial St.) or Anatolia's Gate (7084 Kingsway) for a bite or two.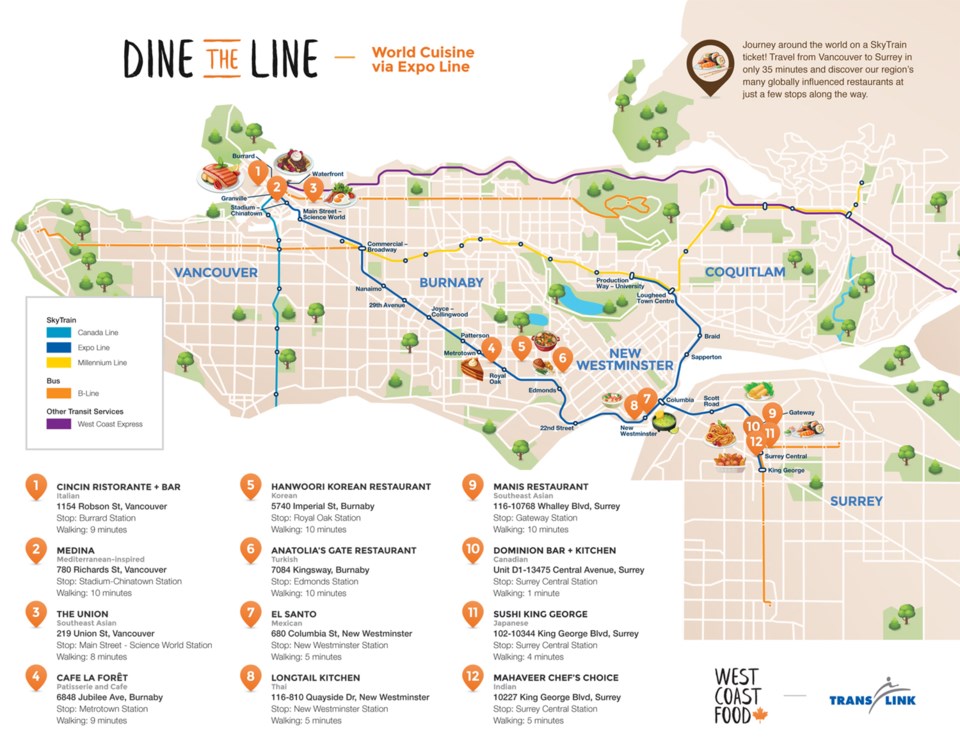 "We want people to get out there and experience Metro Vancouver's unique dining and brewpub neighbourhoods, and we want people to use transit to get there," TransLink CEO Kevin Desmond said in the release. "Transit connects our communities in so many ways, and we want transit to be the way that residents and tourists discover culinary hubs throughout our great city."
For more information, addresses or to see all the participating restaurants and to download the maps, go to https://westcoastfood.ca/dinetheline.