When I first moved back to North Burnaby a few years ago, I was heartbroken to hear that the Mountain Shadow had been closed down.
I don't drink, but I do love a good pub menu and a place to watch sports and have a few laughs. The Mountain Shadow met all of those requirements and it was located right in the 'hood I grew up in.
Burnaby's bar scene is pretty good, with several in the Brentwood area and at the Grand Villa Casino. But I'm not big on the bar scene - too many suits. Pubs suit my style better.
Which is why I'm so excited by the sneak preview Simon Fraser University offered for The Study, which opens in March and will serve students as well as the grownups in the UniverCity community where I live.
"Located adjacent to the new student union building, The Study is a 19-plus venue that can seat over 300 patrons, with more accommodated outdoors on the expanded pub patio overlooking the city," read a post by SFU.
The view of the city looks kickass from the photos and likely beats any other pub in Burnaby. (If you want a great restaurant view, check out Horizons on Burnaby Mountain.)
The furnishings are pretty swank - the look is distinctly retro - and the lower floor arcade area is outfitted with vintage pinball games, shuffleboard and ping pong tables.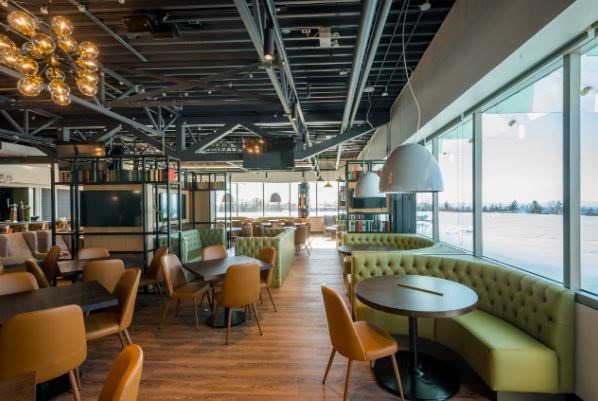 "The menu will feature local, craft and made-from-scratch traditional fare, tasty classics, and happy-hour specials," says SFU – hopefully we're spared the tired "beef dip" we see on most pub menus. I can do without that.
I am disappointed that families can bring their children into the venue until 10 p.m. – this is just me personally, but I like having adults-only places to hang out.
The new campus pub will be operated by the Joseph Richard Group (JRG), which operates a number of public houses and restaurants in and around Metro Vancouver.
Mark McLaughlin, chief commercial services officer at SFU says, "Our vision is to create a fun place on the Burnaby campus where students can enjoy the social aspects that are part of student life outside the classroom while appealing equally to faculty, staff and UniverCity residents. We expect that JRG will successfully add vibrancy to the campus."