A Burnaby tech company announced a roughly $330-million (CAD) investment from two U.S. firms, setting a new Canadian record.
Clio, a software company based out of the Canada Way Business Park, pegged the investment by TCV and JMI Equity at US$250 million. That figure, co-founder Jack Newton said, set a new record in Canadian growth-stage investments and is one of the world's largest-ever tech investments.
The software company is a cloud-based system that "delivers all the needs a lawyer has to deliver legal services to their clients," Newton said on Wednesday.
"We let you run the business side of the law practice easily and seamlessly. We make it easy to track your time, fill your time, keep track of the documents, your clients, your to-do list, your calendar."
The company was founded in 2007 by Newton and his childhood friend, Rian Gauvreau, now the chief people officer of the company. Since then, the company has grown from two founders, two employees and no clients to more than 400 employees and over 150,000 legal professionals using the software, Newton said.
Clio's success, in part, is due to what is more or less a void in the tech market catering to the legal community, Newton said. Lawyers and courts, he added, are often seen as "behind the typical adoption curve of most businesses, and I think that's a fair critique."
"We just see this increasing hole into the market where we do see a lot of lawyers realizing that they need to innovate to survive in the 21st Century."
Newton said the recent investment would broaden the services offered by Clio, but didn't name any particular new services that would be offered.
"So we'll do that by developing products more aggressively within our own development teams, and we'll also be more inquisitive and look to acquire more companies that help flesh out our product offering," he said.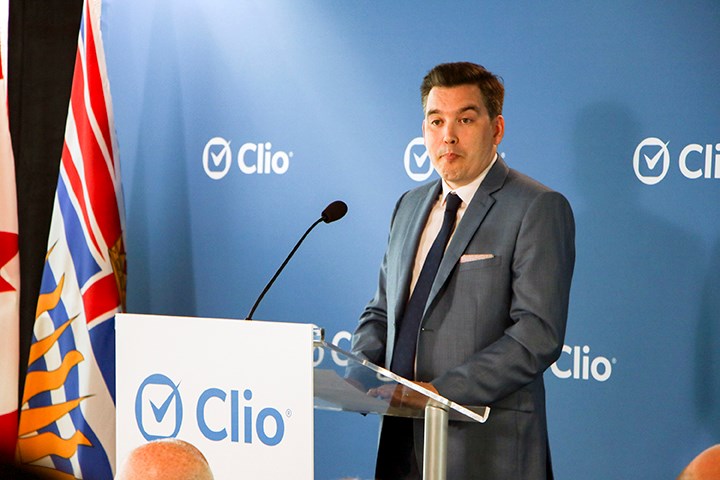 Burnaby North-Seymour MP Terry Beech said the investment is a signal of the world's willingness to invest in companies in the area.
"Two weeks ago, I was at Stemcell – between this announcement and Stemcell, we're talking about over half a billion dollars of investment and thousands of jobs right here in Burnaby," Beech said, referencing a $138-million investment into a new research facility in Burnaby.
Jill Tipping, CEO of BC Tech Association, said the investment shows "that we can breed unicorns" in the still-burgeoning B.C. tech industry.
Massive investments into tech companies have a bit of a rocky history. While it has been successful for Facebook and Amazon, a decade of net losses at Uber has shown that piles of investment money don't always pave the road to a profitable company, even for the high-valued tech industry.
A privately held company, Clio doesn't divulge its financials, but Newton said the "business model is one that can easily be profitable. Whether or not we choose – based on our current set of investments and growth and so on – we are profitable at any given time is something that may change over time."
"I think there's a large body of evidence … that shows you can build a very highly profitable, high-growth businesses that are enduring and long-lasting businesses."