Ken Carrusca's life today really began with the death of another man 11 years ago.
Gianfranco Giammaria, a fit, 35-year-old father of three and local elementary school vice-principal, dropped to the ice at Burnaby 8 Rinks on Dec. 30, 2006, struck by a sudden cardiac arrhythmia.
If there was an automated external defibrillator (AED) in the building to shock his heart back into rhythm, it wasn't found in time to save him.
Giammaria's wife, Denise, set out to make sure that never happened again – raising funds and installing the life-saving devices in as many public places as she could through the Gianfranco Giammaria Memorial Society.
Its first AEDs went in at Burnaby 8 Rinks in 2008.
(The Heart and Stroke Foundation got on board later, and the facility now has 13.)
On Jan. 14, one of them brought Ken Carrusca back from the brink of death.
With a couple minutes left in the first period of a Sunday afternoon Adult Safe Hockey League (ASHL) game, the 50-year-old went to wheel a puck behind goalie Wes Reamsbottom.
"The puck came out the other side of my net, but Kenny didn't," Reamsbottom says.
Turning to take a drink, he then saw Carrusca lying stomach-down right beside his goalpost.
"I asked him if he was OK and he didn't respond, and he was making this horrible noise," Reamsbottom says.
Throwing off his blocker, glove and helmet, Reamsbottom knelt down beside Carrusca and called for help.
Teammate Jason Howell, a former Vancouver paramedic, had been skating up ice and didn't see Carrusca go down.
"The whistle blew. I thought we were getting a penalty," he says.
After decades of hockey, Carrusca had had his fair share of injuries and surgeries, so, when Howell saw it was him on the ice, he figured he'd probably tweaked his knee.
A closer look told him instantly things were much worse.
"As soon as I saw him, I was like, 'Holy shit! What the hell is going on here?'"
Carrusca lay rigid with his hands clinched up by his chest, his body uselessly gasping for breath.
"At first I thought he had a head injury because that's a classic sign that the brain is not working," Howell says.
Finding no pulse and seeing Carrusca slip further into unconsciousness, Howell, Reamsbottom and defenceman Tom Levesque tore off his helmet, pads and jersey.
"I had to rip the gloves off his hands because his hands were so stiff," Reamsbottom says. "He was not breathing, he was not responsive and he had no pulse, and it was one of the most terrifying things I've ever seen."
Howell began chest compressions, helped at one point by referee Jason Granholm.
Someone pulled an AED from a nearby wall.
As a former paramedic, Howell knew Carrusca's chances were miniscule – on the job, he estimates he had seen 20 similar cardiac cases die in the end.
"We pressed 'analyze' and we got a response from the AED, which was really awesome," Howell says. "This AED was idiot proof … We pushed 'press to shock' and we were able to get pulses back."
With a few breaths of mouth-to-mouth, Carrusca's breathing was back too before emergency responders arrived.
Carrusca continued to improve as paramedics loaded him into the ambulance – Howell says he saw his friend try to push emergency equipment away from him as he regained consciousness.
But it wasn't until Howell saw Carrusca conscious in a Royal Columbian Hospital emergency room that the former paramedic was satisfied his friend's brain as well as his body had survived his stopped heart.
He has to pause for a moment to steady his voice before describing that moment.
"Seeing him there, I knew that we'd saved his life," he says.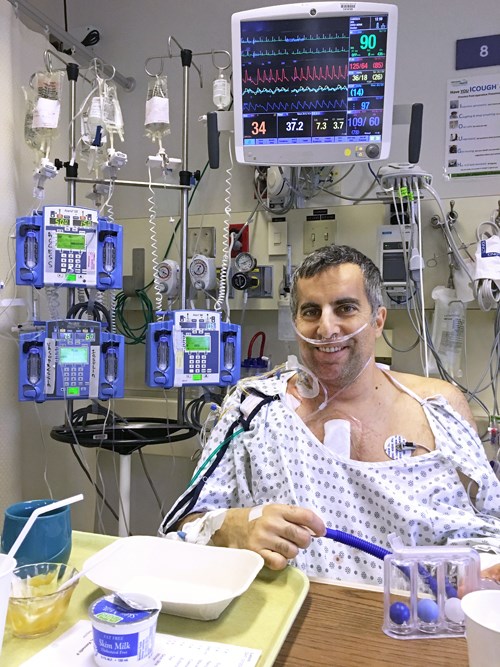 Carrusca, who has since undergone a quadruple bypass to divert blood around four blocked cardiac arteries, is equally emotional when he recalls Howell, Levesque and Reamsbottom visiting him in the hospital before his surgery.
"It was a pretty emotional reunion for me and for them," he says. "There were tears for sure. The four of us were like little girls – and I say that respectfully."
Carrusca, a husband and father of two, has no memory of his collapse. The last thing he remembers is warming up for the game after joking around with the guys in the change room.
"I don't remember any of that first period," he says.
His cardiac arrest completely blindsided him, he says, and his learning curve about heart problems has been steep.
An electrocardiogram he got before an operation on his bicep in July, for example, had revealed no issues.
He has since learned the best way to catch problems like his is a stress test, which measures heart rates during increasingly strenuous exercise – usually on a treadmill or stationary bike.
That was news, not just for him, but for everyone on his team.
His new life since his heart stopped on the 8 Rinks ice has also driven home the importance of good CPR training and the life-and-death difference AEDs can make.
After bringing Carrusca back from the brink in January, 8 Rinks' AEDs were used again less than a month later to save Jamie Maclaren, another ASHL player who collapsed in a change room on Feb.1.  
"It is 100 per cent one of the best pieces of equipment that the public can learn how to use," Howell says. "CPR itself is really only a Band-Aid to getting that AED hooked up and getting the heart back working as fast as possible."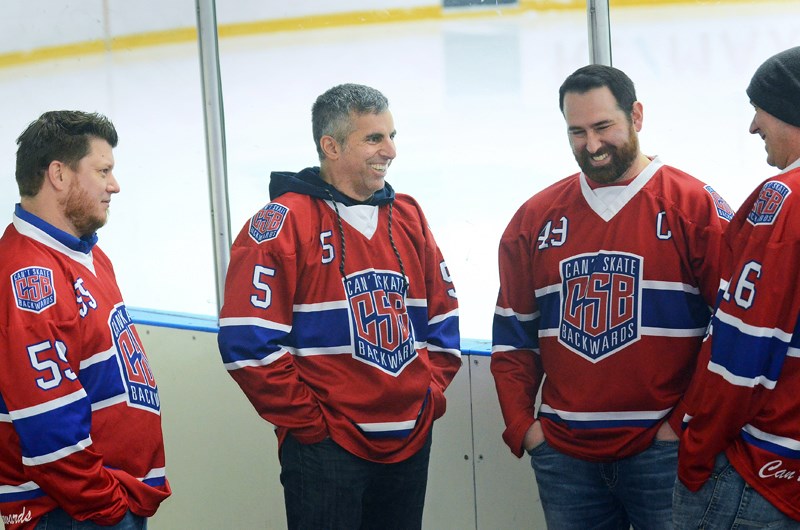 Eleven years ago, Gianfranco Giammaria didn't get that chance.
Thanks to Denise Giammaria and others who loved her husband, though, Ken Carrusca and Jamie Maclaren did.
"I'm grateful that their families aren't going to have to go through what we're still going through," Giammaria says. "I'm happy I made a difference. I'm glad that they're alive."
Giammaria has advocated for years for the government to make AEDs mandatory in certain public places – much like fire extinguishers are now – but politicians and bureaucrats have shown little interest, she said.
Howell says making AEDs as common as fire extinguishers might be an ambitious idea but it's a good one.
"The technology isn't new anymore," he says. "It's not that expensive. … It's a life-saving device."
No one knows that better than Carrusca.
"Without that machine, who knows how long my heart would have been stopped or, obviously, if I'd even be here to chat with you," he says.
This story has been corrected. The orginal version stated Gianfranco Giammaria was 43 years old at the time of his death and was a father of two. His was in fact 35 years old and had three children.