The Burnaby Board of Trade has joined a growing list of voices supporting the Burnaby Mountain gondola transit project to Simon Fraser University.
BBOT president and CEO Paul Holden has written a formal letter to Burnaby council asking that the city and TransLink "begin the next stage of consultations and planning so that this exciting proposal can move forward." 
SFU has been pitching the urban gondola to serve students, staff, faculty and the residents of the UniverCity development.
Holden's letter says that transit demands up Burnaby Mountain are increasing and so alternatives to buses are needed.
"Today, 25,000 people commute up and down Burnaby Mountain each day," Holden writes. "The current number of commuters, coupled with the continued expansion of the campus and the maturation of the UniverCity community, underscores the need for new, innovative transportation infrastructure to support SFU into the future. The Burnaby Board of Trade sees the proposed Burnaby Mountain gondola as the right choice for that infrastructure.
"As currently proposed, the gondola would be a marked improvement over the current bus-based transportation options, offering faster, safer, greener and more reliable service for the students, faculty residents and visitors who commute to and from Burnaby Mountain." 
The gondola will move 3,000 passengers per hour, reduce travel time to six minutes, reduce greenhouse gas emissions by 2,348 tonnes, according to the BBOT, and "make Burnaby Mountain more safely accessible during inclement weather, all via a unique transportation mode which could become a destination in-and-of itself."
According to a gondola project brochure produced by SFU, "Burnaby Mountain has among the worst performing bus routes in the region, creating some of the longest commute times in Canada."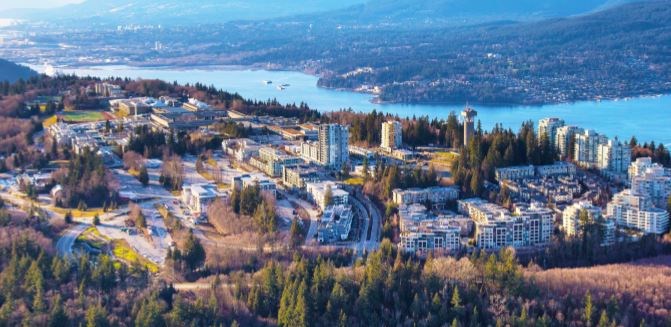 SFU has 35,000 students, 1,000 faculty, 5,600 staff, while UniverCity has more than 5,000 residents – a figure that will be growing to nearly 10,000 once all the planned condo towers are completed in the next few years.
According to SFU, "at peak hours, commuters see up to four full buses travel past them, doubling the length of their journey up and down the mountain. Bus service is ranked in the bottom 10 per cent of routes in the region in terms of overcrowding, on-time performance and bus bunching."
SFU says that an urban gondola would free up 26 TransLink buses and carry as many as 3,000 people an hour in half the ride time from Production Way SkyTrain station.
The project cost is estimated at $197 million.
The BBOT, however, wants the city and TransLink to think even bigger.
"While the Burnaby Board of Trade supports the project as proposed, we would in fact encourage that it be built with significantly greater capacity to allow the gondola to serve Burnaby well into the future," writes Holden. "The costs involved in increasing the capacity at construction would likely be modest when amortized over the life of the project and compared with the costs of expanding capacity at a later date. With the number of commuters on Burnaby Mountain expected to increase to 40,000 by 2030, the gondola should be built envisioning these future needs."