A Burnaby doctor is accusing Health Minister Adrian Dix of endangering the health of the public and front-line workers by reopening the economy without a mandatory mask policy in place to prevent the spread of COVID-19.
Dr. Wei Li, a family doctor at the Brentwood Medical Clinic, is applying for a court injunction that would put a halt to Phase 3 of the province's Restart Plan until masks are made mandatory in indoor environments, including restaurants, bars, hospitals, public transit, stores, schools and theatres.
A notice of application filed by Li in Chilliwack Supreme Court Thursday, argued such an injunction would be warranted because going ahead with the Restart Plan without having a mandatory mask policy in place will cause irreparable harm.
"B.C. has worked hard to flatten the curve and reduce transmissions via strict quarantine measures from mid-March to Mid-May," states the application. "In June, the respondent lifted restrictions set forth in Phase 3 of B.C.'s Restart Plan without imposing compulsory masking. In doing so, the respondent has willingly and knowingly caused the rate of transmission to increase again to the point where explosive growth of infections is now a feasible reality."
Li's application noted a steady increase in new COVID cases reported between July 9 and July 20.
"Given the re-opening of the B.C. society, together with the resurgence of COVID-19 infections in Canada and abroad, the applicant is deeply concerned for the state of public health and for the health and safety of her patients, her family, her colleagues and herself," the application states.
The application criticizes current provincial public health guidelines that suggest masks aren't vital for protection against the virus and cites studies it says suggest universal masking is "the most effective measure to combat COVID-19."
Masking in indoor environments shouldn't be a matter of choice, according to the application.
"In order to ensure universal mask usage is sufficient to halt COVID-19, a mandatory masking policy is necessary unless the country has an established masking culture," it states.
The government has taken such steps in the past to mitigate major health concerns, such as making seatbelts compulsory, the application notes.
Re-opening communities without a mandatory mask policy during a global pandemic, on the other hand, "is akin to allowing everyone to drive in a windowless car at 300 km/hour in a hurricane without the need to wear a seatbelt," the application states.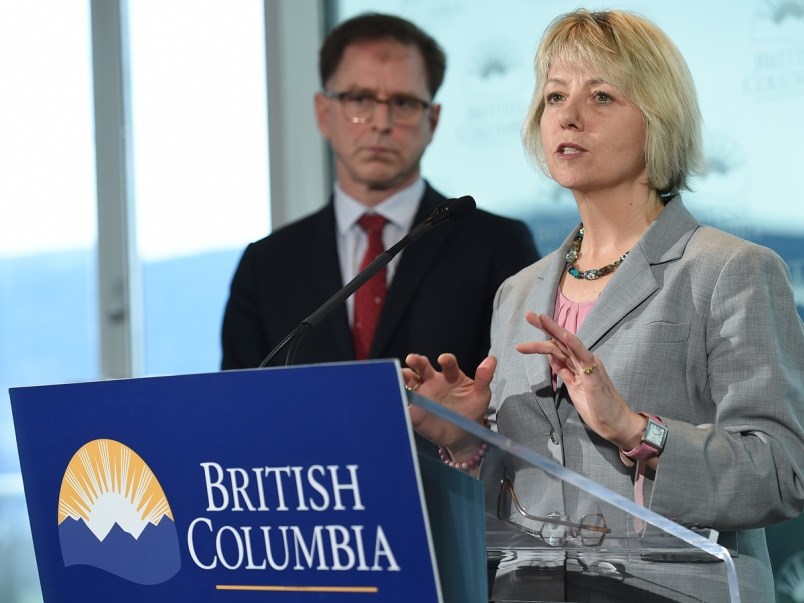 At a press conference Thursday, Dix said he would not comment on the court case specifically.
"Obviously, I think that public health decisions about what the best course should be, should be supported by the government, but presented and based on evidence," he said. "And that's what we're doing in B.C., and that's what we have done from the very beginning."
At the same press conference, Provincial Health Officer Dr. Bonnie Henry called mandatory masking a "heavy handed" approach and the "least effective" of the public health measures to combat the spread of COVID-19 when compared to things like social distancing.
She said the province will continue to "recommend strongly" that people wear masks in spaces, like transit and smaller stores, where they cannot maintain a safe physical distance.
She said she herself wears a mask and is gratified to see more people wearing them, but not everyone can wear them effectively, she said,
"We need to be able to accommodate them without stigmatizing people," she said.
Public health officials in B.C. have a good idea where the virus is spreading, Henry said, and she doesn't believe there is currently sufficient community spread to impose mandatory masking. 
"If and when we get to a point where we have a lot of community transmission, where we're seeing a lot of these transmission events happening in places like transit, or in places like retail stores, then this is an option that we can move to," she said.
The NOW reached out to Li, but a receptionist at the Brentwood Medical Clinic said Li isn't making any statements to the media at this time.
Follow Cornelia Naylor on Twitter @CorNaylor
Email cnaylor@burnabynow.com