B.C.'s public safety minister is concerned about them, the province's anti-gang agency has them on its radar and the City of Burnaby is investigating them, but members of a local firefighters biker club say people have got them all wrong.
The Florian's Knights motorcycle club formed in 2016 and is made up of active and retired firefighters from Burnaby, New Westminster and Vancouver.
The club made headlines this week after a photo of one its founding members – Burnaby firefighter Nick Elmes – and three members of the Hells Angels was spotted on social media by the Vancouver Sun and Province.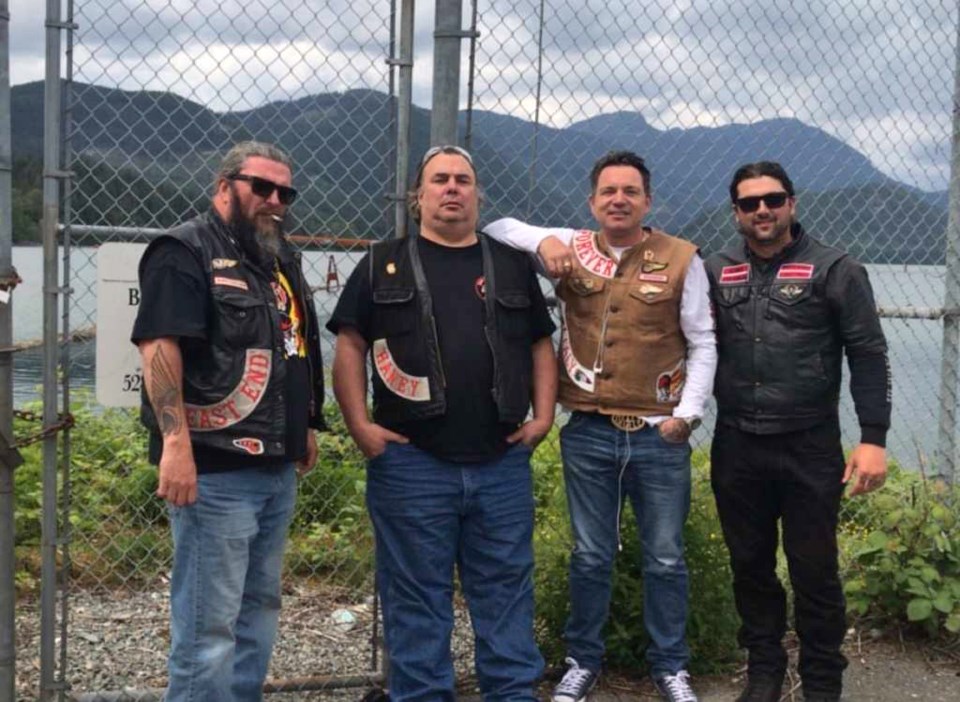 Public Safety Minister Mike Farnworth was quoted in a Sun story saying it was "disturbing on so many levels" for firefighters to be associating with the notorious biker club, alleged to have connections to clandestine drug labs and marijuana grow operations that make firefighters' jobs more dangerous.
Sgt. Brenda Winpenny of the Combined Forces Special Enforcement Unit told the Sun biker experts have been documenting the association between the Knights and the Hells Angels at various events this spring.
Burnaby city hall started getting emails from concerned citizens as soon as the story broke, according to city manager Lambert Chu, and the connection between the firefighters biker club and the Hells Angels is a "tremendous concern" to city officials, he said.
"The firefighters and many city employees are put in a position of trust, and we cannot have any city employees involved in any association with a criminal organization, period," he told the NOW.
The city has launched a formal investigation into the matter that should be complete in a matter of "days not months," according to Chu.
The city's concern with the Florian's Knights club is not entirely new, however.
Last fall, fire chief Joe Robertson talked to one of its members, telling him the group had to stop wearing the club's apparel or "colours" on rides to and from work and on fire department property, but the department backed off after the local firefighters union presented it with a legal opinion saying that would infringe on their members' rights.
"We were aware of the Florian Knights motorcycle club," Chu said, "but there was no information given to us that would cause us to be concerned because there was no evidence linking the connection between the Florian's club with the Hells Angels."
'Just a bunch of guys that ride'
But the connection between the firefighters' club and the Hells Angels has been blown way out of proportion, according to Florian's members.
"We're just likeminded guys on our Harleys trying to raise money and awareness at charitable rides; that's it," Elmes told the NOW.
He said he and his fellow members started the club because the existing firefighters' biker organization – the IAFF Motorcycle Group – only rode a couple times a year and didn't fundraise.
"I wanted to do more for my community and I wanted to do more for the biker community, and I couldn't do anything with that. You just pay your due and wear your patch," Elmes said of the IAFF group.
Rod MacDonald, a retired Vancouver fire battalion chief and longtime union president, was drawn to the Florian's Knights for the same reasons.
"The goal was for people to say, 'Oh, there's the Florian Knights. They do charity work for the kids. We were trying to brand ourselves – this is us, this is the Florian Knights, we're the firefighters," he said.
The club had a big Bikers for Burns charity ride to Hope planned this August.
Last year the same event raised about $7,000 for the B.C. Professional Firefighters' Burn Fund, according to MacDonald.
"That's dead," he said. "You can see how frustrating and saddening this is for us. We're just a bunch of guys who wear three pieces of cotton on our backs, and somebody's profiled us as being, by default, something other than what we are."
As for the Hells Angels, MacDonald said he had "zero" comment.
"We're not a club that judges other clubs. We're a bunch of guys that ride," he said.
Elmes said the Florian's Knights have participated in two rides with the Hells Angels, but added they were public charity events.
The photo of him with the three Hells Angels was taken by Stave Falls during one of those rides last month.
"They did a poker run to raise money – from my understanding it was for the Special Olympic soccer team," Elmes said.
One of the Hells Angels pictured, Kelowna chapter president Damiano Dipopolo, is a friend who lived a few blocks away from Elmes in East Vancouver when he was growing up, according to Elmes.
The group had broken off from the ride in May to visit the falls, he said, and Dipopolo's wife had snapped the photo and posted it on social media.
"He's my buddy from the neighbourhood that we have family ties with," Elmes said.
A source close to the Florian's Knights, however, told the NOW Elmes – whatever the nature of his relationship with Dipopolo – had not been forthcoming about this connection to the Hells Angels, and the photo was a shock to some club members.
Three-piece patch
But Elmes and MacDonald said they were being profiled even before the photo went public because their members wear a three-piece patch on the back of their leather vests, something that's often associated with outlaw motorcycle clubs.
That made no sense to Elmes since, he said, there are many other clubs with firefighters, police officers and border guards etc. as members – including the IAFF Motorcycle Group – that wear a three-piece patch.
In designing the Florian's Knight's patch, Elmes said he copied those groups and not the outlaw organizations.
He did, however, inform the Hells Angels of his intention to use the patch as a matter of biker tradition protocol, he said.
"I informed them just so that no one got hurt or no one got in trouble. Last thing I want to do is pick a fight with one of them," Elmes said.
Since the Sun article, questions have also arisen around a $1.65 million clubhouse in North Burnaby Elmes and another Florian's Knights member bought in January.
Online comments question how Elmes, who also owns a second $1.76 million home nearby, could have afforded it on his firefighter's salary.
"God no," said Elmes when asked whether the Hells Angels had anything to do with the purchase of the clubhouse.
Elmes, who also owns a construction business, said he bought the first house in 2006 for $560,000 and was able to finance the purchase of the clubhouse with the equity that has accrued on that property since.