A Burnaby environmentalist is demanding an "immediate halt" to tree cutting at the Trans Mountain tank farm.
John Preissl, who has long criticized Trans Mountain's sediment control measures, has written a letter to the Canadian Energy Regulator – formerly known as the National Energy Board – demanding a stop to trees being cut, specifically in the fish-bearing Upper Eagle Creek.
Preissl said he has witnessed many trees being cut this week that he alleges are putting fish habitat at risk, with many other trees being marked for removal on the site.
"(Many) of the trees in Eagle Creek have been chopped down and they are still mowing down trees today," Preissl wrote in an email on Thursday. "These riparian zones immediately adjacent to the creeks are critical for a healthy salmon and fish creek … The site is essentially one massive mud pit."
Preissl says that with the fall rainy season arriving, these fish-bearing creeks are even more at risk due to sediment stirred up by work at the site.
Trans Mountain has told the NOW previously that the work being done has been approved and that the company is following strict standards set out in its permit.
"Trans Mountain has extensive sediment control measures and mitigation efforts in place at Burnaby Terminal, including a water management plan, an erosion and sediment control plan, and ongoing daily environmental monitoring," a spokesperson said in a previous email to the NOW about these issues. "These measures are outlined in various plans submitted to and approved by the National Energy Board related to the work currently underway at the terminal."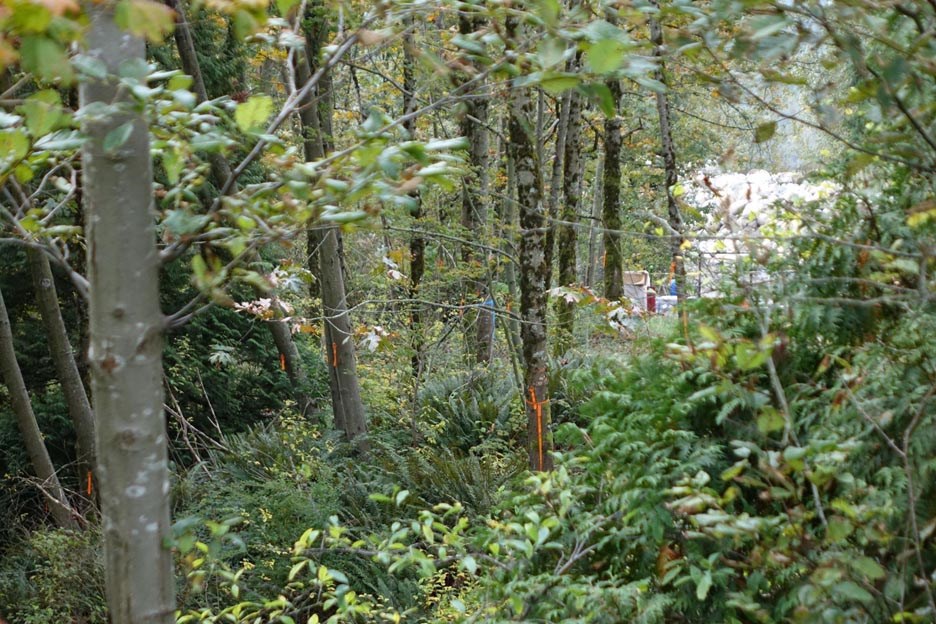 But in 2018, an inspection of the tank farm found several improperly installed sediment and erosion control measures. The joint inspection included inspectors from Fisheries and Oceans Canada (DFO), the B.C. Ministry of Environment, the National Energy Board (NEB) and the Indigenous Advisory and Monitoring Committee – a 13-member group that advises regulators and monitors the Trans Mountain project. 
Inspectors found four issues with the sediment control and erosion measures:
A sediment fence, meant to prevent particulate matter form entering a waterway, was found to be improperly keyed in along Silver Creek tributaries.
Another sediment fence at the bottom of a hill on the east side of the property "had been inappropriately installed and failed, resulting in sedimentation into a wooded area."
Blankets meant to control erosion were also not installed properly along Silver Creek tributaries.
Hydroseed – a slurry of seed and mulch – was found on top of erosion control blankets along Silver Creek tributaries.
"Please do not tell me that Trans Mountain is abiding by their strict environmental conditions and their strict sediment control plan," Preissl wrote in his letter to the CER. "Those plans have failed miserably and completely last year and will again now."