A double murder over a minor drug dispute robbed three young children of their mother three years ago.
Burnaby model and mother of three Brandy Petrie, 34, was found shot to death inside a car off a secluded rural road in Langley in the early morning hours of Sept. 1, 2017.
A Langley man she was with, 20-year-old Avery Levely-Flescher, was found with her, also suffering from gunshot wounds.
He was rushed to hospital but was pronounced dead on arrival.
The man who shot them both should be sentenced to life in prison with no chance of parole for 17 years, according to a joint sentencing submission presented by his lawyer and Crown prosecutors in B.C. Supreme Court in New Westminster Friday.
Travis MacPhail, who was 21 years old at the time, had been on a drug bender and hadn't slept for five days before the killings, according to an agreed statement of facts.
He and a woman he had met only four days earlier and was using drugs with, had run out of money and drugs and called a dial-a-dope drug line run by Petrie and Levely-Flescher.
The four agreed to meet on 64th Avenue in Langley.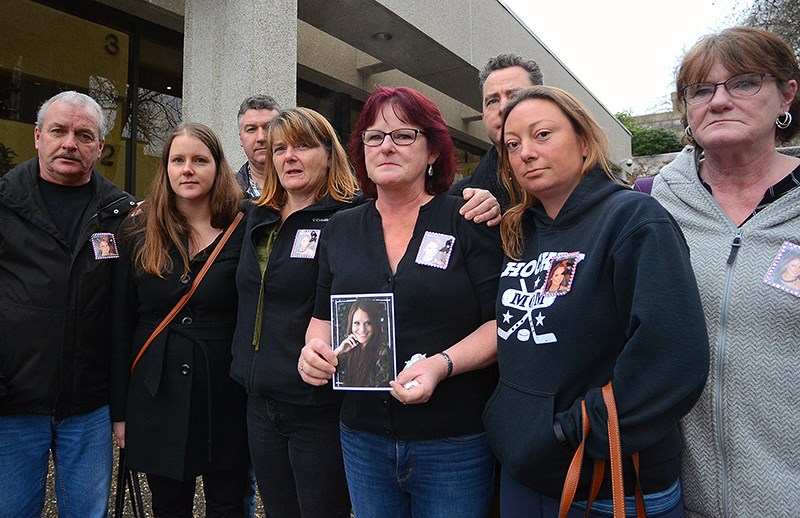 MacPhail tried to buy the drugs with a pre-paid credit card the woman had stolen from her mother, according to the statement of facts, but the other two insisted on cash.
A dispute ensued and ended in MacPhail shooting Petrie and Levely-Flescher with a sawed-off shotgun he had had in the back of his Jeep.
Crown prosecutor Jodie Harris noted the shotgun had to be manually reloaded after each shot and that the woman had helped hand MacPhail extra shotgun cartridges.
After being shot, Petrie had tried to drive away but ended up backing the silver Ford Focus she was driving into a ravine beside the road.
Levely-Flescher called 911 after MacPhail and the woman drove away, telling dispatchers he'd been shot in the arm and head and that Petrie was with him unconscious.
After driving away, however, MacPhail and the woman realized they had forgotten to bring the drugs.
At that point, the woman pointed the shotgun at her own head, according to the statement of facts, and said she would shoot herself if they didn't go back.
They arrived back at the scene less than five minutes after Levely-Flescher's 911 call. 
They went down into the ravine with the woman carrying the loaded shotgun, according to the statement of facts.
Levely-Flescher, who was still alive, walked towards them. At that point, Levely-Flescher was "shot once in the chest with a shotgun," said the agreed statement of facts. "The gunshot wound to the chest was the most fatal of Mr. Levely-Flescher's injuries."
MacPhail then grabbed a black bag from Levely-Flescher that he believed contained the drugs, and the pair ran back up the ravine and drove off. 
They were arrested a short time later after being stopped by Langley RCMP.
MacPhail, who has no previous criminal record, pleaded guilty to two counts of second-degree murder in October 2019.
At Friday's sentencing hearing the 24-year-old addressed the court, apologizing to his victims' families.
"I feel terrible because my actions caused them so much pain, especially the children," he said.
At the end of his statement, he turned to the gallery and addressed about a dozen people wearing photos of Petrie pinned to their chests.
"I'm honestly sorry from the bottom of my heart," he said, his voice breaking. "I'm sorry."
The statement unleashed sobs from the families of the victims and from MacPhail's mother and sister, who were there.
In a victim impact statement, Petrie's mother, Tracey Petrie-Jette said MacPhail had taken her daughter and shattered her family's happiness.
"It breaks my heart not being there as she took her last breath, being so alone and trying to imagine her thoughts. Did she cry out for her mom, her children?"
After two years of grief, however, she said she has realized it wasn't just her family and Levely-Flescher's family who lost a child.
"Travis's family also lost their son that night," she said. "I do not in any way have bad feelings towards his parents or blame them in any way for their son's action that terrible night."
Petrie-Jette and her husband have adopted Petrie's two daughters, who are now 13 and 11.
An aunt has adopted her son, who is three.
Justice Lance Bernard will deliver MacPhail's sentence on March 27.
The woman named in court has not been charged in the murders, according to Harris.