It's getting more and more expensive to rent housing in Burnaby, according to the latest rental report.
Rentals.ca says that last month, the average rent price in Canadian was $1,752 per month, up 1.8% monthly but down 1.1% annually.
It's the third month in a row that has seen the average rental rate go up.
Burnaby was pegged as the ninth most expensive, according to the August 2021 National Rental Rankings.
A one-bedroom is listed for $1,672 per month, which is an increase of 0.2% from last month but a 3.7% drop compared to last year.
A two-bedroom will cost you even more at $2,244, up 0.1% from July and up 4.4% yearly.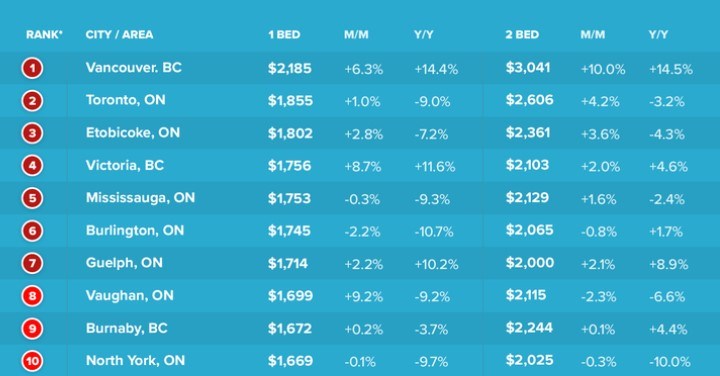 Burnaby was listed as one of the most expensive cities to rent in as of last month. By Rental.ca.
Vancouver comes in at the highest location on the rental market in Canada with a one-bedroom coming in at $2,185 a month (6.6% increase from last month) while two bedrooms will hit your pocketbook at a whopping $3,041 (an increase of 10% from July).
"As employees get called back to the office, and colleges and universities announce their reopening plans, demand has increased significantly in central locations, especially in Toronto and Vancouver where bidding wars are being reported again for rental properties," President of Bullpen Research and Consulting Ben Myers said in a news release.
"The luxury rental market is returning, pulling average rental rates up with it."
B.C. is the most expensive province to live in, according to the latest data, with an average rental price of $2,175 which is also an increase of 10.5% monthly and 7.2% annually.
Ontario is the only other province to come in at more than $2,000 at $2,024.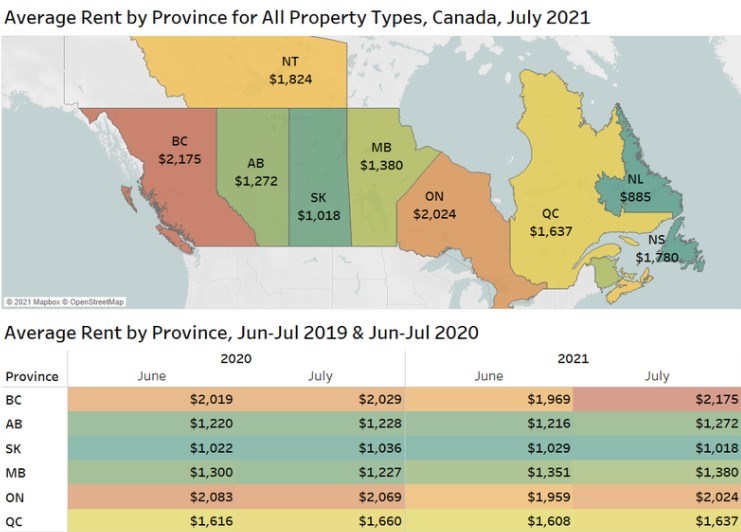 As of last month, B.C. is the highest province to lay down roots in. By Rental.ca.
Nationally, the average price tag to rent was $1,752, which is a month-over-month increase of 1.8%.
Property types included in the report are single-family housing (single and semis), townhouses, rental apartments, condominium apartments and basement apartments at the start of 2019 to July of this year.
"As the country continues back to normalcy, average rents for two-bedroom condominium and rental apartments are increasing at a faster rate than one-bedroom suites," the report stated.
"Tenants continue to show a preference for larger units with many employees expecting to work from home at least part of the time moving forward."