While Vancouver's rental market is considered extremely costly, a recent report conveys that it isn't the most expensive Canadian city.
PadMapper's September 2018 Canadian Rent Report found that the median rent prices for one bedroom apartments in Toronto were actually higher than those in Vancouver.
The report analyzes rental data from hundreds of thousands of active listings across the country. Once a month, it calculates the median asking rents of the top 26 most populous metro areas from the previous month's data. However, the data does not include short term or Airbnb listings.
According to September's calculations, "Toronto remained the most expensive rental market in the nation with one bedroom rent growing 2.8% to $2,200."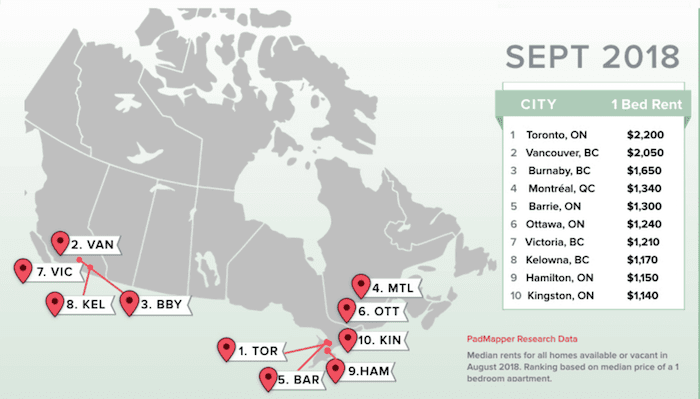 Vancouver came in second, with its median price for a one bedroom apartment increasing 2.5% to $2,050.
Further, a second Metro Vancouver city, Burnaby, came in third. It saw its one bedroom rental prices climb a staggering 5.1% up to $1,650.
Montreal took fourth spot, followed by Barrie, Ontario in fifth.
In total, 13 Canadian cities saw an increase in rent, while 10 saw a decrease, and one remained the same
While Windsor is still the cheapest city to rent in, it saw the largest monthly rental growth rate in the country with a 5.6% increase last month.