He's loved, he's hated, he's here to stay – for now.
Burnaby North Secondary School's 16-foot metal and concrete Viking head and shoulders will stay right where they were put 25 years ago, even as a new school is built on the gravel fields nearby and the old school is demolished by 2022.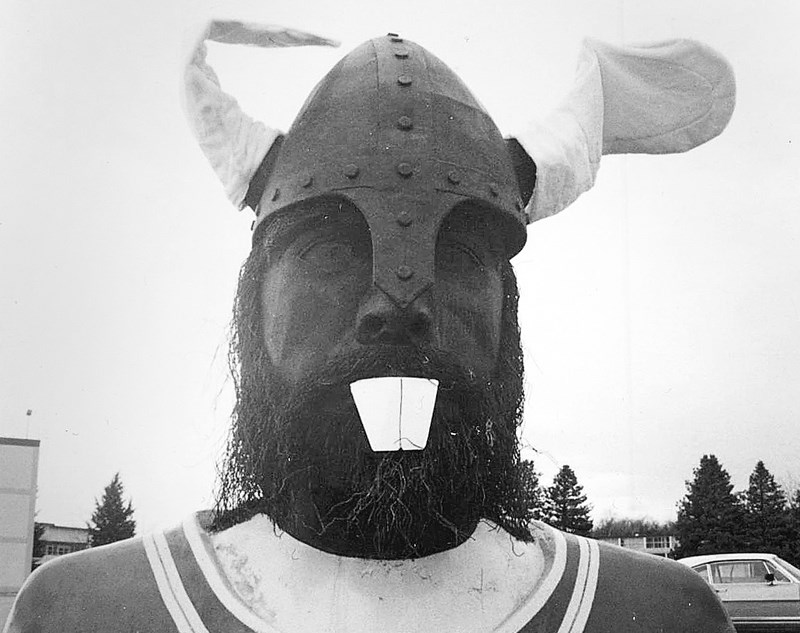 "We are actually building the entranceway to the school around the Viking head," principal Dave Rawnsley told the NOW, "so it will remain in its current place. Obviously it will be in a different location relative to the school."
With all the planning that's gone into the $79 million school replacement project, Rawnsley said the Viking head was the "most contentious" issue.
Since the project was announced last October, opinion on whether the Viking should stay or go has been split about 50-50, according to Rawnsley, and there are still "strong opinions" on both sides, so school officials have decided to defer the decision.
"We have enough going on with building a school," he said. "That can be a conversation for the future."
The Viking – an eight-year project started by now-retired shop teacher John Clarke as a way to inspire and challenge his welding students – has been a polarizing figure since it was unveiled on June 13, 1994.
That same day, the NOW got an angry phone call from a local resident who said he was "appalled" by the "ugly" monument which he said reminded him of the devil and which he feared would impact his property value.
After his comments were reported in the newspaper, they sparked an equally passionate letter to the editor calling the Viking a "magnificent artwork."
Today, after the announcement of the replacement project, Rawnsley said there's been talk of replacing it with a more modern, stylized figure, of coming up with something less male and of reconsidering the idea of Vikings as a school symbol at all.
But those conversations have been deferred, and for now, the Viking is staying put.