It's still expensive to rent in Burnaby, a new report shows.
According to its latest data available, Rentals.ca says local one and two-bedroom rentals still have an average of more than $2,000 per month at $2,010 (-1.9 per cent in one month) and $2,744 (+1.0 per cent) respectively in July.
Burnaby's rates are the sixth highest in Canada, the report says.
Compared to a year ago, a one-bedroom in the city has gone up by 20.2 per cent, while a two-bedroom has increased by 22.2 per cent.
Ahead of Burnaby for national prices are Victoria, Toronto, Richmond, North Vancouver and Vancouver.
A one-bedroom in Vancouver is going for an average of $2,500, while a two-bedroom rental sits at $3,630.
The 35 cities across Canada cited in the report combine for averages of $1,640 for a one-bedroom and $2,098 for a two-bedroom rental.
B.C. had the highest average in the country last month with an asking price of $2,590 per month for all property types, up 0.6 per cent compared to June and 19 per cent compared to the same time frame in 2021.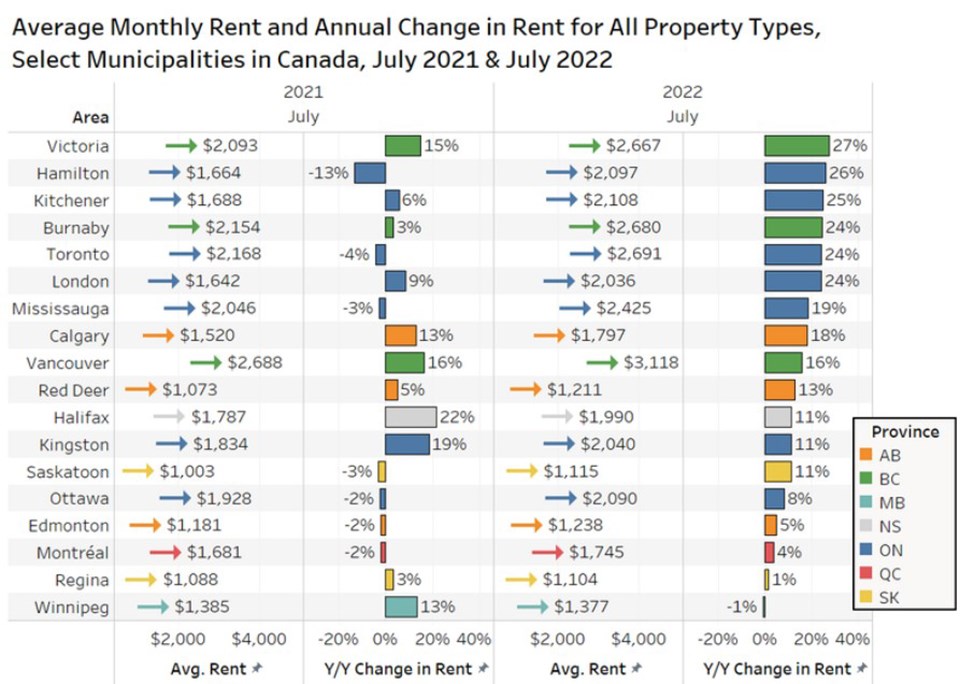 "The average rent for all property types based on Rentals.ca listings is now up by double-digits annually after rising 2.6% month over month in July 2022. However, average rents are still slightly below the previous market peak in late 2019 before the pandemic," the Rentals.ca report says.
"The two major factors impacting rental rates is the continued return to the office which has boosted rents in the most expensive central markets in Canada, and the recent increase in interest rates which reduces the affordability of ownership housing, and causes uncertainty for would-be buyers worried about future price declines.
"The pace of growth in the rental market will continue to be impacted by interest rate increases, and how many units of ownership housing units are listed for rent as would-be sellers become discouraged with the state of the resale housing market and put off listing their property for sale."
When it comes to buying a home, the Real Estate Board of Greater Vancouver (REBGV) says regional sales fell 43.3 per cent last month — that's 1,887 homes sold compared to the 3,326 sales competed in July 2021, also citing high interest rates.
The numbers are also a 22.8 per cent drop compared to the 2,444 homes sold in June of this year.
Burnaby East holds a benchmark of $1,154,200 (-2.1 per cent compared to June), while Burnaby North sits with an average price of $1,051,100 (-1.8 per cent compared to June).
Burnaby South saw the largest drop, coming in at a benchmark of $1,100,600 (-4.2 per cent compared to June).
Single family detached homes also went down with Burnaby East at $1,805,400 (-4.4 per cemt compared to June, Burnaby North at $2,076,700 (-2.4 per cent compared to June) and Burnaby South at $2,108,600 (-7.2 per cent compared to June).
Areas covered by the REBGV include Burnaby, Coquitlam, Maple Ridge, New Westminster, North Vancouver, Pitt Meadows, Port Coquitlam, Port Moody, Richmond, South Delta, Squamish, Sunshine Coast, Vancouver, West Vancouver and Whistler.