Burnaby is asking Nav Canada to provide more details on its proposed YVR flight path changes that could see more planes over the north section of the city, while one city councillor is voicing strong opposition.
The national air traffic agency says the main objective of its Vancouver Airspace Modernization Project (VAMP) is to enhance safety, modernize procedures and ensure airspace structure can accommodate demand in the long run.
The organization also said the proposed procedures would let equipped RNP AR aircraft to line up with the runway sooner, allowing them to fly a shorter distance, use less fuel and allow planes to operate on a continuous descent profile, which lets planes descend on a quieter reduced engine setting.
Changes to Burnaby
Nav Canada spokesperson Vanessa Adams told the NOW that, under the proposal, the primary change in Burnaby would shift the route of arrivals further to the north.
Planes would fly as low as 8,000 feet when winds head east ot west and 5,000 feet when gusting west to east.
New Westminster, however, would not see any major changes.
"Some of the aircraft equipped to fly the RNP AR approach procedures will follow the curved path over the river versus the more highly variable routes seen today," Adams said.
"When designing the proposed changes, we endeavoured to place the routes over non-residential use land when feasible. For example, the curved segment shown was placed over the river to the greatest extent possible."
Community maps show more planes could be seen over north Burnaby with arriving aircraft using runways 08L and 08R when winds are coming from the east and blowing towards the west.
Similar flight paths are being proposed for aircraft arriving using runways 26L and 26R when winds are coming from the west and blowing toward the east.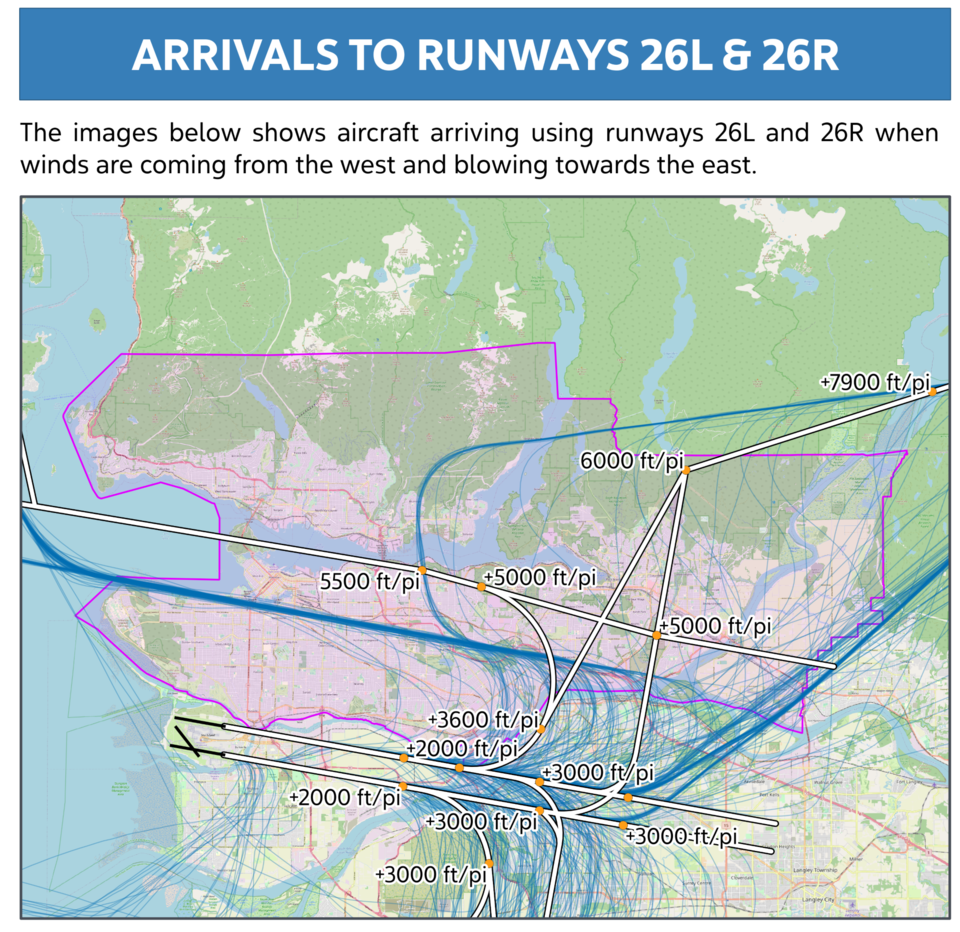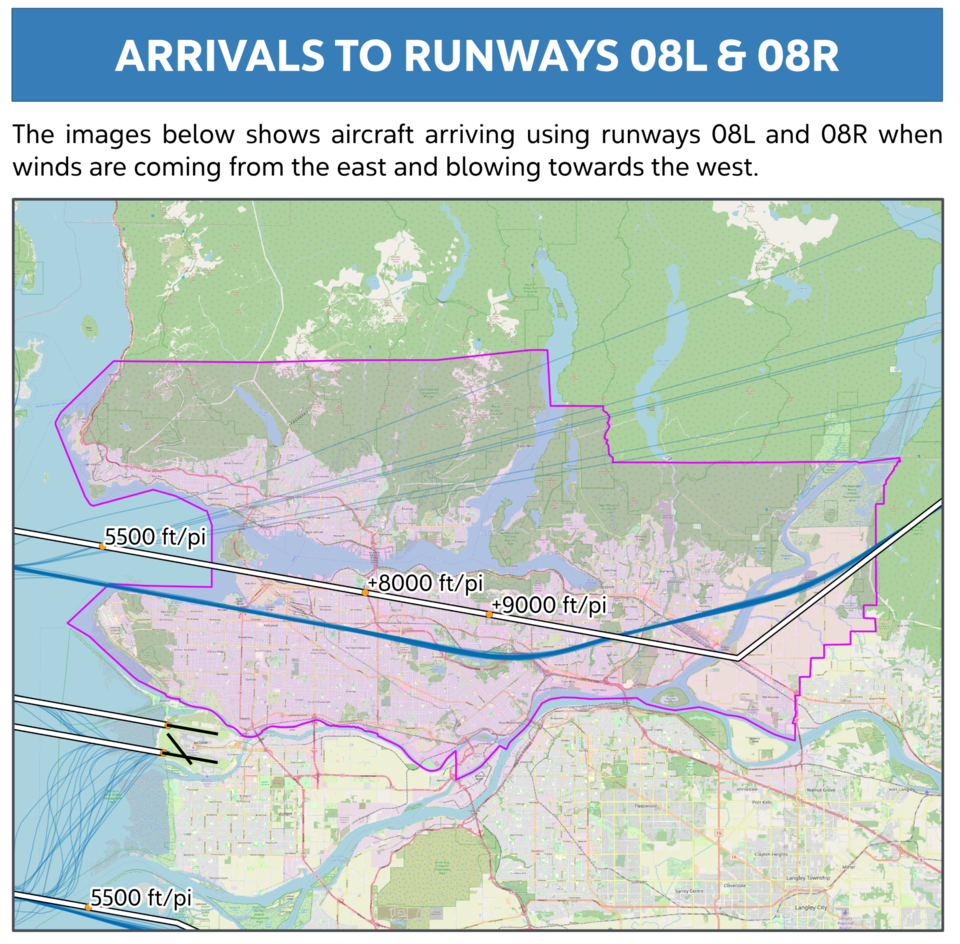 City asks for more info and in-depth engagement
In a Feb. 1 council report presented at Monday's (Feb. 6) regular public meeting, city staff outlined numerous requests to Nav Canada, particularly for information on noise impacts and potential refinements to the proposed routes.
It has requested a workshop and in-depth engagement with Nav Canada and the Vancouver Airport Authority to look at possible refinements to the proposed flight paths that could minimize new overflights above existing and future residential neighbourhoods in north Burnaby.
City staff also made the following requests regarding noise impacts specifically:
That Nav Canada provide more information regarding the frequency of existing and future proposed flight paths and to overlay proposed and existing flight path noise footprints to give the city and public a clearer picture of the total noise impacts over Burnaby airspace
That Nav Canada work with city staff to consider how much the noise footprint levels would increase for residents living in high-rise buildings
That Nav Canada work with its partners to collect noise measurements in Burnaby in the near term to help establish baselines of existing noise levels near flight paths
That the city, Vancouver Airport Authority and Nav Canada explore the siting and installation of additional Noise Monitoring Terminals (NMTs) near flight paths in Burnaby, noting the data from these terminals would be summarized in publicly available online reports
Councillor strongly opposes proposed paths
At the regular council meeting on Feb. 6, Coun. Pietro Calendino said he felt one thing was missing from the staff's report: the city wasn't strong enough.
"It's creating a lot of anxiety among many of the residents in all the [affected] communities, including Burnaby," he said.
"I think redirecting flight paths away from Oakridge and over Burnaby North which has even higher buildings than Oakridge does is – stupidity in the worst case.
"And then of course a decision made by people who live in Ottawa or Montreal and have no idea even where Metrotown is, or Brentwood or Lougheed, so they have no concept of what's happening here."
Calendino asked city staff to add a letter to the recommendations from mayor and council officially opposing the Nav Canada proposals, which staff said could be done.
The recommendations, including the addition of an opposition letter from mayor and council, were approved by the councillors.
Public input from residents
The city says, as of Jan. 28, it has received roughly 14 emails from residents about heightened noise impacts over north Burnaby neighbourhoods.
Residents said they already face adjacencies with construction activities, traffic and uses including the Parkland Refinery, Westridge Terminal, marine industries and the rail corridor.
Residents also wanted to know if alternate flight path options would be considered, what the projects would be regarding volume, frequency and timing of flights, further information on the total environmental noise and air quality impact of the proposal and any risk analysis of flight paths over industrial areas like Parkland Refinery.
City staff said it is expected NAV CANADA will provide a community consultation report that assesses and considers all public and municipal input they received before making recommendations for next steps.
"Staff request that NAV CANADA follow up with the City of Burnaby in advance of any reporting on final recommendations in order to discuss possible options to refine and improve the VAMP proposal," the report said.