Trans Mountain says it's adhering to social-distancing protocols, even as photos emerge appearing to show workers on site within two metres of one another.
Health officials are strongly urging people to stay at least two metres away from others as a way to halt the spread of COVID-19. That distance, officials say, is the distance water droplets typically travel from a cough or sneeze.
Employers should be enforcing social distancing at the workplace, according to the WorkSafeBC website. But activists against the Trans Mountain pipeline expansion say they've seen people working within two metres of one another at the Burnaby Mountain terminal, where construction has continued.
One photo submitted to the NOW appears to show four Trans Mountain workers using a vacuum truck in close proximity to one another. Another appears to show four workers at a workstation, also in close proximity to one another. Both photos were taken on March 25.
Another photo shows shuttle buses bringing workers to the terminal.
Meanwhile, Burnaby Residents Opposing Kinder Morgan Expansion is reissuing a request to speak with Environment Minister George Heyman and Public Safety Minister Mike Farnworth.
In their initial request for a meeting, sent on March 19, BROKE sought to raise concerns about the susceptibility of aging oil tanks to breaking and spilling in the event of an earthquake.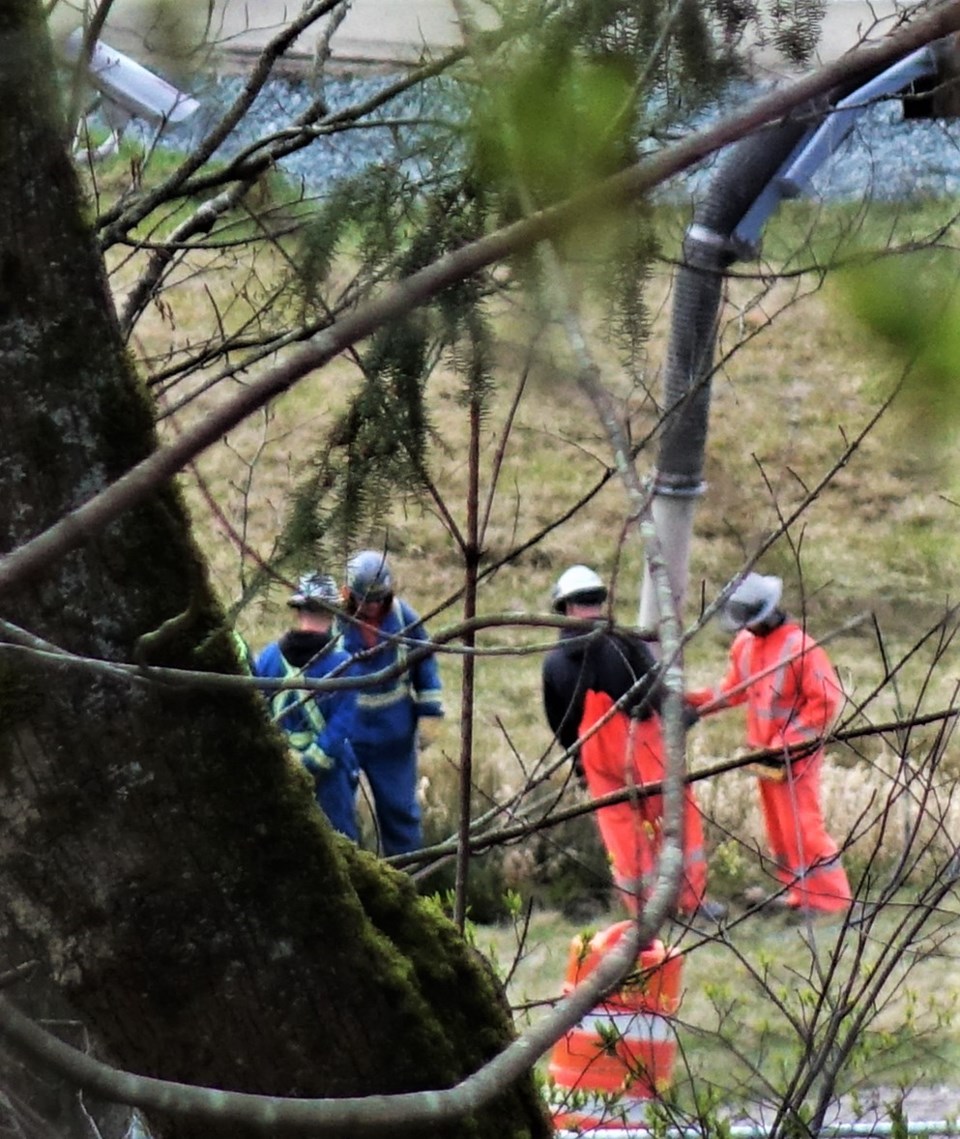 The group renewed their call for a virtual meeting with the ministers to speak on the issue of the continuing construction work at the terminal.
"There is now some urgency to our request, given that construction reportedly has been proceeding apace at the Westridge and Burnaby Terminal facilities, in the midst of the pandemic when most people are being asked to stay at home, and non-essential businesses are closing for now," reads an email sent to the two ministers, Burnaby MLAs and the NOW.
In a statement, Trans Mountain said the company and its contractors are "adhering to the two-metre rule, including in busing" as part of its COVID-19 response plan.
"We are increasing bus, vehicle and trailer cleaning requirements and frequency," Trans Mountain said in an email statement late last week. "We continue to work with our construction contractors to revisit and update plans and monitor implementation, and together (we) are adapting to COVID-19 developments accordingly."
Trans Mountain pointed to its website, where further social-distancing protocols are listed, including staggering shifts and breaks, cancelling unnecessary meetings and holding necessary meetings outside, and checking people entering the site for fever or other symptoms of COVID-19.
In a statement posted to the Crown corporation's website, CEO Ian Anderson said he is "confident we have executed all the requirements of health authorities and governments."
"I can assure all Canadians, we will do everything in our power to not put workers, communities and Indigenous Peoples at any COVID-19 risk," Anderson said. "If there is an escalation in the health officials' guidance, or if we are not confident we can provide a safe workplace, we will initiate safe … stand-down procedures."