Superheroes of all rainbow stripes are getting ready to get down at a Burnaby school district dance for LGBTQ youth and allies next month.
The Diversity Dance, put on by the district's sexual orientation and gender identity (SOGI) committee, is set to hit the Byrne Creek Community School atrium on March 6.
Now in its third year, the event has become such a hit, a couple New Westminster Secondary School students tried to sneak in last year.
This year they won't have to.
"There was so much excitement last year about the dance, and our students were really working with me and the district to try and get New West invited last year, but the timing of it didn't materialize in time for the dance," said Dan Adrian, the district's SOGI support teacher for secondary schools. "We worked with the district this year to make sure that we started that organization at the beginning of the school year, so we were able to confirm in the fall that we were going to be able to have New West joining us."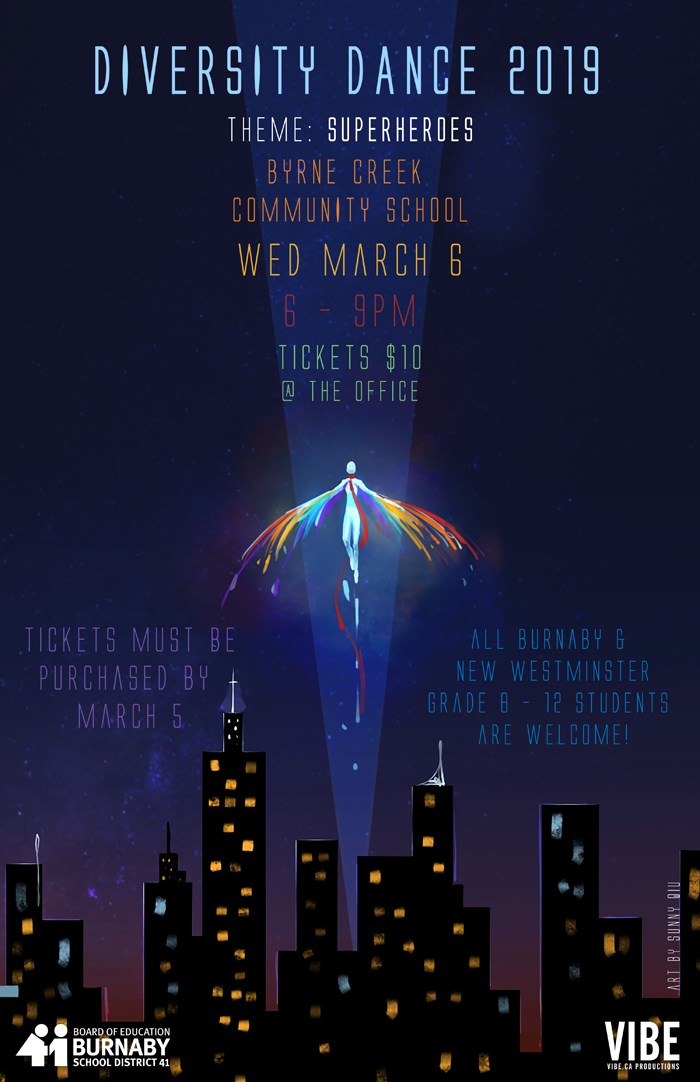 The district launched the dance in 2016/17 after hearing the Surrey school district was planning a Pride Prom, according to Adrian.
"We saw it as an opportunity, rather than just something for Grade 12s, something that would bring grades 8 through 12 together," he said. 
Adrian said he had expected mostly Grade 12s, especially those already active in the schools' gender/sexuality alliance clubs, to attend and was surprised at the diverse group of students from all grades that showed up.
He says the event that's evolved is unlike other school dances, which often feature "a lot of couples grinding up on each other and making out."
"We don't get that here," he said. "Sure, we get couples, but it's not a dance that's focused on coupling. It's a dance that's focused on that group dynamic. It's actually fun."
Since its first year, attendance at the dance has tripled from about 100 to about 300, he said, and local sponsors have helped to "bring it to another level."
Vibe Productions will provide this year's entertainment. Starbucks will serve drinks, Sephora will do makeup, and everyone will go home with a bath bomb provided by Lush.
Well-known Vancouver drag performer Raye Sunshine will also be on hand with a couple numbers, both empowering and fun, according to Adrian.
Adrian, who is gay, said he's not sure he would have gone if a similar dance had been put on when he was a kid going to school in Langley in the late 1990s and early 2000s, but times have changed.
"There's so much more available," he said, "but even so, there's still a lot of work that needs to be done, and I think that's part of what this dance does. It provides students with an opportunity that's really hard to get."
This year's super-hero-themed dance runs from 6 to 9 p.m. at Byrne Creek Community School (7777 18th St., Burnaby). All Burnaby and New Westminster students in grades 8 to 12 are welcome. Tickets, $10, are on sale at all high school offices until March 5.