A homegrown program to address a provincewide shortage of education assistants has been a surprising success – even to Burnaby school officials.
EAs have been in high demand around the province since a Supreme Court of Canada decision restored class-size and class-composition provisions to B.C. teachers' collective agreement in 2016.
To fill the gap locally, the district launched its own accelerated five-month diploma program last July through its community and continuing education department.
Of the first group of 30 students to graduate in November, 28 are now working in the district.
Tailor made
"Basically we were equipped and exactly what the district wanted when we finished, which was really great," said Mariah Battiston, who was offered a job at Cariboo Hill Secondary before she even graduated. "I felt really prepared to work in the district, and the practicums were great."
Tailoring the training to mesh with the needs of the district was one of the goals of the program, and many of the instructors are current and former district staff, like student safety specialists, speech language pathologists, the Indigenous education team, sexual orientation and gender identity experts, even first aid instructors.
"We like to bring people in who are highly expert in specific areas to give them instruction," director of instruction Kevin Brandt told the NOW. "It's highly targeted to very current things that are happening in schools right now."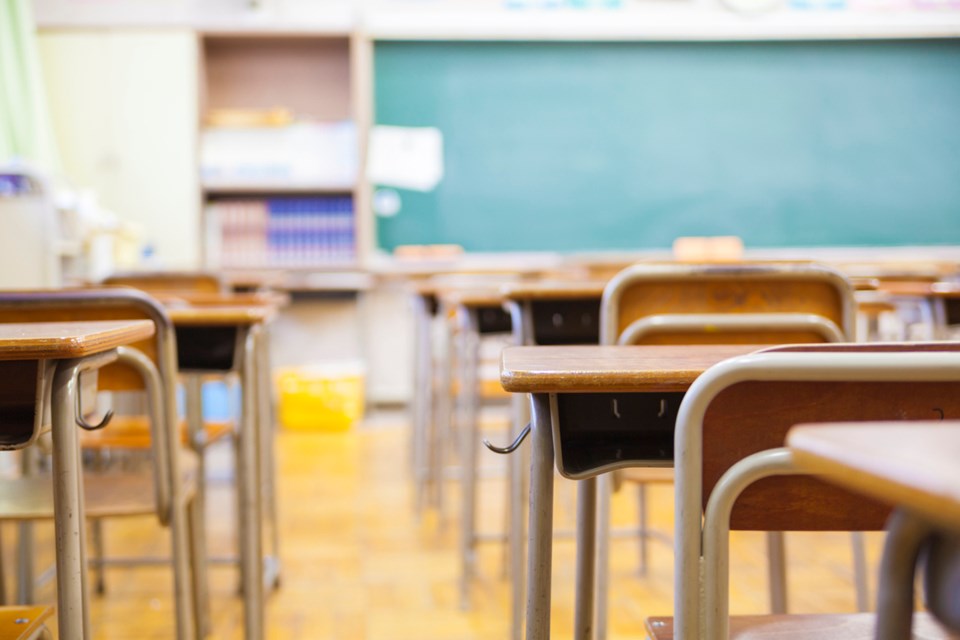 Thirty more students are currently attending the program's second class, this one being offered on a part- time basis on evenings and weekends.
The compressed format and low tuition (the program costs about half as much as EA programs at public post-secondary schools, like Douglas College, and a third as much as programs at private colleges, according to Brandt) has created a lot of interest, meaning the district has attracted a lot of "quality applicants," Brandt said.
Between 70 and 80 applicants were interviewed for the first 30 spots.
Battiston, a mother of four, has a science degree and had been working as a behaviour interventionist before attending.
She said others in her diverse, multicultural cohort – which included six men and 24 women aged 20 to 55 – had years of teaching experience in different countries.
"We've had some absolutely fantastic applicants," Brandt said.
'Six-month interview'
It shouldn't be surprising so many have been hired to work in the district.
By the time each student finishes the program, they've gone through an extensive application process, interacted with district staff brought in to instruct them and completed two practicums at local schools.
"In a way, it's almost like a six-month interview process," Brandt said. "We know them very well and they know us very well, and so far they've been very excited to work in Burnaby."
But the homegrown program has created another unlooked for benefit as well.
After five months together, Battiston's class developed close ties, she said, even organizing their own grad celebration in December.
Those are relationships they've now brought with them into the district.
"Now they have a network," Brandt said. "They can learn from each other. If they have questions about practice, they can contact each other. I think over time we will see a lot of strength coming from that."
Battiston now works with one of her former classmates, Wendy Hoag, at Cariboo Hill, where both did their second practicum.
"We love where we're at," Hoag said.
A New Westminster Secondary School grad, Hoag had been working as a nanny and preschool EA for a girl with autism before entering the program.
She'd been accepted into the two-year Douglas College program but was drawn by the lower cost and compressed format of the Burnaby diploma.
She's happy to be working as an EA, she said.
"Even though you're there mainly to focus on your student, you touch so many people's lives, and you don't even know it. There's no job like it. It's very rewarding."
Battiston agrees.
"I mean, you have your bad days; there are good and bad days for sure, but you're growing and learning together. You're making a difference."
Spin off
The success of the program has spurred a partnership with the Vancouver school district for a similar program there.
That program started this week (Monday, Feb. 4) at the Garibaldi Annex (1025 Slocan St.) with Vancouver supplying the instructors and space and Burnaby supplying the curriculum and applicant-screening support.
"We share such a long border with Vancouver," Brandt said. "Instead of getting into 'they're trying to take our EAs and we're trying to take their EAs,' why not just work hand in hand?"
Working conditions
But not everyone is thrilled with the design of the course.
Shona Kelly, CUPE Local 379's chief shop steward and a 20-year EA in the district, is concerned the program doesn't give students enough practical experience.
"In our eyes, they're not being prepared enough for how to deal with situations within the classroom."
Kelly also said what is behind the provincewide shortage of EAs is not the Supreme Court decision but working conditions, including not getting enough hours to make a living wage.
"EAs work bell to bell and we get paid hourly, which again is not a living wage," she said. "We don't have time to collaborate with teachers; we don't have time to prep the program that is set up for the kids."
CUPE's contract expires at the end of June, and the union is preparing for bargaining. Working hours will be at the top of Kelly's list of concerns, she said.
As for the students entering the district's EA diploma program, however, school officials say they know what they're getting into.
"The Burnaby school district's salary for education assistants is competitive and aligns with other districts in the Lower Mainland," said an emailed statement. "We still have waitlists for people to sign up for these programs, and the salary is transparent."