Christine Sinclair could soon have another honour in her hands.
Today (Feb. 4), it was announced Sinclair has been shortlisted for the 2021 Concacaf Women's Player of the Year Award alongside fellow Canadians Jessie Fleming (CAN/Chealsea FC) and Stephanie Labbé (CAN/Paris Saint-Germain).
Stephany Mayor (MEX/Tigres UANL), Crystal Dunn (USA/Portland Thorns FC) and Lindsey Horan (USA/Olympique Lyonnais) are the other finalists.
A total of 100 votes will be divided as follows, according to Concacaf:
41 votes: one vote for each Concacaf Member Association's Women's National Team Head Coach  
41 votes: one vote for each Concacaf Member Association's Women's National Team Captain 
9 votes: one vote each for nine representative members of the media from the Concacaf region
9 votes: fan voting through www.concacaf.com. The player with most fan votes will receive 4 votes in the overall voting process, second place 3 votes, third place 2 votes (regardless of how many people vote online)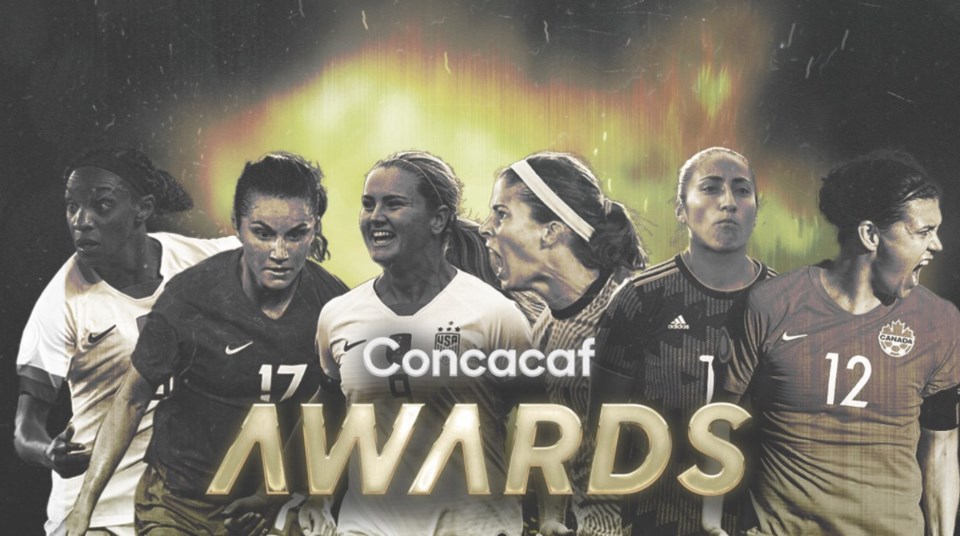 Portland Thorns FC also recently announced Sinclair inked a contract that will keep her in a Thorns kit for the 2022 season, with an option for 2023.
"We are excited to re-sign Christine so that she can continue her career as a Thorn. She's always been a Thorn, and she's made it clear that she always wants to be a Thorn," Thorns FC General Manager and former Team Canada teammate Karina LeBlanc said in a statement.
"What she has done for this team as a leader, for this organization and this community has been massive. She is a great human and the epitome of what a Thorns player should be."
The 2022 season will mark Sinclair's 10th season in the National Women's Soccer League, where she's won two championships (2013 and 2017).
The Canadian is also fresh off of winning gold at the Tokyo summer Olympics.
"Sinclair is a player who has proudly represented the Thorns organization since day one of the NWSL," Thorns FC head coach Rhian Wilkinson added.
"Her ability to maintain the very top professional standard for as long as she has, her understanding of the game, her finishing ability, and her leadership make her a player we could not be prouder to have represent us."
On Jan. 17, Sinclair was again recognized on the international stage, this time by the top governing body in the world.
She was honoured by FIFA, receiving The Best FIFA Special Award for being the top scorer in international play of any gender.
Sinclair appeared virtually and was presented the award by FIFA President Gianni Infantino and presenters Reshmin Chowdhury and Jermaine Jenas.
"First and foremost, I'd like to thank my family for their support and guidance throughout my entire career," She said in her opening remarks.
"From my parents' constant support and allowing their little girl to leave home at a young age to chase my dreams, to my brother for tolerating his younger sister for all those years. I hope he knows all I wanted to be was him. I'm standing here today because of all of you.
She became the top international scorer in women's soccer on Jan. 29, 2020, netting goal 185, surpassing the previous all-time leader Abby Wambach of the U.S.
Sinclair has worn the Canadian jersey in 308 international appearances, starting 302 of those matches. She reached possibly the biggest accomplishment in her career this past summer at the Tokyo Summer Olympics, where the Women's National Team stunned the world, taking home the gold medal.
She has 188 goals and 53 assists to date.
On Jan. 21, the Burnaby-born player announced she would be penning a memoir tiled 'Playing the Long Game."
Sinclair will be working with bestselling sportswriter and broadcaster Stephen Brunt on the project, which is currently scheduled to be released this coming fall.