The voters of Burnaby South are poised to send a shockwave through the Canadian political establishment, according to People's Party Leader Maxime Bernier.
He said his party's candidate in the byelection, Laura-Lynn Tyler Thompson, will win on Monday and  "send a strong message all across the country that the People's Party is there, ready to work for the people."
Bernier told media gathered at Thompson's campaign office Thursday his party is offering a new vision for the country. 
He said the People's Party will defund the CBC, privatize Canada Post, abolish the Canadian Radio-television and Telecommunications Commission, end corporate welfare and phase out supply management over four or five years. 
Bernier: Make CBC viewer-supported like PBS, privatize Canada Post and cut foreign aide #cdnpoli pic.twitter.com/55Gxu9gSb2

— KelvinGawley (@KelvinGawley) February 21, 2019
"Our program was not based on polling and focus groups," Benier said. "Our program is based on bold reform, on conviction and on principle." 
Thompson said she's attracting support from previous NDP, Conservative and Liberal voters, as well as people who haven't voted in recent elections because they've been disaffected with the traditional parties. 
One supporter who came to greet Bernier on Thursday, Sherolinnah Eang, said she has never voted in the 45 years she's lived in Canada. But the real estate developer said she's excited to cast a ballot for the People's Party during the general election in October (she lives in South Vancouver and is unable to vote Monday).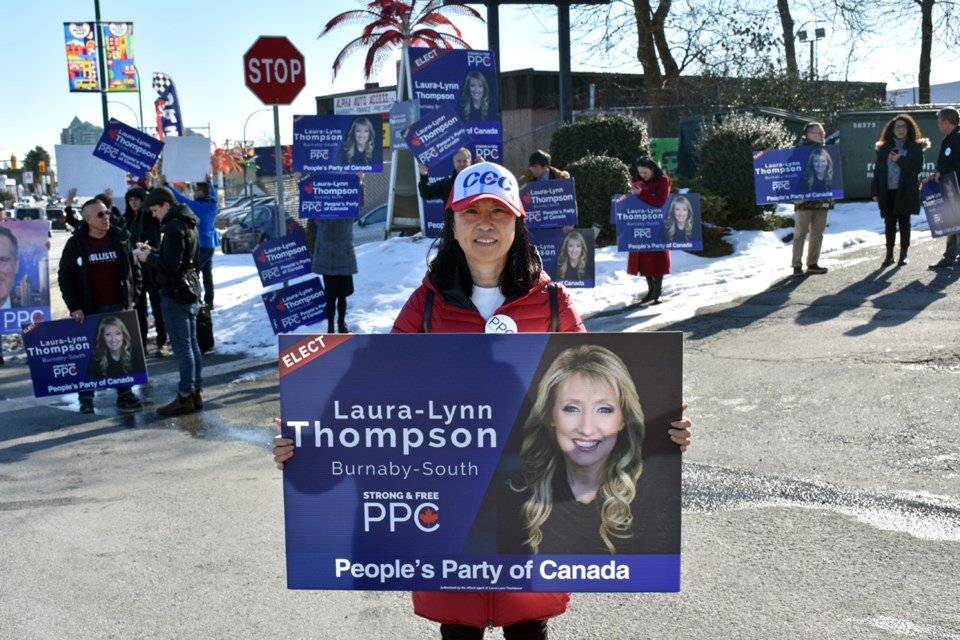 Eang said she attended the first of three byelection debates and was impressed with Thompson's performance. 
"She really touched me; I cried and I said 'I have to fight with her,'" she said. "We need to take Canada back for the people."
Eang said Thompson stands for "freedom, respect, fairness and responsibility."
Canadians have had their right to freedom of speech compromised, and the People's Party will bring it back, she said.
"I love Jesus and I'm afraid to express that," Eang said "I love Trump, and I'm afraid to express that."
Eang said people swore at her when she wore one of U.S. President Donald Trump's signature campaign hats with his slogan: "Make America Great Again."
"We are being suppressed and that's not Canada," she said.
Eang said Bernier is "very similar to President Trump" in both policy and personality, calling both men honest.
Thompson is running against Liberal Richard Lee, NDP Leader Jagmeet Singh, Conservative Jay Shin, independent Terry Grimwood and independent Valentine Wu.