One thousand folded paper cranes were at the centre of a lesson in empathy last week for a class of Burnaby elementary school students.
During his eight weeks at Brantford Elementary School, student teacher Wilson Chu led Mick Cole's Grade 5/6 class through Sadako and the Thousand Paper Cranes, a novel about a young Japanese girl sick with cancer after the Hiroshima bombing.
The story centres around an ancient legend that anyone who folds a thousand origami cranes will be granted a wish by the gods.
Speaking with the NOW, Chu described the novel as a powerful story of courage, resilience and teamwork.
He had read the story on his own in high school, he said, and began the unit at Brantford by telling his students about losing his own mother to cancer when he was 13.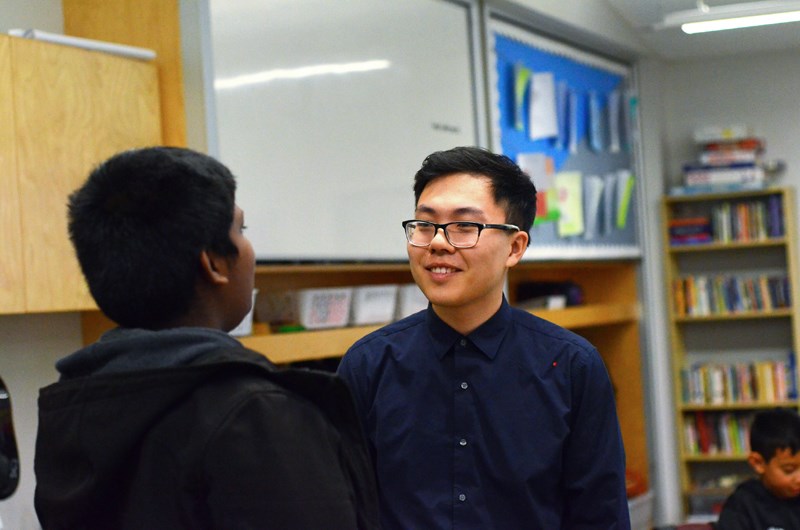 "It was dead silent in there," said Cole of that lesson, "and they were all listening and engaged, and then they felt safe enough, based on what he built in there, that they could open up about their own experiences."
"It was just true empathy in practice," Chu said of the discussions.
During the unit, Chu taught the students how to fold an origami crane, and the class set out to fold 1,000 of them.
Soon, however, the lessons in the classroom took on a whole new real-world dimension.
Cole saw a story in the Vancouver Sun newspaper about a Vancouver Island mom whose 32-year-old daughter was at Vancouver General Hospital battling for her life against Acute Lymphoblastic Leukemia.
On a Facebook fundraising page called 1000 Origami Cranes for Amy Lee, Alison Lockhart had put out a plea for notes of encouragement, which she was writing down on squares of paper and folding into paper cranes for her daughter.
For Cole, it seemed like a perfect opportunity to bring his students' learning full circle.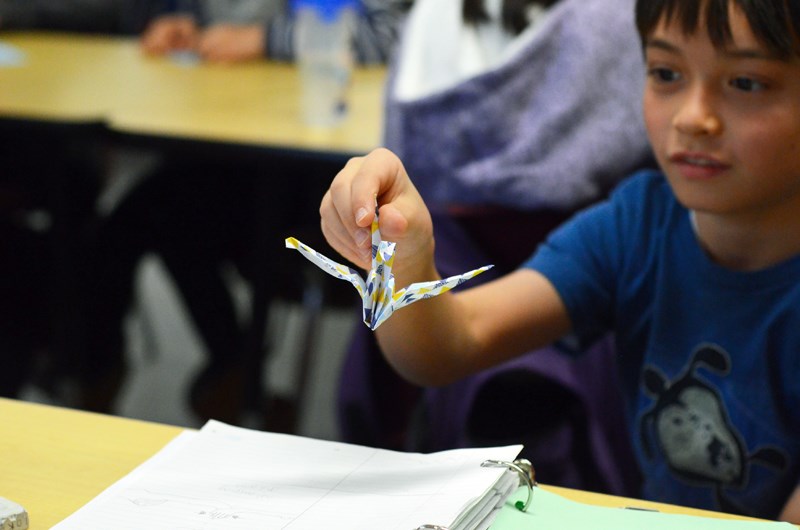 He and Chu asked the class if they would like to donate their cranes to Lockhart and her daughter, and the class responded with a unanimous 'Yes, yes, yes!"
"They were absolutely touched by it," Chu said. "They just lit up so bright."
Over the course of the unit, they had already made about 500, but, after hearing about Amy, they stepped up production and pumped out at least 600 more in just a few days.
At first, they were just going to give the paper birds to the Sun reporter to pass on to the family, but Lockhart has since decided to come to the school this week to accept the cranes and thank the class in person.
"It's just so powerful because this is a real example of how they can seriously make a difference in somebody's life, somebody that needs a bit of lifting up and encouragement," Chu said.
For Cole, the whole experience is an example of some of the most important things kids learn in school.
"The curriculum's one thing; you get that from k to 12," he said, "but this kind of stuff is life skills, and it's so much more important to be able to build that with the curriculum, that you're a good person."