The City of Burnaby is suing one of North America's biggest pulp and paper companies over a strip of contaminated city land right next to the Fraser River.
Domtar Inc. and its predecessor, Dominion Tar and Chemical Company Ltd., used to operate a plant that produced roofing shingles and asphalt at an adjacent property at 8355 Wiggins St. in the Big Bend area, according to a notice of civil claim filed in B.C. Supreme Court late last month.
Along with its manufacturing activities, the city says the company imported, transported, produced, used and stored related materials and products on the property.
Domtar owned the land from about 1963 to 1991, but the city claims the company had operated on it from about the late 1950s.
The property, which backs onto the Fraser River, is now listed on the B.C. Contaminated Sites Registry.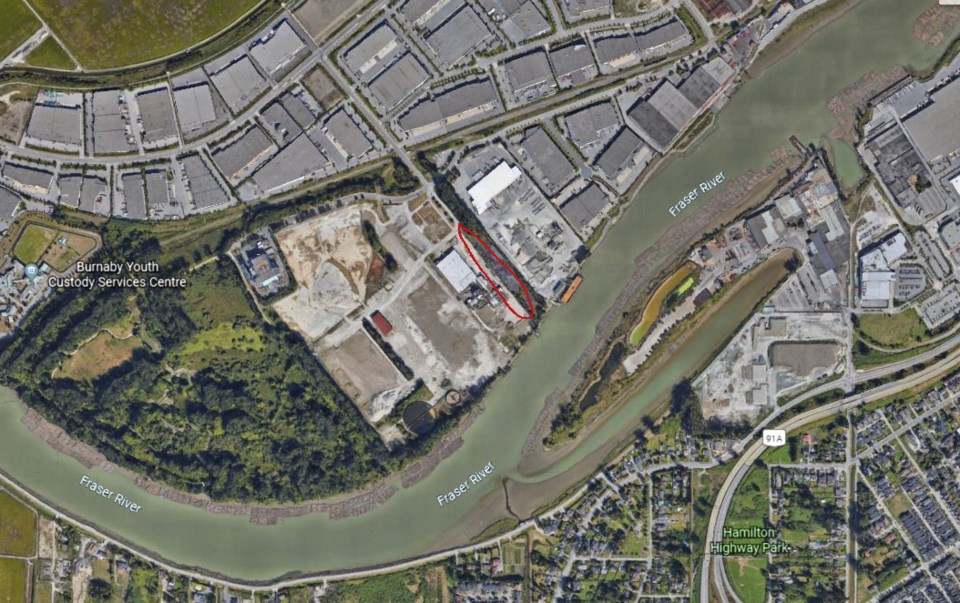 The subject of the city's lawsuit is a city-owned strip of land – a road allowance – right beside the property to the east.
It too has been listed as a contaminated site, and the city says Domtar is to blame and should pay to have it cleaned up.
"In or about the 1960s or early 1970s, Domtar or its agents and representatives began depositing a substantial volume of waste and other material from its operations in the vicinity of and on the city property," states the city's notice.
The city claims Domtar contaminated the road allowance directly by dumping waste, like crushed asphalt, wood debris, roofing grit, slag and drums of waste, onto it.
The city also claims contamination from the former Domtar property migrated onto the city's land indirectly.
"Domtar knew or ought to have known its activities on the source property or city property would cause or was likely to cause the city property to contain waste and become contaminated," states the notice.
The city says it has and will continue to suffer loss and damage – including the loss of the property's value and the cost of the clean-up – because of Domtar's actions, which the city claims constitute negligence, nuisance and trespass.  
The city is suing the company for the cost of cleaning up the strip of land and for damages, including the loss of the property's value and the loss of the city's use of the property.
None of the city's allegations have been tested in court.
Domtar has not yet filed a response to the lawsuit.