A high-flying Burnaby school district summer school program has had its wings clipped by COVID-19 this year.
Last year, the summer program grew by leaps and bounds, with 45% new classes at the elementary level, significant additions at the secondary level and record enrolment across the board.
Brochures had already been printed for another fun summer this year, including offerings like sewing, robotics and rock band – then the deadly virus hit.
The summer school brochures have now been reposted with a good many classes crossed out.
"We cancelled sports programming and anything 'hands-on' in alignment with the latest health and safety guidelines and protocols from the provincial health officer," said Janice Nakatsu, the director of instruction responsible for the summer session. "In previous years, we have had partnerships on several courses, such as Byte Camps and some with Simon Fraser University, such as filmmaking. Unfortunately, in some cases because it was a 'high touch' or 'hands-on' course, and in others because the partner was not available, we cancelled these."
The district has also restricted summer school to Burnaby school district students only, according to the director, with a priority given to children of essential service workers and students who may be vulnerable or in need of courses for graduation.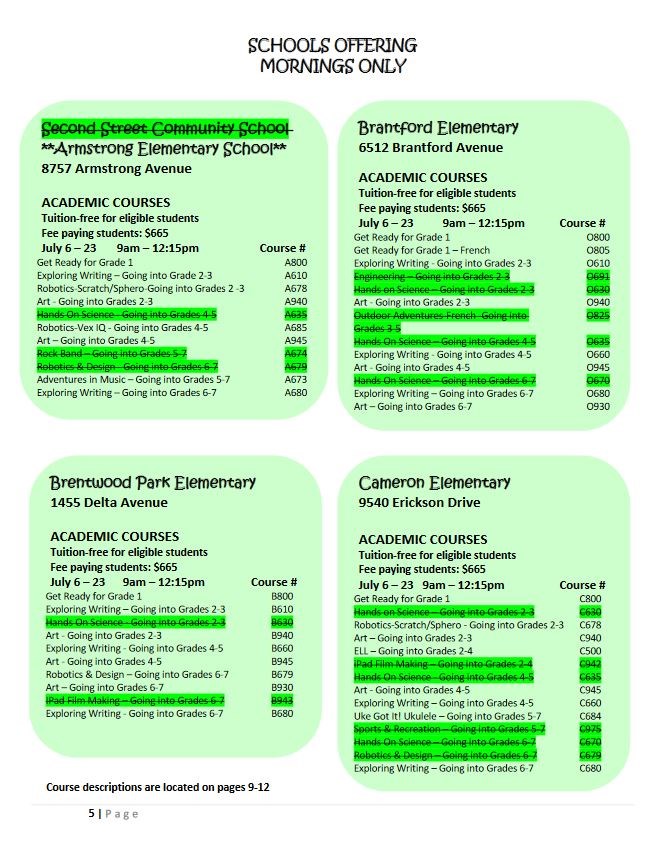 "We held early registration for essential service workers who had already reached out to us to take advantage of our district's in-classroom support for their children prior to the Restart Plan," Nakatsu said. "Early registration was also held for referral-based students who were identified by principals and teachers as someone who could particularly benefit from summer courses."
Another first for summer school will be blended courses, with a mix of online and face-to-face teaching.
With high school registration open this week for courses starting July 2 and elementary school registration set to open next Wednesday for courses starting July 6, Nakatsu said it's currently hard to predict how COVID-19 will affect enrolment, but she's optimistic.
"Hundreds of students have already taken advantage of early registration," she said. "We've also received quite a few calls from secondary students who are enthusiastic about taking additional courses, and many have said they are looking forward to the blended model of in-person and online learning."
About 90% of the district's regular summer school teachers surveyed have also indicated they are "available and excited to teach," according to Nakatsu.
In terms of health and safety, she said summer school organizers will have the benefit of measures put into place during June's gradual return to in-class instruction.
"If the situation evolves with public health again, we will be ready to adjust our approach," she said.
For more information about the district's summer school program, visit burnabyschools.ca.