A proposed rental tower in Burnaby's Metrotown area is edging closer to final approval, despite one councillor's vocal opposition to what she called a "really awful" design.
The Bosa development is planned for three lots on the 5900-block of Kathleen Avenue, currently occupied by single-family houses. The development, if approved, would see a 34-storey building on a lot of 1,727 metres squared.
In total, those 34 storeys would add up to a floor area of just over 20,000 metres squared, making for a floor area ratio (FAR) of 11.67 – well over the limit allowed by the zoning bylaw.
The base allowable density is for 6.1 FAR, with an additional 2.2 FAR through rental use zoning, according to a city staff report, for a total of 8.3 FAR. But the developer is also seeking to transfer density from a nearby site at Wilson Avenue.
Coun. Colleen Jordan opposed the tower, saying the building would be the "highest density FAR in our city by far. Much more building on a smaller footprint than any other tower in Metrotown."
Jordan compared the tower to another building on Broadway Avenue in Vancouver at Birch Street, which faced significant controversy and a tight approval vote in that city's council.
That tower, she noted, was approved for lot of similar size – a difference of just about 20 metres squared – and came with similar density – 10.55 FAR, with a total of 28 storeys.
The Kathleen Avenue site is expected to add 324 rental units to the city's stock, including 94 "affordable" units (29% of total), compared to 254 units at Birch, with 58 affordable (23%).
"The Burnaby building – we don't even have balconies. There's no balconies," Jordan said. "I wouldn't want to live there; I don't care what the rent is. No balconies. The only space for children to play will be in some kind of shared space on the 34th floor. There's no outside area at all. The whole lot is covered in cement."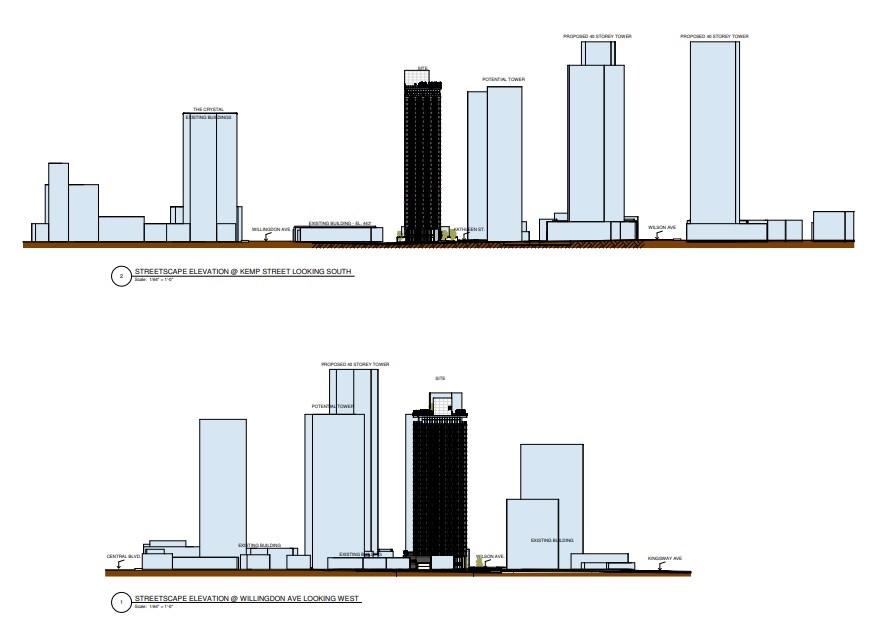 The Kathleen site had a comparatively mild public hearing, with five letter-writers (including one who wrote two letters) and a petition with 99 signatures against the building and just two local residents speaking against it. A New Westminster resident also spoke out against the project.
By comparison, the Vancouver project saw more than 100 speakers spread out over multiple days, saying that project was too tall for the neighbourhood. That neighbourhood is across False Creek from the city's downtown area, and the building will be the tallest on Broadway.
City staff conceded in a report that the FAR is "atypical" but said the "resultant gross floor area and tower form is comparable to other highrise buildings" in the area.
The project passed third reading and consideration in council this week, with final adoption just one step away. Only Jordan and Coun. Dan Johnston – a fellow independent – voted against the project.
Follow Dustin on Twitter at @dustinrgodfrey
Email dgodfrey@burnabynow.com