Mireta Strandberg-Salmon is a force to be reckoned with.
She was only 15 when she challenged the status quo with a school-wide campaign to demand a ban on sales of single-use plastic water bottles from vending machines at her high school.
By the time Strandberg-Salmon graduated in 2017, she helped persuade Moscrop Secondary school in Burnaby to stop selling bottled water from all five of the vending machines in the school.
This was just the beginning for the Burnaby-raised student.
She took her passion to Simon Fraser University, where she pursued a bachelor's degree in environmental studies, and led a "Ban the Bottle" campaign, which resulted in the university banning the sale of single-use plastic water bottles across the three campuses.
Adding to the success of those campaigns, the university also eliminated the sale of all other plastic bottle beverages — water, juice and soft drinks sold in plastic bottles.
Even franchisees like Starbucks, Tim Hortons, Subway, Blenz Coffee and INS Market convenience store on the campus have eliminated the use of bottled beverages — a huge feat for the 23-year-old Strandberg-Salmon.
Starfish Canada, a group that supports young people in their environmental careers, featured the young leader in their Top 25 environmentalists under 25 list to celebrate and reward those responsible for contributing to a positive change in the community. (In the year 2020, now-Burnaby Councillor Alison Gu was also named in the list for her Cyclists in Solidarity project).
As a change-maker, it's important to celebrate the small wins, she advised. She added that the road to effecting change in the community is not without its ups and downs.
An uphill fight
She said the environmental problems facing the world are so big that it's easy for young people to feel like they're not contributing enough, but stressed it is important to celebrate the small wins and take the support of adults in your life — she certainly did.
"Even if it doesn't look like you're having a big impact now, you're going to grow as a leader and have an exponential impact in the future," she said. "You really have to entrench behavioural change… and promote the idea of wealth for us — water — as a human right, and get that embedded into policy to ensure long- term change."
Change begins with the individual, she said, adding that it's important to speak up.
"Discomfort can be a good thing — it's where you will learn and grow. If you don't speak up, then nothing will change."
Humble beginnings
Strandberg-Salmon remembers every year being hotter than the last one since she was born.
"And I was surrounded by all these problems," she said. "It gets overwhelming, for a lot of young people, so I wanted to contribute to the solutions."
With a dad working in poverty reduction and mom in business and environmental sustainability, she knew she wanted to make an impact in the society.
While she now understands that social and environmental well-being are inseparable, as a kid, the choice for Strandberg-Salmon was to go down the environmental path because "no one would have a good quality of life if we do not have the planetary health to support that."
When she was in Grade 8, she joined the Unity in Green environmental club in her school. As years passed, she initiated the change for banning sale of single-use plastic water bottles at the school as part of her social justice class with then-professor and now-Councillor Daniel Tetrault.
"We wanted to start with the sales of single-use bottled water in the vending machines because of the environmental impacts of extracting water and manufacturing plastic and disposing that plastic," she said.
"Also because of the social impacts that not a lot of people always consider — the facilities that make plastic and pollute the air are often located near vulnerable and underserved communities."
Her student-led action plan involved collaborating with the school administration at Moscrop. As the first step, students circulated a petition to remove plastic water bottles from vending machines at the school.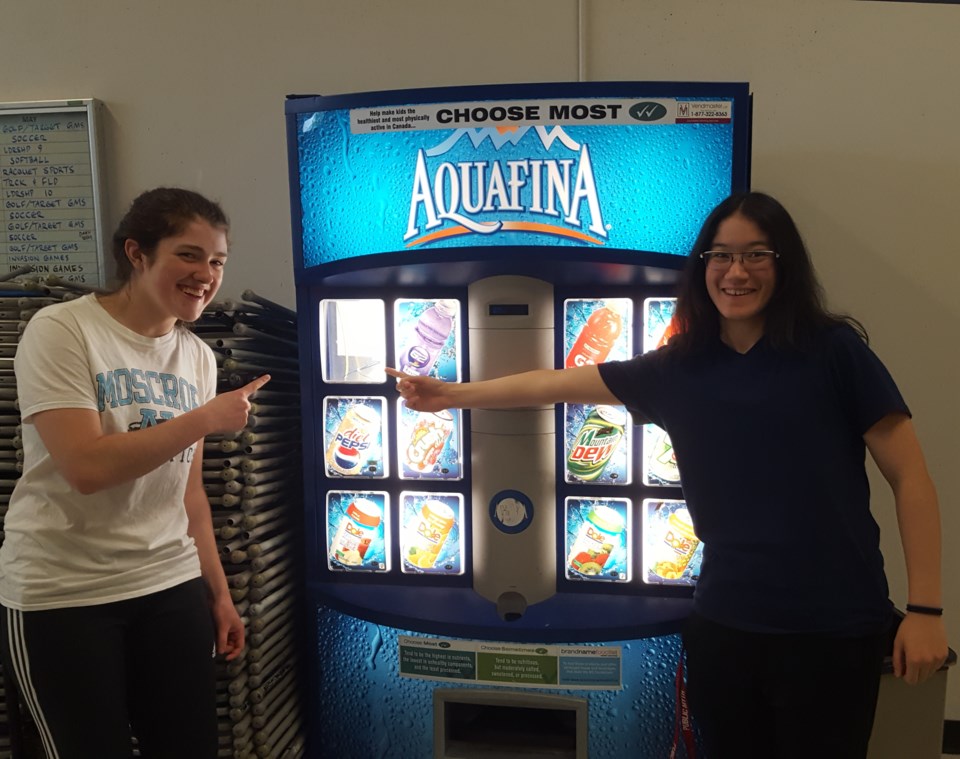 The next steps involved raising awareness and providing sustainable alternatives for students. "We collected reusable water bottles from lost and found, and sanitized them," she added.
After reaching out to the Burnaby School District and other high schools to get them on board, the students were able to initiate a change, Strandberg-Salmon said.
Inspiring future generations
This journey continued on to SFU with the similar bottle-ban initiative, which led to eliminating the sale of more than 260,000 single-use plastic water bottles annually, according to SFU's report.
"It's about more than just plastic bottles at one or two schools," she said. "Hopefully this will have a ripple effect and the behavior change will carry on well beyond the scope of SFU campuses."
"We have also accelerated conversations about both student engagement, and zero waste and circular economy at SFU. And hopefully inspiring other students to also make changes in their own schools. So I'm excited to be supporting a new generation of Burnaby students who are trying to make a change."
Now, with a strong change-making resume in front of her, Strandberg-Salmon is working as a policy analyst for Environment and Climate Change Canada's circular economy team, where she hopes to effect broader change at the national scale.