Some members of a now-defunct North Burnaby yoga studio are out hundreds of dollars in pre-paid fees with no recourse to get their money back.
Modo Yoga at Hastings Street and Beta Avenue closed in mid-March due to COVID-19 regulations, but then reopened again during the summer with a more limited number of sessions.
Some Modo Burnaby members purchased pre-paid memberships before the pandemic started. But now that the studio has closed permanently, some members won't be able to recoup that money.
Georgina Lush was one of those who bought a pre-paid membership for about $800 plus taxes because it saves money over the course of a year. Lush had been a member for more than one year and said Modo Burnaby was a "really welcoming space where I met many amazing people and the instructors were all great."
The problems started in April when she received an email asking how she wanted her membership handled. That's when it became clear the temporary closure might last longer.
Lush wasn't interested in virtual classes because her home doesn't have the proper space and she prefers hot yoga. Lush informed Modo she wanted her membership to be put on hold at that point.
"I said if I changed my mind I would pay for the virtual classes and would happily finish my in studio membership when the studio reopened," Lush told the NOW. 
Then, around July, Modo reopened, a fact that Lush only learned about second-hand. She asked about the new part-time schedule, but the times offered didn't fit her life due to commuting to and from work.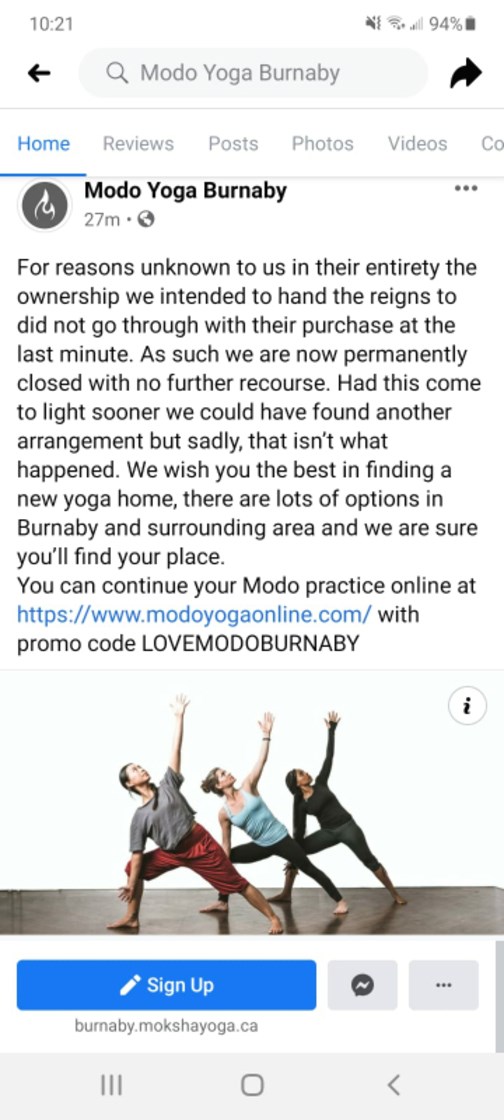 "I didn't get any updates telling me what was going on with my membership (so) I assumed it would continue to be on hold until the full schedule resumed," Lush said.
What followed was months of no updates from the studio, Lush said, other than things she was told based on Modo's Instagram posts. Then, at one point, she was told about an Instagram post discussing the possible sale of the studio. Lush emailed about the situation and was told she would not be reimbursed if Modo went out of business.
Then, suddenly, Modo's website said the studio was closed.
Lush said she felt "ghosted" by the studio.
"I was really mostly upset at their lack of communication during this," Lush said. "I'm appalled I had to hear updates from my friend via IG instead of hearing what was going on directly from the owners."
Previously, the NOW was contacted by someone claiming to represent the new owners of Modo in Burnaby and asking for a story to be written about their takeover of the studio. The NOW asked for more information for a possible story and received an email a week later saying they were still working on details, but nothing else ever arrived.
According to an Instagram post that someone took a screenshot of and sent to the NOW (see attached), the sale did not go through.
The NOW reached out to Modo through an email posted on the Modo Burnaby website and received a response saying that the studio was a franchise under the Modo name, but that is was independently owned all decisions made were by those owners.