Whether or not the 25 girls attending Camp Ignite last week choose a career in the fire service, organizers are confident it will make (will have made) an impression.
The four-day, three-night camp gave girls 16 to 18 a taste of what firefighting is all about – and that usually means pushing themselves past their physical and mental comfort zones, whether it's by rappelling off a training tower, donning a self-contained breathing apparatus and plunging into a smoke-filled building, or fighting actual flames.
"It is always a life-changing week for these girls," says fire Lt. Heather Wilson, a 21-year firefighter with the Burnaby fire department and one of the camp's three founders.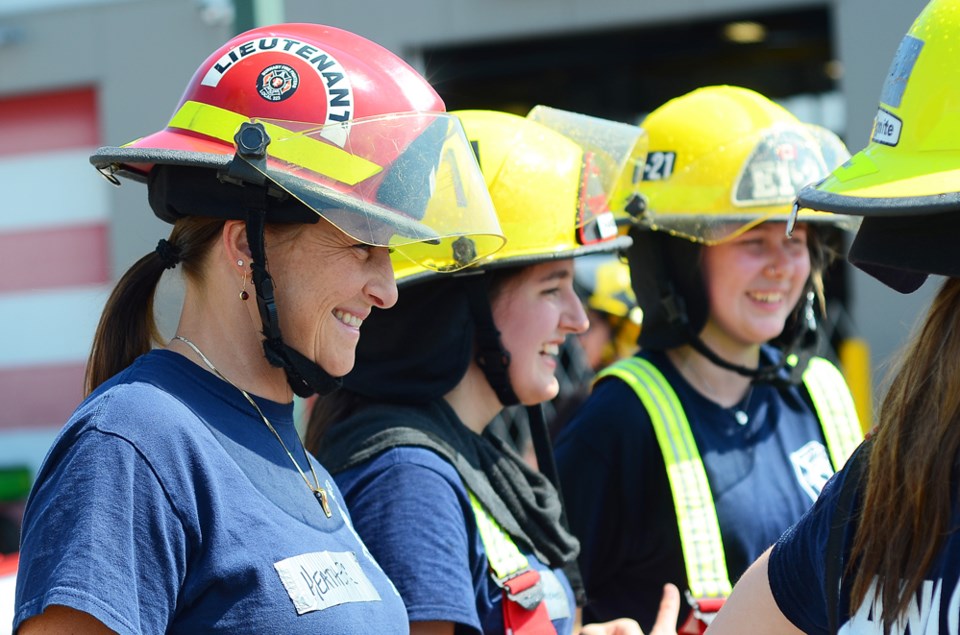 Wilson and her co-founders – Vancouver firefighter Jenn Dawkins and District of North Vancouver firefighter Carla King-Penman – started the camp eight years ago, after attending a seminar on diversity a couple years earlier.
Firefighting in B.C. is still a male-dominated profession, with male firefighters far outnumbering their female counterparts.
"The fire service in general was trying to find out way to attract more women to the job, and we decided that we could do our part," Wilson said.
The key is to raise awareness, according to Wilson.
"I think there's just a general lack of awareness of what is required and that it is achievable with hard work," she said, "but because there are still so few women that are actual firefighters, that's not what people see."
Regardless of campers' ultimate career choice, however, Camp Ignite organizers hope to empower them and give them a chance to try things they might not otherwise have thought of trying.
Each day of the camp is hosted by different fire departments.
This year, the girls will be in Vancouver, the North Shore, Port Moody and Maple Ridge.
Departments are also encouraged to sponsor a participant from their city, allowing the girls to attend for free.
"All of the unions and the city fire departments have all been really supportive of it," Wilson said.
The Burnaby Fire Department sponsored Cariboo Hill Secondary Grade 11 student Chanebelle Murphy-Salazar.
"It's important for Burnaby Fire to sponsor female participants every year," deputy fire Chief Darcy O'Riordan told the NOW. "We encourage diversity in our ranks that reflects the community we serve. I'm confident Chanebelle will have an amazing week. Perhaps it will 'ignite' an interest in a career in firefighting."
Murphy-Salazar, however, is keeping her options open.
"It's on my list," she said of firefighting. "I'm just kind of exploring what I want to do right now."
But she does like the idea of a girls-only firefighting camp and women mentors.
"I heard only four per cent of the fire department is female, so it makes me feel really good that we have this program to get more females interested in becoming firefighters," she said. "I kind of want to see women more empowered, not overpowering men, but us being equal."
Asked why she's considering a career in firefighting or policing, she said:
"I want to feel like I matter and I can help people, and I just want to, I guess, be powerful, in a way."