Neighbours living near South Burnaby's Alta Vista Park have gotten their first and last glance of a cavernous reservoir that has lain beneath their neighbourhood for 106 years.
The Alta Vista reservoir, built in 1913 to collect water coming in through new water mains from Seymour Creek on the North Shore, was demolished last week to allow for the expansion of a nearby playground.
About 26 metres long, 14 metres wide and 4.3 metres deep, with a capacity of more than 1 million litres, it serviced the growing historic neighbourhood of Alta Vista on the South Slope until it was decommissioned about 15 or 20 years ago.
An engineering report in 2016 determined the underground structure, which sat under two parcels of land at 5172 McKee St., would be at risk of collapse during an earthquake and would need to be demolished to enable safe use of the site.
A 100-signature petition from residents last December sealed the reservoir's fate.
In March, city council approved a plan to demolish it and expand the park.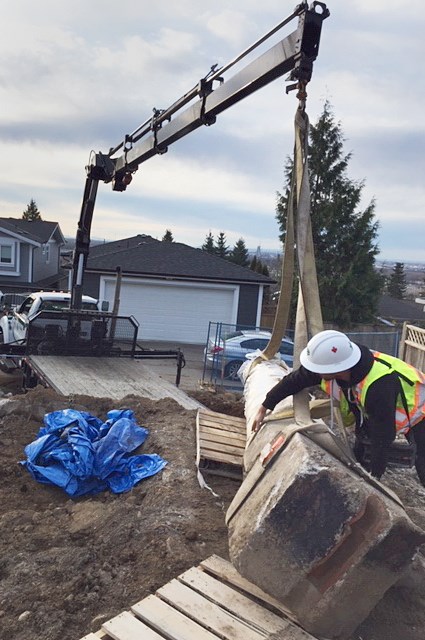 The only remnant of the 106-year-old structure that will be preserved is a nearly four-metre-tall concrete column that had stood on the north end of the property.
A pipe inside the column was once essential for releasing air pressure in the reservoir through a decorative metal vent at its top.
City staff successfully cut the pillar from the reservoir before the demolition.
Wrapped in bubble wrap, two-by-fours and steel strapping, the column has now been placed in storage.
It will be restored or rebuilt and may be reinstalled in the expanded playground, according to city heritage planner Lisa Codd.