The presence of heavily armed Burnaby RCMP officers sparked criticism from people at a community event in Burnaby this month – and not for the first time.
When Dawn and Rob Danzel brought their three-year-old daughter to the Edmonds City Fair & Classic Car Show on July 21, they were shocked to see RCMP officers with semi-automatic rifles patrolling the area.
(Officers carrying rifles were also spotted at the Giro di Burnaby that weekend.)
"This is totally unacceptable," Dawn Danzel told the NOW. "You don't even see this level of artillery at airports, so why would you ever need this at a festival?"
'It was very intimidating'
The Danzels, who are Vancouver residents, have been coming to the Edmonds fair for years to show off Rob's 1953 Chevy Bel Air.
They were at the southern end of Edmonds Street near Kingsway by the car show when they encountered a rifle-toting Mountie.
"It was very intimidating," Rob Danzel said. "We've got our chairs out and we're sitting there trying to play toys, and every five minutes this guy walks by with his rifle staring at you with his sunglasses on. You don't know if he's staring at you or what he's up to."
His daughter was not a fan either, Rob said.
"She was terrified. As soon as she seen him, she was grabbing onto my leg and huddling. And I didn't even feel comfortable approaching him with that weapon."
At the other end of the fair, where the bouncy castle and petting zoo were, officers weren't carrying rifles, according to Rob.
He said an officer there told him they'd been instructed not to have rifles out where the children were.
That didn't make sense to Rob.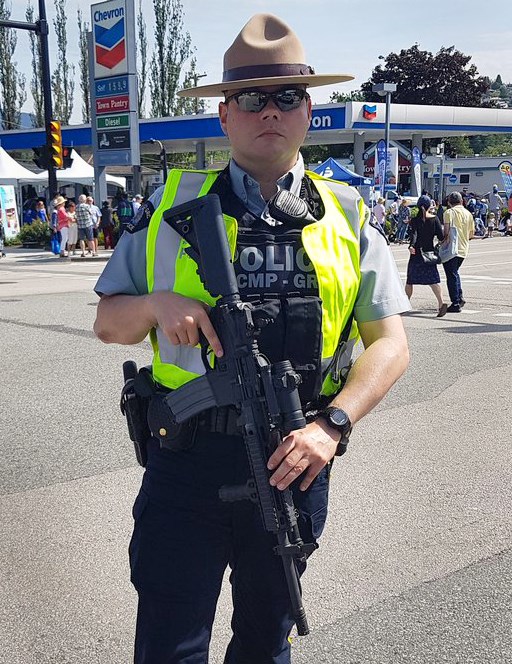 "This is a community event," he said. "There's children from Kingsway to Canada Way."
This was the first time in all their years at the fair that the Danzels have seen Mounties packing rifles.  
It's not the first time the presence of heavily armed police officers at local community events has sparked criticism this year, though.
In June, activist Harsha Walia posted a photo of a rifle-toting Mountie at Hats Off Day on Twitter, saying she was "disgusted at heavily armed (RCMP officers) all around Hats Off Day."
Reaction to Walia's tweet was mixed, with some welcoming the extra police protection in light of recent attacks at public events around the globe, including the shooting of four people in Toronto in June during a parade to celebrate the Raptors NBA championship win.
Others spoke against the show of force at a community festival.
Still others thought the big guns had been pulled out during Hats Off Day only because Prime Minister Justin Trudeau had decided to make a surprise appearance.
Not so, according to Supt. Graham de la Gorgendiere, Burnaby RCMP's second in command.
Police officers carrying rifles – specifically C8 patrol carbines – have "become our new reality in Canada," he said.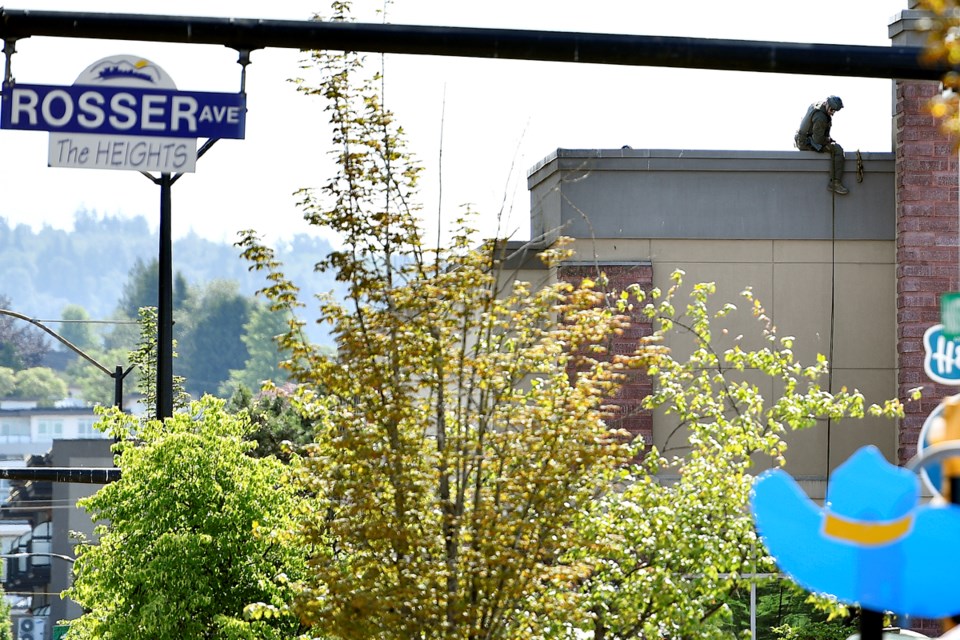 'We need to be prepared'

 

 

"In the past five years there has been multiple tragic instances around the world which have resulted in lots of people losing their lives," he told the NOW in an emailed statement. "We need to be prepared in the case that something like this should ever happen in our city."

He pointed to a dozen violent incidents, starting with the 2014 Moncton, N.B. shooting rampage, which saw three Mounties shot to death and two others severely injured.

In a report on that incident, retired RCMP commissioner Alphonse MacNeil recommended the RCMP take immediate steps to expedite the rollout of the semi-automatic carbines across the force and increase the number of officers trained to use them.

Getting more rifles into the hands of more trained officers had been a key recommendation after a 2011 inquiry into the shooting deaths of four RCMP officers near Mayerthorpe, Alta. in 2005.

The C8 patrol carbine is a short-barrel, semi-automatic rifle that provides more accuracy than a sidearm or shotgun.

In the last year, Burnaby RCMP has had "an increase in the number of carbine rifles available to deploy," according to de la Gorgendiere.

"This, along with an increase in the number of members trained in the use of the carbine rifle has allowed our detachment to deploy this use of force option at events in Burnaby," he said.

Moving forward, Burnaby RCMP will deploy rifle-carrying Mounties at community events on a "case-by-case basis," he said.

Citing "operational reasons," de la Gorgendiere said he couldn't talk in-depth about how those decisions will be made but stressed they won't be "taken lightly."

"Through intelligence gathering, planning and ensuring our officers are properly equipped, it is our hope and plan that all will remain safe," he said.

De la Gorgendiere said the RCMP encourages community members to engage with officers at public events to "better understand why we are equipping our members with these rifles."

According to Rob Danzel, however, local Mounties could use some coaching in that department.

"When you try and talk to these guys, they advise you to 'Enjoy your day,' which basically means 'Get out of here before this gets worse for you,'" he said.