Burnaby school district staff have been tasked with finding out how much it will cost to provide girls with free menstrual products in school washrooms.
Selina Tribe, a Vancouver mom and Douglas College geology instructor who is on a mission to make tampons and pads as free and accessible as toilet paper, spoke at the district's Jan. 17 youth and community services committee meeting, urging school officials to install free period product dispensers in local school washrooms.
Trustee Bill Brassington, chair of the committee, said she made a compelling case.
"Her presentation was phenomenal," he said.
"As a male, it was eye-opening because it wasn't something that I had considered. I didn't even know how it was dispensed. I never go in there, but I have a daughter who's in Grade 5 and so I started to see, 'Well, what would she do?'"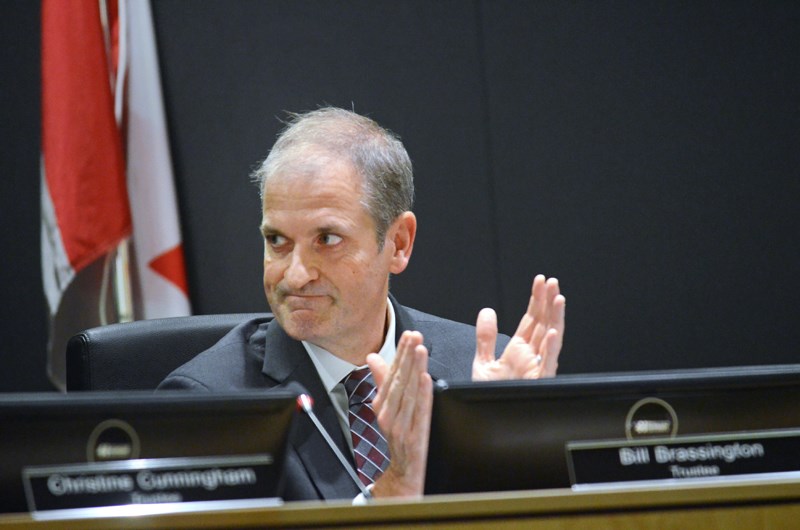 Tribe has been going from school district to school district in Metro Vancouver advocating for coin-free dispensers in all school washrooms.
While schools in Burnaby will provide free menstrual products for students on demand, according to the district, girls in most schools have to go to a nurse, safe school coordinator or other staff member to get them.
Tribe is arguing that's unfair.
"(She) made the case for that it's not something that you can hold," Brassington said. "It just happens and, when it happens, you shouldn't have to walk to go to an office or through the school hallways risking embarrassment. You should just be able to have access to free products."
The school board voted unanimously Tuesday to direct staff to look into the cost of installing the free dispensers.
"I think it makes total sense on the surface of it, but it requires some further examination," Brassington said.  
Tribe has said the machines cost between $200 to $300, including installation, but costs to stock them would vary based on student population.
Brassington said existing coin-operated dispensers could also be converted.
Staff hasn't been given a deadline for the report, but Brassington hopes it will be ready by the next meeting.
Moving forward, he said he also hopes the province will consider covering the cost.
"Should we be using education dollars for it? There's an argument for that, but it would be nice that it would be taken care of through provincial budgeting," Brassington said.